"If you are not hugging people you meet, you might want to ask yourself why," guest speaker Heather Harder told the Rotary Club of St. Croix on Thursday.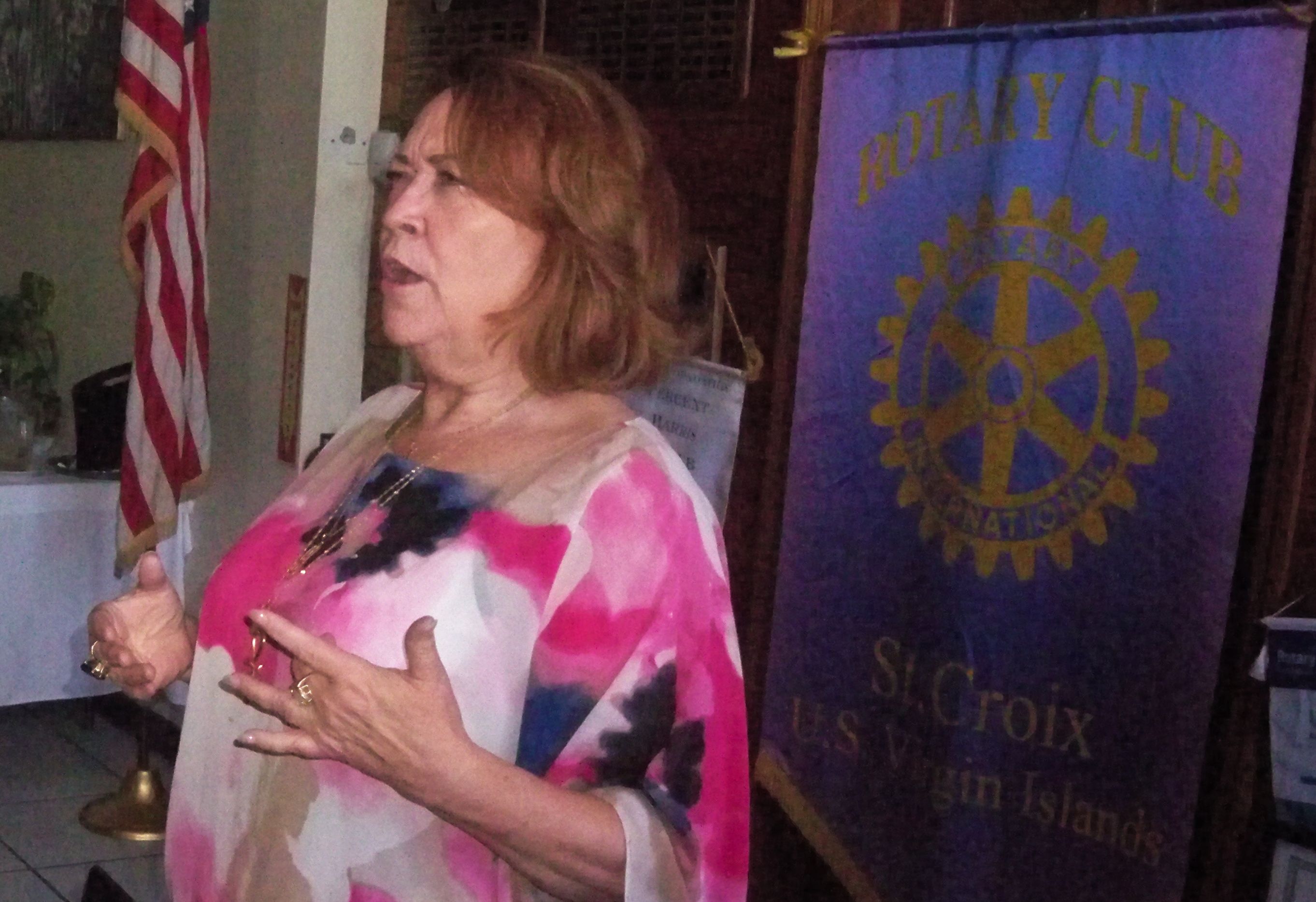 Harder was discussing nonverbal communication with club members as she gave a preview of her workshops, The Silent Language of Success for Women and Mind Mastery, Meditation and Mindful Living that are to be held Saturday at Aziyza's Nature Spa.
Harder said our society is in a transition where the usual greeting between two people, once the handshake, is now becoming the hug. She said that in 10 years no one will be shaking hands.
Club member Liz Goggins said that when she was a teenager, no one was greeting others with a hug – it was usually a handshake. However, she noted in recent years when teenagers greet friends they usually do it with hugs. She also noted that she had seen more hugging greetings in the club than she used to.
Although handshakes might be on the way out, Harder gave club members meeting at Gertrude's Restaurant tips on the best handshake. She detailed where palms and thumbs should meet and cautioned against the squeezing of fingers that may have rings on them.
She emphasized three elements of nonverbal communication that were often more important than words: facial expression, eye contact and touching. Harder said that in business situations research has shown that friendly, smiling nonverbal communications were key in establishing a favorable response in customers.
Harder said smiling was a "universal" positive in all cultures in communication. She said that smiles could be broken down into seven different categories.
She said that a "frozen face" is generally not good in communication and people should pay attention to what is their "default face."
She explained that verbal communication is the first language a child learns and that it then becomes a subconscious expression, adding that when people don't pay attention to it, it can become a problem.
She also talked about how crossing one's legs could signal something in communication and how important hand gestures were.
Harder had club members do exercises where they used verbal communication to indicate negative and/or positive feelings. One of the exercises that some members found difficult was saying something positive while expressing negative nonverbal communications.
Sometime nonverbal communication can be misleading, according to Harder. She said that when a person is under stress they can be seen as being tense and that looks like a negative expression to others.
One thing she mentioned that adds to positive communication is that both people are "fully present." This means not checking your email or texting or checking your phone when talking with someone.
"Sometimes we slight the people most important in our life by not paying attention," Harder added.
According to a press release from the club, Harder has worked with Fortune 500 companies, educational institutions, government agencies, health care organizations and nonprofits as a speaker, educator, consultant and coach. She has appeared on CNN, CSPANN, MTV, NBC and CBS news, and was featured in a documentary on PBS as well as hundreds of radio programs.
To register for the workshops, call 340-473-1952 or 219-662-7248. Aziyza's Nature Spa is located at 89B Rattan Rd. The workshops are $40 each or $75 for both.