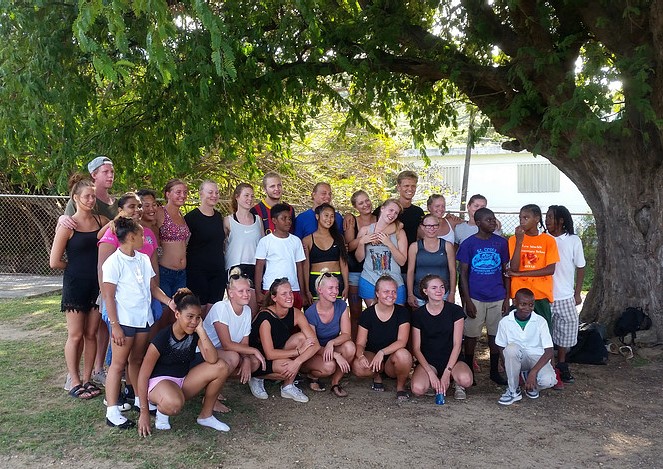 Project Promise, in collaboration with the V.I. Department of Sports Parks and Recreation (VIDSPR) and a visiting group from Denmark, renovated the playground at the D.C. Canegata Ballpark and Recreation Center, yesterday. Volunteers from Project Promise and HÖJSKOLENDK, workers from VIDSPR and students from Project Promise's Caterpillar Project installed four new swings. They also painted the swing sets, the slides and the merry-go-round at the playground.
The effort was part of a Project Promise/Danish folk school HÖJSKOLENDK community service partnership that has been sending students annually to the Virgin Islands for more than five years to assist the local community.
Officials from Project Promise entered into a memorandum of understanding (MOU) with the VIDSPR in January to collaborate on the upkeep and maintenance of one public playground annually. The Canegata project is the first playground to be rehabilitated since the two have made the agreement.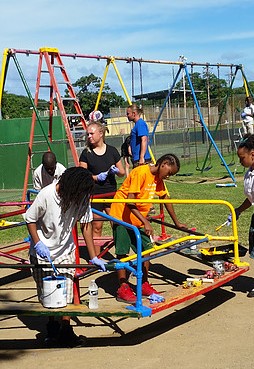 Project Promise president and founder Resa O'Reilly said it is part of the organization's goal to give back to the community and ensure that the program's students learn the importance of giving back. "The community service component is an excellent opportunity for our participants to positively impact the lives of others."
In addition to the installation of new swings at the playground, the volunteer group cleaned and disinfected playground equipment, picked up trash in the surrounding area and painted the picnic table and benches.
"I'd like to thank Commissioner Pedro Cruz for partnering with us on this project," O'Reilly said. Project Promise extends special thanks to the Department of Sports Parks and Recreation for their support of the project, the HÖJSKOLENDK group for their assistance rehabbing the playground, Princesse Hardware for sponsoring the purchase of the new swings, and the V.I. Fire Services for pressure washing the equipment prior to the clean-up.
For more information about The Caterpillar Project, or other Project Promise programs, contact Resa O'Reilly at 244-3242. Project Promise is a 501(c)(3) non-profit organization dedicated to improving the lives of at-risk youth on St. Croix by providing empowerment initiatives, cultural programs and family services.
To learn more about Project Promise, visit www.projectpromisevi.com.