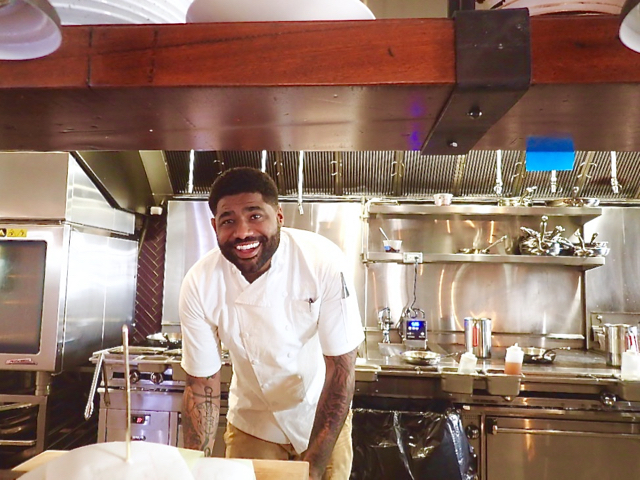 Digby Stridiron wears two hats – one as culinary ambassador for the Virgin Islands and Caribbean cuisine and the other as head chef and co-owner of St. Croix's newest, upscale restaurant, Balter.
Stridiron came by his skills and love of food honestly. He grew up on St. Croix with a family of cooks. His cousin, Orlando Santos, was a competitor on Bravo television's "Top Chef Just Desserts." He learned some of the skills early and worked at the Buccaneer Hotel in high school and then left the island to serve in the U.S. Army.
After military service, Stridiron attended Johnson and Wales University, primarily studying baking and pastry arts. He then cooked at restaurants in North Carolina and Florida.
Since returning to St. Croix, off and on since 2003, Stridiron has cooked in a variety of island restaurants including the Galleon, Carambola Resort and Cheney Bay. He also worked as a personal chef for celebrities Vivica A. Fox, Katy Perry and Nicki Minaj.
Since 2013, when Stridiron starred as celebrity chef for Caribbean Heritage and Nature Tourism's (CHANT) Crucian Fusion and was named culinary ambassador by the V.I. Department of Tourism in 2014, he has become something of a household name in the Virgin Islands, tied to Caribbean culture and cuisine.
For the last few years, Stridiron has traveled to the mainland, promoting the islands with interviews and culinary demonstrations for NBC television, the New York Times and Travel and Leisure magazine. He has been featured in articles by BlackEnterprise.com, the Huffington Post, the New York Daily News and several times in the Caribbean Journal.
Currently, Balter is in the running for USA Today's 10 best Caribbean restaurants determined by internet voters (as are Savant on St. Croix and St. Thomas's Havana Blue).
Several years ago, the chef became a member of the James Beard Foundation and last November, he and Balter co-owner Patrick Kralik produced a sit-down, multi-course dinner for the James Beard Slow Down Dinner at Ridge to Reef Farm on St. Croix.
While he is passionate about promoting the Virgin Islands and cuisine and culture, Stridiron's first love is cooking.
"The one time in my life when things make sense is when I cook," he said. He has no life outside of work, he said, and likes it that way because work is "therapeutic."
Stridiron has ample opportunity for therapy. Balter has been open almost a year and Stridiron spends many hours a day, cooking, creating recipes, infusing liquors and vinegars, making cheese, condiments and smoking locally grown, mango-fed pork. Meat, fish, vegetables, fruits and even most spices are sourced locally and partnerships have been formed with local farmers, ranchers, and fishermen.
Kralik is the restaurant's expert on wine and culinary experience.
Chef Stridiron said the restaurant's name, Balter, means to dance without rhythm or care.
"It's more about enjoyment in our own rhythm," he said.
The restaurant comprises over 5,000 square feet, with state of the art indoor and outdoor dining areas, an intimate bar, a large kitchen and grill and a hallway lined with local art.
All of the food fashioned in the Balter kitchen is conceptualized and/or cooked by Stridiron. The mission is to create upscale Caribbean dishes using seasonal ingredients and regional recipes with a focus on "how to make that food beautiful," he said.
Business has been good and Balter now serves lunch.
"People are so excited about local West Indian food again," Stridiron said. "We focus on what we do best."
The "best" includes house-cured ham, rich plantain bread and local fruit and herb infused vinegars and rums for salad dressings and signature cocktails. He is especially proud of the jug of year-old guavaberry vinegar, house made cheeses, pickles, pickled peppers and pickled onions
West Indian standard dishes such as kallaloo have been upgraded in Balter's kitchen with pork belly and crab. Chicharones, crab and capers kick up the Puerto Rican favorite, mofongo. Farm roasted plantain chips become gourmet served with duck rillettes, and whipped goat cheese and breadfruit dumplings and carrots enhance a braised rabbit dish.
The chef said Balter's best sellers, so far, have been the pork belly cooked in coconut water appetizer, crab alcapuria and the desserts, including bread pudding, red grout, flambéed plantains foster and local, fresh fruit sorbets.
One of Stridiron's goals is to increase the membership of the newly formed West Indian Chefs Alliance he founded to promote the culture, cuisine and traditions of the region. There are 22 active members from the Dominican Republic, St. Lucia, Trinidad, Puerto Rico and even South Carolina, he said.
When asked about the future, Stridiron said he is content "simplifying life" and not interested in returning to the mainland to pursue other interests.
"I want to be here around the people I love," he said.