In April the Source published the first in a series of articles exploring perspectives and initiatives in Denmark related to the upcoming centennial of the transfer of St. Thomas, St. John and St. Croix from Denmark to the United States. This is the first of two articles in which Trinidadian-American writer Lesley-Ann Brown reports from Denmark on St. Croix artist La Vaughn Belle's residency in Copenhagen and speaks with Belle about history, memory and politics.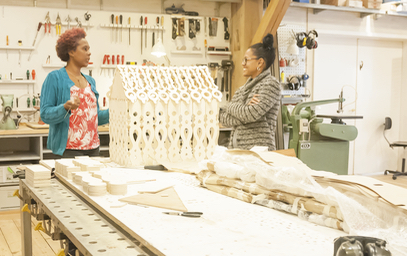 It is a beautiful autumn day in Copenhagen – the type of day where the buildings are awash in gold sunlight and the streets are bustling with people intent on enjoying the short leisure that the weekend brings to many. It is easy to see the charm of Copenhagen on a day like today – the fairy tale aspect of this city that so many tourists flock to every year.
But despite this cheery atmosphere, my heart is a bit heavy.
I'm on the way to the Danish National Museum this Saturday afternoon. I've wanted to visit since my first interview with U.S. Virgin Islands artist La Vaughn Belle in Copenhagen in late August. But after a recent follow-up interview with her via Skype – I in a Copenhagen apartment, she in her house on St. Croix, I became even more resolved to do so.
I interviewed Belle in August at the Danish Architecture Center in the scenic town of Christianshavn – called Little Amsterdam due to its many canals. Belle had already been in Copenhagen for three weeks by the time we met, and I was curious to learn about her impressions of Denmark, the former colonial power to the U.S. Virgin Islands.
With Lauryn Hill playing in the background while the artist worked, we talked about her trip, her impressions of being in Denmark, and her planned project titled "Ledgers from a lost kingdom," to be shown at an upcoming solo exhibition in Copenhagen at the art space Meter.
Belle's journey to Denmark began in 2004 while she was in Havana, Cuba, studying art. While there, she met the Danish curator Jakob Fabricius. When they first met and she told him that she was from the U.S. Virgin Islands, Belle realized that Fabricius was not too familiar with Denmark's colonial past in the Caribbean.
As they walked the streets of Havana, Belle spoke to Fabricus about the visible record of Danish colonialism still existing in the Virgin Islands, from the names of the towns to the architectural style of the buildings. Fabricius was fascinated and it was in this spirit that he visited the islands in 2006, with some Danish artists in tow.
"That was really interesting for me," Belle told me. "To see their art language, their Danish minds and how they were interpreting everything. I will never forget that artist Nanna Dubois told me that she felt like she walked into a hole in history. Almost like Alice in Wonderland. I think that they were surprised at how much was left behind. In Denmark, you have to look to find it, but in the Virgin Islands – it's everywhere. You can't run away from it. You just have to look out into the landscape and there are sugar mills and ruins. It's not really something you can forget, and of course there are the people. You can't forget that."
Belle's words resonated with me. I've lived in Denmark for 17 years now and have worked in education for some time. It doesn't take long to realize that many people in Denmark know very little about the country's colonial history, and one could even say that there are very few who seem to want to. Danish dialogues about race and racism in particular are often frustrating.
For instance there was the recent Djurs Sommerland case (http://www.thejournal.ie/danish-theme-park-racism-2183937-Jun2015/), during which overtly racist rides at an amusement park bearing names such as 'Hottentot Carousel' and the 'Cannibal pot,' replete with overtly racist caricatures, were staunchly defended by the park and an overwhelming number of Danes. The rides remain.
There was the fact that the U.S. Ambassador Rufus Gifford had to scold the Danish People's Party this past summer for allowing its youth club to sing a text where President Obama is referred to as a "negro".
This occurred not long after a three-month media circus involving what was called "The N-word tweet," which began after a Danish politician accused another of calling Obama the "N" word. The accusing politician later apologized due to the supposed elasticity of the Danish version of the "N" word. Many people insisted that the Danish version of the slur is not synonymous with the English version, however some Danish dictionaries disagree. Throughout the controversy the Danish press consistently spelled out the N- word in full.
Previously, and rather worryingly for many, a decision was made to put artwork by the Swedish artist Dan Park on display in the Danish parliament. The artwork included images of a Black Swedish politician hanging from a noose. This was justified in the name of "free speech."
This free speech, however, was not awarded to Danish artist Emil El, whose work was recently removed from a planned exhibition at the National Worker's Museum due to a its content, which was critical of the Social Democrat Party in Denmark moving closer to the nationalist party, The Danish People's party.
I have experienced firsthand the insensitivity of Danish society on issues of race. Once, when I was teaching in one of the most prestigious schools here in Copenhagen, an eighth-grade student presented me with Agatha Christie's "Ten Little Niggers" (known now as "And Then There Were None') as his chosen reading book. The dialogues that followed at the school spoke volumes about a widespread ignorance about issues of power, race and coloniality.
Before asking Belle about her impressions of Denmark and what she perceives the country's relationship to be with the Virgin Islands, I wanted to know what she felt the collective sentiment is of Virgin Islanders towards Denmark.
"In my opinion, it's a little perverted how we celebrate our coloniality. It's a weird thing to do," she said. "We call ourselves 'the Seven Flags' because we changed hands seven times. And we kind of celebrate that. It's weird. So, we think about Denmark – they're the longest colonizer, and the ones with the most impact, but at the same time they're extremely distant because now we have a new colonizer, the United States, so that's who's had the most cultural influence on us. But in terms of our built heritage, and the reason why we're there, it is because of the Danes. The Danes instituted the slave trade there."
I'm thinking about all of this as I make my way among crowds of Danes on this sunny autumn Saturday. I ride my bike past Tivoli, where human beings were once on display, past the Carlsberg Glyptotek, which hosts an amazing Ancient Egypt exhibition, and make my way over to the Danish National Museum.
As I approach the building I see, draped across a wall, a banner draped that reads, "Explore 20,000 Years of Highlights" along with symbols from the Viking era, something that is much celebrated here. And yet one of the most common replies to the critique that Denmark spends so little time in its education system on its colonial past is "but it was so long ago."
The museum is teeming with visitors, Danish families along with tourists. When I purchase my ticket I ask the saleswoman about the location of the section on Danish colonialism. As she circles the room on the map for me she adds, "but it's not that big." I thank her for the map and make my way up the stairs to the second floor, where I am to find the room that is responsible for educating the public about Denmark's foray into sugar and slavery.
In my first interview with Belle, I asked her about her thoughts on Denmark's idea that its colonial era was "so long ago" and not deserving of any in-depth focus in its education system. I wondered if she herself had heard this sentiment.
"No, no … I think because of who I am, they can't really say that," she said. "They don't have the comfort to say that, because I think if you live here and they feel comfortable with you, they will start to open up more with those kinds of questions. But when they meet me, I'm just sharing, so they're more in a space of listening, than to say that kind of stuff, like, why should I care about why you're here? What? But what I would say to that is that it isn't in the past. If you live in the Virgin Islands we live in that. Just imagine that you created a structure that you walked away from. It doesn't mean that the structure isn't there. It's still there."
"What I've noticed more on this trip are the tensions that I'm hearing about due to increased migration into the country and how non-white Danes are being dealt with," Belle continued. "I think this has to do with the lack of dealing with and understanding what happened in the past. A lot of the attitudes we see presently come from that history. If you don't deal with that history then you can't deal with your fellow Danes who are not white, because you still have some of those same attitudes from the past."
Belle's reflections on being in Denmark is important, adding a perspective that is typically not given enough space here in Denmark, rendering the discussion around race, power and history rather one-sided.
More of Brown's writing can be found on her blog, Blackgirlonmars.com, which focuses on identity and her experiences living in Denmark for the last 10 years.