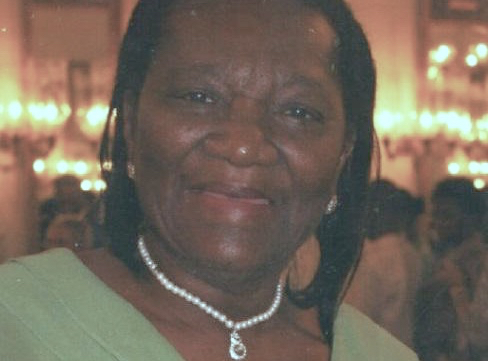 Mary Agatha Ceasar Tonge Pennyfeather, also known as "Tully" and "Mama Mary," of La Grange, died Nov. 5, 2016, at the age of 76 years old.
She was preceded in death by her mother, Enid Ceasar; her father, Thomas Tonge; a son, Leighton Antonio Pennyfeather; grandsons: Wellington Shaheliy Pennyfeather and Kevin Pennyfeather; and a brother, John Ceasar.
She is survived by her sons Honsen Wellington "Shaheliy," O'neal " Breed," Alton, Adolphus and Dalwin Jr., Pennyfeather; grandchildren Aisha, Kanika, Unika, Tabia, Sheniba, Anandi, Hansen, Dalwin, Aneffe, Sherishma, Shaquille, Jonathon I, Jonathon II, Shahely, O'nealia, Freddie, Ahleem, KimKaya, Kaya, Alton, and Asheel Pennyfeather, Shaneka Pennyfeather- Armstrong and Kamir Cummings; step-granddaughter Lowona Khodra; sister Ivy Beard; brother Norris Martin, Sr.; nieces Donna C. Miller, Avonice Martin, Milly Martin, Anesta Martin and Avril Foreman; nephews Jonathon Payne, Norris Martin, Jr., Anthony Martin and Nigel Foreman; great nieces and nephews too numerous to mention; a daughter-in-law, Vanda Jackson-Pennyfeather; godchild Kenneth Milligan; special friends: Amos Sealey, Ruby Roberts, Vivian Mason, Anton and Kelly Kapers, Mr. and Mrs. Bernard, Jean Prince, Dawn Rogers, Betty Lynch, Ernestine Richards, Mr. and Mrs. Simone, Annette McIntosh, Annette Delgado, Mona Sackey, Betty Wilson, Ruby Roberts, Vivian Mason, Carol Azille, Parris, Milligan, Granger, Ovesen, Warner, Acoy, Cornelius, Parris, Jenkins, Seals, Rogers, Sackey, Richards, Pemberton, Azille, Anthony, Christopher, Jackson, Tonge (Antigua), Bachelor (Antigua), Rogers and Buchanan Families, and other relatives and friends too numerous to mention.
The family requests that those attendjng her services wear festive colors.
A funeral service will take place Saturday Nov. 19, at St. Paul's Episcopal Church in Frederiksted. Viewing will begin at 10 a.m., with the service at 11 a.m. Burial will follow at Kingshill Cemetery.