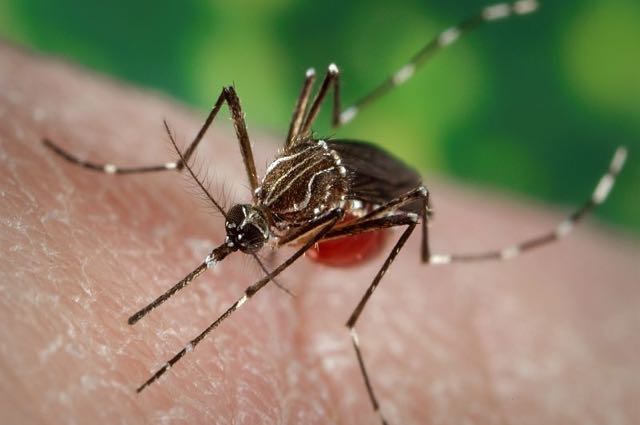 Since the territory's first case of Zika was confirmed in late January, the V.I. Department of Health has worked on a number of initiatives to educate the public about the virus.
To date, 589 cases have been confirmed, though there's likely been many more than that given only about 20 percent of people who get Zika show symptoms and that not everyone gets tested.
Beginning in July, the number of cases rose sharply in the territory, predominantly on St. Thomas, although there's currently a slight downward trend. Still, a number of new confirmed cases are being announced every week.
The Source spoke with territory epidemiologist Esther Ellis to get answers to questions people who have or may have Zika likely want to know. Ellis first arrived in the Virgin Islands in 2012 to assist with the dengue outbreak and has since become a leading expert on mosquito-borne outbreaks in the territory.
The Source: Zika can cause a number of symptoms, including headache, fever, rash, joint pain and red eyes. Which symptoms are most common or the biggest indicator that someone could have Zika and should get tested?
Ellis: "The most common symptoms are fever, joint pain, rash and conjunctivitis. Usually symptomatic people will have at least two of these symptoms. Other common symptoms are eye pain and headache."
The Source: Why is it important to get tested for Zika even if you don't care about getting it officially confirmed? How does this matter on an individual and territorywide level?
Ellis: "It's important to get tested for two reasons. A – You will know if you have immunity (once infected it's anticipated that you would have lifelong immunity). B – It's important for surveillance and public health in order to know what is happening in the community. We can then know the trends in what is happening and also know if cases are clustering in certain areas and can use that data for public health action (i.e. targeted mosquito control in hotspot areas) and for possible outbreaks in the future."
The Source: There are two types of confirmatory testing for the Zika virus. Briefly, what are they and why does one take longer than the other to complete?
Ellis: "There are three tests. A PCR tests detects the actual virus but can only be done within two weeks of symptom onset; the IgM test detects antibodies for up to three months post illness onset or post infection (if asymptomatic); PRNT is the plaque reduction neutralization test that is done if the IgM antibody test is equivocal or positive. This test is very labor intensive and takes about a month to get results back – the actual test takes a week to complete."
The Source: If you do have Zika, how long does it stay in the blood? And how long in other bodily fluids?
Ellis: "Blood for about one week post symptom onset; urine for about two weeks post symptom onset; vaginal secretions about one to two months post symptom onset; semen up to three months post symptom onset. For vaginal fluid and semen this data is very preliminary and still being refined."
The Source" What precautions should you take to prevent passing the virus on to others when it's in your body?
Ellis: "You should prevent mosquitoes from biting you by wearing long pants, long sleeve shirts, treated clothing and also by only having protected sex with the use of either a male or female condom."
The Source: If you get Zika, how long should you wait to conceive a child? And if you become infected with Zika when you're pregnant, what are the odds you'll have a baby with developmental defects?
Ellis: "The CDC recommendation is to wait two months. There is an up to a 10 percent chance of Zika-positive mothers having a poor outcome."
The Source: If you get Zika, are you immune to getting it again? If so, for how long? And why is immunity important for slowing the transmission of the virus?
Ellis: "Yes, you're immune and it's thought to be lifelong. Since we've never had Zika here before, there was no immunity in our local population. The more people that get it, the more protected the population is as it's harder to maintain the virus in the mosquito population. Think of it from a mosquito's perspective. They need to bite someone that's never had Zika to pass the virus to them so that other mosquitoes can feed on that infected person and also get the virus to pass to others. If mosquitoes are biting immune individuals they aren't passing the virus to these people and mosquitoes can't pick up the virus. This is how the virus will die out eventually once we have a certain level of herd immunity."
The Source: There's been some research on how Zika can affect the adult brain and how more long-term studies are needed to understand the potential effects. Can you explain what this research says?
Ellis: "Long-term studies are needed. However, in adults it is uncommon for this virus to cross into the brain because of the blood-brain barrier, which prevents most viruses from crossing into the brain. In rare cases certain viruses that are spread by mosquitoes can cross into the brain such as with West Nile Virus and Zika. With Zika the symptoms in these cases are from Guillain-Barre` Syndrome. GBS is a disorder that's been linked to Zika and can result in paralysis as the body's immune system attacks part of the peripheral nervous system."
The Source: There's currently no specific treatment for Zika. What's the best way to recover from the virus?
Ellis: "At this point rest and fluids are recommended."
The Source: How far off is a vaccine for the virus? Has there been any talk about who it might be administered to once its been developed?
Ellis: "There is a vaccine currently in clinical trials. If this proves to be effective, it's still a few years before it would be commercially available."