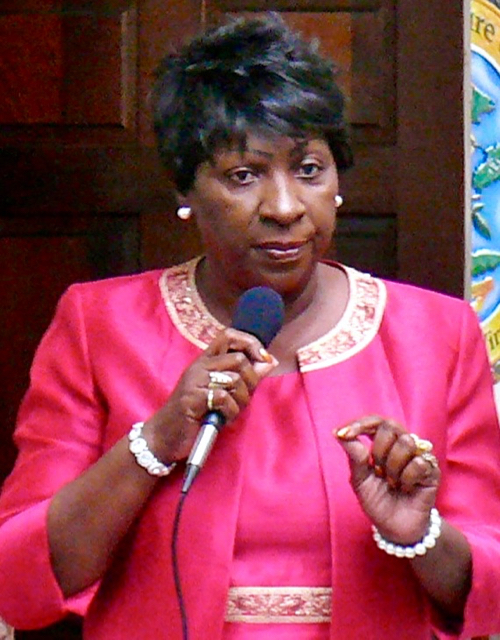 On Aug. 31, former Sen. Alicia "Chucky" Hansen was tossed off the ballot because her actual, legal name is Alden Alicia Pickering, not Alicia "Chucky" Hansen, as she put on her voting documents. Unsurprisingly, she plans to sue to be put back on. But whatever the court decides, the reason "Chucky" should not be elected to serve yet again is she was a truly terrible senator who wreaked lasting damage on residents of the U.S. Virgin Islands.
Outside the territory, Hansen is best known for opposing a law making it illegal to rape your spouse, saying "if it is forcefully against the will of a spouse then that is a problem. But if a woman says no and he still wants something, I don't know how you can call it rape. Maybe because I am not a 'no' person, I don't know." (See: Ebony Magazine: "Marriage Doesn't Automatically Mean Consent" and, St. Croix Source: "Hansen Outrages Other Senators with Rape Bill Comments" in Related Links)
To be fair, it's been said she only opposed making it illegal to rape your spouse because of a petty dispute she was having with the senator sponsoring the legislation, not from a deep personal conviction in support of marital rape. But still.
After the rape comments, she is probably best known for being kicked off the ballot by the V.I. Supreme Court in 2014 for "moral turpitude." The turpitude came from Hansen's conviction in 2009 of three counts of willful failure to file tax returns, after a long investigation related to improper influence and public corruption in the handling of a government sewer contract.
Former government officials Ohanio Harris, Ashley Andrews and Campbell Malone were sentenced to prison for their role in the scandal. Hansen was initially charged with conspiracy, fraud, accepting a bribe and conflict of interest violations. Several of the charges were dropped prior to her trial, and a jury acquitted her of the conflict of interest charge She was later convicted and sentenced to probation for the three much less serious misdemeanor offenses of intentional failure to file a tax return. (See: Supreme Court Orders Hansen Removed from Ballot in Related Links)
She was able to run as a write-in candidate that year after Gov. John deJongh issued a pardon covering her turpitude, but lost.
The rape comments and petty corruption are embarrassing. But the more important reason to keep Chucky in retirement, where she can quietly enjoy her generous Senate pension, is the damage she has done during her many years as a senator. Hansen "served" from 1987 to 2002 and again from 2011 to 2014, for a total of ten terms. She posed as a friend of regular Virgin Islanders, and to be fair, sometimes intervened on behalf of specific constituents, to get a problem addressed. Constituent service is a good thing. But, over and over, throughout her 20 years in office, she sold the voters dreams of something for nothing. After sweet meat come sour sauce, as they say on St. Croix. Talk about sour sauce.
Chucky used her clout as a senator to fight every effort to control costs at the financially struggling Gov. Juan F. Luis Hospital, accused its CEO of lying about its financial condition, pushed the Legislature to directly intervene and place her favorite, Dr. Kendall Griffith, in his place. She and other senators then worked with Griffith to pressure for the ouster of several members of JFL's governing board. Those actions led to the temporary decertification of the hospital and near loss of millions in revenue, while the hospital already faced financial ruin. (See: Senators Plan to Legislate Who is JFL CEO and: Hansen, Griffith to Blame for the JFL Decertification, in Related Links)
More than any other senator, Hansen is the author of the fact that the Government Employee Retirement System is speeding rapidly toward inescapable collapse, while tens of thousands of thousands of Virgin Islanders are on the verge of losing most of their pension payments in the early 2020s. She spent her long career in the Legislature endlessly pushing bill after bill to pander to voters by giving away GERS benefits without paying for them. As outside auditors confirmed in 2011, those giveaways destroyed the pension system's solvency. (See: GERS Collapse Will Come, Retirees Better Start Planning, in Related Links)
She relentlessly opposed the Water and Power Authority getting reimbursed quickly for the fuel it buys. She sponsored legislation to force WAPA to charge less for fuel than it costs, pressured the Public Services Commission to do the same, and even tried to sue to prevent WAPA from charging for what it spends. (See: PSC Says Hansen Petition Over LEAC Wasted Time and Money) She sponsored multiple bills to reduce WAPA's ability to charge late fees, interest or connection fees, or penalties for nonpayment. Whenever possible, she tried to reduce WAPA's ability to get money, posing as a protector of the people and cheaply vilifying WAPA management for the cost to consumers of the international price of oil. Thanks in part to her tireless efforts, WAPA is facing financial ruin and has received multiple credit downgrades in recent months that will force it to pay through the nose for any lending. WAPA customers are the only source of money to pay for that waste.
Please, for the good of the territory, plan ahead, vote early or if necessary get to the polls Nov. 8 and make sure you vote for a full seven St. Croix senatorial candidates. Make sure "Chucky" Hansen – by whatever name – is not in the top seven vote winners. Virgin Islanders deserve better.
Editor's Note: This story has been corrected to indicate Hansen served 10 terms in office, not nine.