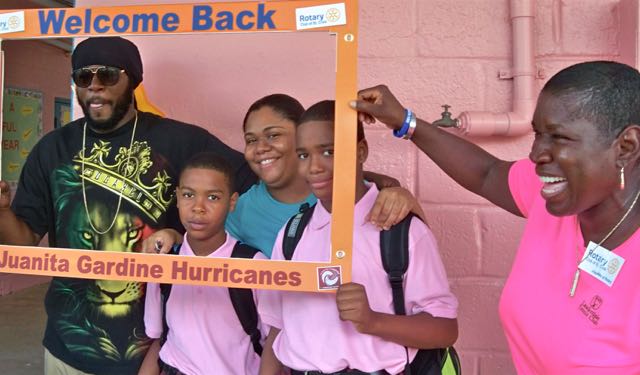 As students arrived at Juanita Gardine Elementary School for the first day of the new school year, Rotarians and other individuals cheered, clapped and gave thumbs ups to welcome and show support for the students.
In a new service venture about a dozen members of the Rotary Club of St. Croix dressed in colorful attire and greeted students and parents with wide smiles.
"We're on a mission to build a positive reputation for this school," said Barbara McGregor, principal at Juanita Gardine. "And Rotary stepped in and is getting involved in Juanita Gardine. It's a wonderful collaboration."
McGregor said the school was "overwhelmed by their generosity," adding that there have been a lot of meetings, planning and work done with the Rotarians.
Last week about a dozen Rotarians and Gentlemen of Jones members painted a sloped walkway with non-skid paint donated by Rotarian Patricia Charles.
"This is a great school with great teachers," Rotarian Liz Goggins said. " We know the public schools have issues. So we spoke to Principal McGregor and learned of things that needed to be done."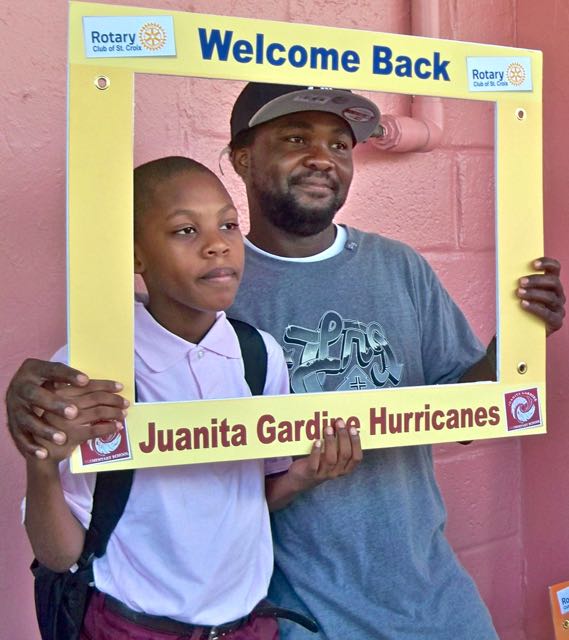 Goggins said the Rotarians will be doing at least one activity a week during the student lunch period. She said someone would teach chess, read, play music and do art with the students. Goggins said they would be starting a Rotary Act club for the students at Gardine.
Rotarian Milagras "Lotus BeYouTy" Romero said she has a deep passion for Juanita Gardine School.
"This was my school," Romero said. "Somebody has to take an interest, so I went to Rotary for help." She said she sees her sister Sherna Concepcion, a teacher at Gardine, struggle to buy supplies through the year. Romero said she felt encouraged that the students will be starting on a positive note and the moral of the teachers is uplifted.
"We hope to instill a positive mindset when the students are young," Romero added.
Students and parents lined up to have pictures taken of the first day at school, posing inside a large empty picture frame. The Rotarians took hundreds of pictures of students dressed in clean and perfectly pressed pink tops, maroon slacks and skirts.
Goggins said the pictures will be made into collages and hung around the school.
Samuel and Irian Rodriguez said they heard the Rotarians had put out a call for the general public to join in greeting the students so they made a poster and decided to come out to help the community by offering encouragement to the students on their first day.
McGregor said opening day was going well, everyone was on board and everything was off to a good start. She did mention some of the buses were running a little late but added that is understandable the first day.
She said breakfast was available and she was proud to say they have new Virgin Islands and American flags flying for the first time in a few years. The Juanita Gardine Parents in Action and American Legion Myron G. Danielson Post 85 refurbished the flagpole and donated flags. She said last year Legion members gave students lessons on how to respect and take care of the flag.