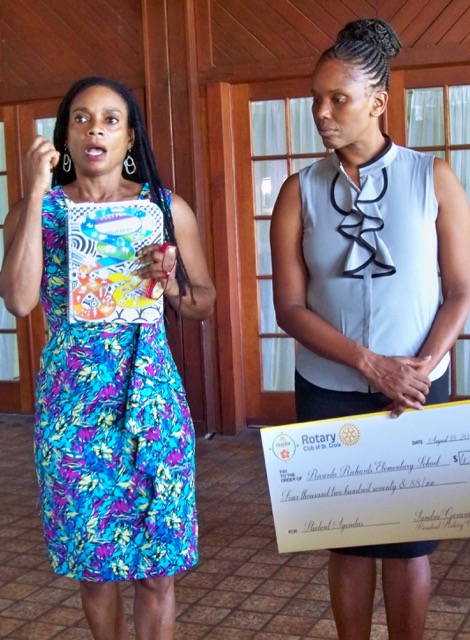 Civic groups know that in order for young students to be successful they need to learn how to plan. A donation Thursday by the Rotary Club of St. Croix should help the youngsters do just that.
Rotarians presented Ricardo Richards School Principal Wendy Gonzalez with a check for $4,270 to pay for the 2016-17 school year agendas for about 500 students in kindergarten through sixth grade. Wednesday the school received a power washer from American Legion Post 102.
Gonzalez said the agenda is a tool to help the children organize themselves and help move the children forward in many ways.
Gonzalez explained it is tailor-made to meet the needs of each school with things like meeting dates and other school offerings.
The agendas are geared for specific grade levels. She said at the kindergarten level it begins with helping the children adjust and transition from home to school. The sixth-grade edition is geared to give the skills to access middle school standards.
Gonzalez said there are activities in the agenda to help students grow and that it is also a companion tool with the student handbook.
It's also good to help parents keep up with what is happening with their child in school and to be more involved.
Gonzalez said the agenda is used for family participation and for communication with parents. Teachers may send notes home in it and let parents know about homework assignments and meetings.
"The agenda will help all the children advance," Gonzalez said. "The Rotarians put their money where their mouth is giving kids skills for life. We all want good things for our children."
Rotarian Liz Goggins said she has heard that the agendas are the students' lifeblood.
The funds were made possible through a grant from Rotary District 7020 for $3,900 and the balance from the club. Goggins said the grant was based on last year's price for the agendas.