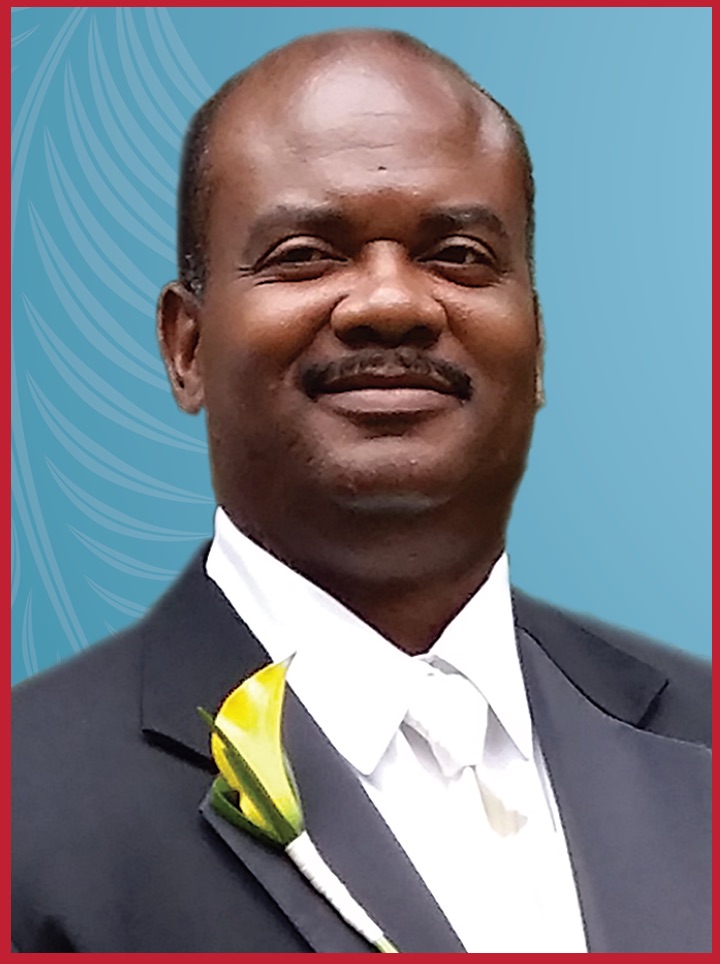 Good Day Fellow Democrats,
My name is Steven Deron Payne and I am seeking to represent the people of the Virgin Islands as the Senator At Large. I am running as a write in candidate in the Democratic Primary. My reason for using the write-in strategy is solely based on the fact that I could not resign my public servant job as a police officer as directed by Board of Elections because my family, especially my wife, a cancer survivor, depends on my insurance for her monthly medication and check-ups. I know putting my name on the ballot would be a much easier task for the general public as well as myself but, I had no other alternatives for providing insurance coverage for my family and to do otherwise would be neglectful on my part.
I would like to stress that I am not a politician. I am and have always been a public servant. I do what I do out of the love that I have for the people of our beloved Virgin islands. I have been diligently working as a public servant and as an avid voice for the young people and their families in our community for the past twenty-five years. I did not all of a sudden popped up on the scene with a catchy jingle trying to solicit votes in order to obtain a big job with a hefty salary. I have been working with at risk youths and I seriously believe, without reservation, that I can help to curb violent crime while bolstering our education system in the Virgin Islands.
I am humbly asking you to please peruse my information and if you find it in your heart to give me one of your votes, you would need to write in my name Steven Payne on the ballot as I am running as a write-in candidate.
Attached you will find my biography along with my platform. Please consider me as a worthy candidate for one of you precious votes as you head out to the polls on August 6, 2016.
Sincerely,
Steven Payne
Biography supplied by Payne:
Steven D. Payne was born on St. Thomas, United States Virgin Islandsto local leaders, Clarence Payne Jr. and Deanna Rogers. As ayoungster, filled with Devil Rays pride, Payne attended and graduated from the prestigious Ivanna E udora Kean High School, where his love for the musical arts evolved. His passion for the program was evident when he volunteered his time and talents as the InterimBand Director at his Alma Mata, after earning his high school diploma. His dedication and commitment ultimately saved the program. Today, the Dynamic Rays Band Program continues to flourish and is stronger than ever.Steven Payne was able to expand on his skillset when he furthered his education at Norfolk StateUniversity in Virginia, where he earned his Bachelor of Science Degree in Public School MusicEducation in 1993.
After graduating from college, Payne returned to St. Thomas and immediately utilized his educational credentials, along with his musical talents to invest in the youths of the Virgin Islands.
His campaign for change and empowerment of the youths started at Gomez Elementary School,where he served as the Music Teacher. However, Payne realized that there was a special need for reaching and impacting the lives of the male students; therefore, he opened his band room to them outside of his normal classroom hours. This created a safe and positive outlet for them.
Steven Payne's commitment and loyalty towards the youths followed him when he transitioned to Addelita Cancryn Middle School. He founded the school's first marching band (Addelita Cancryn Marching Iguanas), which primarily consisted of 250 students; most of whom were at risk and faced with behavioral problems. This program not only taught the student music, but it how to be a better student by establishing strict study habits; thus ultimately resulting in an increase in the school's graduation rate.
As a humanitarian seeking change, Payne felt he could make a larger impact on the youth of the Virgin Islands if he was in a position to protect and enforce the laws. He moved to Tampa Florida i n pursuit of accomplishing this goal and earned his Law Enforcement Certificate in 1998. Payne then returned to his homeland on a quest to change lives. As a police officer with the Virgin Islands Police Department, Steve Payne founded the Juvenile Delinquency Prevention Program (JDPP); where he could have more access to the youths regardless of their age or grade level. This powerhouse program caters to the whole child.
Other successful programs founded by Mr. Payne to aid in the development and well-being of the Virgin Islands Youths are; The Gomez Golden Stars, The Addelita Cancryn Marching Iguanas, The JDPP Marching Kings, The JDPP Jammerz, The Marching Cougars, The Marching Gulls and the VI Avengerz.
Currently, Steven Payne is a Certified School Resource Officer in the VI Police Department.