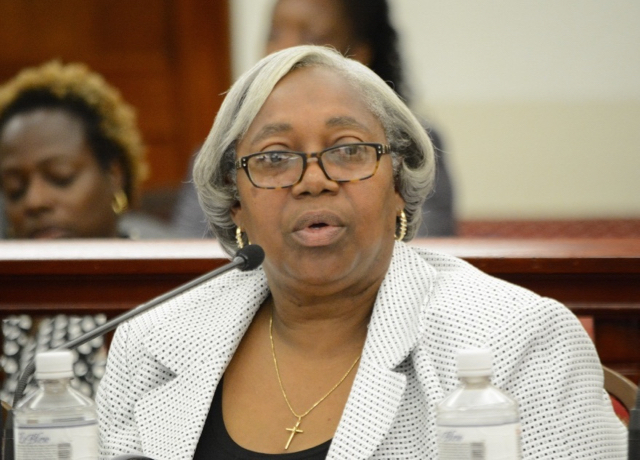 Senators expressed pessimism during budget hearings Tuesday about being able to find an extra $2 million for the Office of the Lieutenant Governor for new digital systems, citing declining revenues, the cost of pay raises and many competing urgent budgetary needs.
The Office of the Lieutenant Governor oversees eight separate government subdivisions, five of which generate revenue:
– Office of the Tax Assessor, assessing land values and maintaining cadastral land maps;
– Banking and Insurance;
– Recorder of Deeds;
– Trademarks and Corporations;
– and V.I. Passport Acceptance Facility.
Claudette Farrington, director of business and financial management at the Office of the Lieutenant Governor presented the office's proposed FY 2017 budget of $19 million. Of that, $9.2 million is from fees and taxes generated by the five revenue generating divisions and $9.78 million is from the General Fund. The general fund portion is a $3.13 million increase over the FY 2016 appropriation of $6.65 million.
The increase is "in order to sustain the salary increases and related benefits implemented during June of 2016 for unionized classified government employees coupled with $2 million in funding requested and recommended to provide financial assistance for computerization of the Division of Corporations and Trademarks," Farrington said.
The office, like many government agencies, is struggling after years of cuts.
"The office's recommended funding cannot address supplies, the majority of charges for other services nor cost related to utility services for electricity and water for the fiscal year," Farrington said. "The reduction in the level of General Fund appropriations for the Office of the Lieutenant Governor over the years has resulted in the current recommended budget being unable to cover essential costs, other than Personnel Services,the related Fringe Benefits and monies for automation of the department's Division of Corporations and Trademarks" Farrington said.
Sen. Clifford Graham asked if the department had no computers or was planning to upgrade. Delbert Hewitt, chief of staff to Lt. Gov. Osbert Potter, said they were upgrading.
"We're going to digitize for that whole web-based system so that customers can go online," he said.
Sen. Kurt Vialet suggested the department use funding from still-vacant, funded positions to defray the costs of the upgrade.
"The numbers are not coming in the way that we expected," he said. "So we're going to be having some severe shortages when it comes to revenues versus expenditures," he said. "A lot of the areas that are looking for additional monies – the monies are just not going to be there."
Farrington said the budget looked skewed upwards because of pay raises, which account for $1.13 million of the budget increase.
Vialet said that after giving raises to most government employees, there is not much left to meet other needs, especially in light of declining revenues and a bond downgrade. (See: Mapp Official: Raises 'Sustainable' Because Deficit Already $100 Million in Related Links below)
"With the recent bond market turning a bit … toward the Virgin Islands, there is a great possibility that we won't be able to float any bonds and that was a big part of making sure that we have the balanced budget for the year going forward," Vialet said. "The General Fund don't have the $2 million. I cannot in good conscience approve the $2 million when I know the monies are not there," he said.
The recent downgrade of V.I. Matching Fund bonds by Moody's Investor Services has blown a $55 million hole in the FY 2017 budget, because the government planned to save $55 million a year in the budget by refinancing hundreds of millions of dollars in debt at lower rates. With the downgrade, interest rates will be higher. A planned $55 million in new borrowing is also now in question. (See: Moody's Downgrade Throws 'Gaping Hole' Into Budget in Related Links below)
Graham said it comes down to hard choices between needs.
"We know the computers have to be updated, but if we have to choose between medicine and computer upgrades …" Graham's voice trailed off to let the listener conclude which the senators would have to choose.
"The governor is conscious of the money shortage," Hewitt said. But the new computer systems will help them generate more revenue, he added.
"If we invest $1 million we can bring in more than the $1 million we invested," Hewitt said.
The committee also received testimony Tuesday from Magens Bay Authority officials and the V.I. Energy Office.
The Magens Bay Authority overseas Magens Bay Park and Smith Bay Park. It is self-sustaining through its own revenues and is not requesting an appropriation.
Magens Bay General Manager Hubert Brumant said the authority expects FY 2017 revenues of $2.45 million and expenses of the same amount. Employee wages, salaries and benefits account for 72 percent of expenses, Brumant said.
Senators discussed improving concession offerings at both parks and the possibility of placing Coki Point Beach under the Magens Bay Authority.
V.I. Energy Office Director Elmo Roebuck Jr. shared that agency's FY 2017 proposed General Fund appropriation of $1.29 million; an $85,000 increase from FY 2016.
No votes were taken during the information-gathering hearing.
Present were: Graham, Vialet, Sens. Marvin Blyden, Myron Jackson, Positive Nelson, Tregenza Roach and Sammuel Sanes. Non-committee member, Sen. Nereida Rivera O'Reilly was also present via Skype.