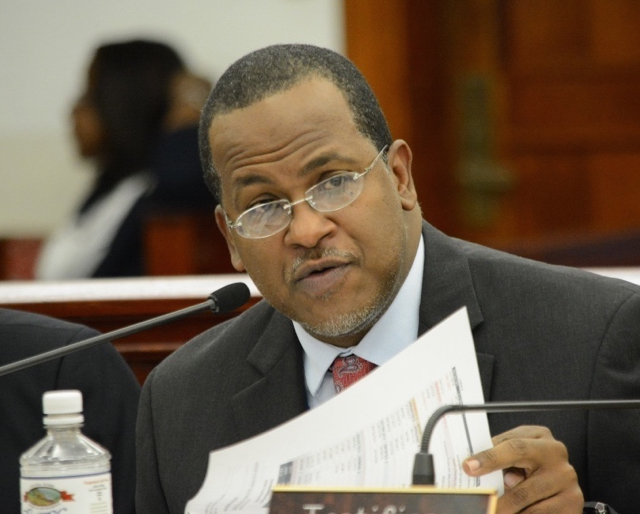 Some senators suggested that lower fuel costs expected as the V.I. Water and Power Authority switches over to propane and savings from increased efficiency could be used to help shore up the financially struggling utility.
During budget hearings Monday WAPA acting Executive Director Julio Rhymer laid out the government-owned utility's financial woes, pointing out that government owes $31.4 million in past due bills, forcing the utility into a cash crunch that hurts basic maintenance and service delivery. Much of that is from the territory's two hospitals, which owe a combined $15.4 million in water and electricity, despite a special appropriation from the government paying $8.1 million in April. The government is also $8.4 million behind in paying for streetlights, Rhymer said.
The high government receivables and a high pension liability played major roles in the utility's bond rating downgrade earlier this year. (See Related Links below)
"Let me be very candid, the authority and its ratepayers cannot continue to carry, for the benefit of the entire territory, the burden that government receivables are placing on its operations. The hospitals in particular are placing the greatest strain on operations, as their arrears represent a significant percentage of government receivables," he told the Finance Committee.
To help address its financial woes, Rhymer said WAPA is seeking to overturn a 2005 law forcing WAPA to pay to install streetlights, without any payment; implement a surcharge for streetlights, change the law to allow it to charge a base rate for a water connection and divert a portion of property tax revenues to help shore up the water service.
Under current law, four percent of property tax receipts is meant to help pay for street lighting. But the sums have not been enough to cover the costs, adding to the utility's financial stress. WAPA wants to instead use a surcharge, and instead use two percent of property tax bills to help shore up the water service. This would provide a revenue source to help it finance replacing the water distribution lines in both districts, which would cost close to $300 million, Rhymer said.
The other two percent would go back to the V.I. General Fund, he said.
Making these changes would require approval from both the Legislature and the Public Services Commission.
Sen. Myron Jackson asked whether the surcharge could be used to pay for more than just streetlights. Rhymer responded it could perhaps be expanded to help pay the hospitals' chronically unpaid utility bills, but that he personally did not think it would be feasible to make all the other ratepayers pay for the hospitals.
WAPA is getting closer to switching over to propane for much of its generation and should be using propane by the end of October, barring some new, unexpected problem, Rhymer told senators.
In answer to a question from Sen. Positive Nelson, Rhymer said the switch to propane is expected to save about $90 million per year. He previously said a completely new power plant would cost in the neighborhood of $300 million Nelson suggested that savings could pay for a new plant in just a few years.
Sen. Kurt Vialet pointed out that would require WAPA to keep charging the same rate for electricity. But he also suggested that increased efficiency or lower costs could provide a source of revenue for the cash-strapped utility.
"If we are able to increase efficiency, that would correlate to a drop in the LEAC," Vialet said. The LEAC or Levelized Energy Adjustment Clause, is a surcharge for the price of fuel.
"How much of that drop could WAPA retain" is a discussion WAPA, senators and the PSC should have, Vialet said.
Several senators asked about the possibility of a private company purchasing WAPA.
"How much is WAPA worth on the open market?" Vialet asked.
"Currently, due to the downgrade of bonds, WAPA's worth could be negative at this point," Rhymer said, saying it may have around $600 million in assets but up to $700 million in liabilities.
Any investor would have to deal with the same conditions that WAPA is struggling with now. That the ratings firm Moody's Investor Services has downgraded the utility means WAPA's credit is bad and it cannot easily borrow. "There will be difficulty finding investors," Rhymer said. If an investor did buy it, then rates would go up, because the investor would get a guaranteed rate of return, and "you are going to have the hospitals being cut off or you are going to increase the rate," he said.
For FY 2017, WAPA's electrical system is projected to earn sales of revenues of $265.9 million and $3.1 million from other revenues for a total operation revenue of $269 million. Operating expenses and deductions are budgeted at $267.5 million, leaving net income of $1.5 million, according to Rhymer's testimony. The water system is projected to have revenues of $23.9 million and expenses of $23.3 million, for a net income of $1.7 million.
Rhymer said the electric system had line loss of six percent. Sen. Clifford Graham asked if its new digital meters, which measure use in real-time across the grid, help in reducing line-loss, which used to be much higher. Rhymer said the new system has drastically cut down on theft of service in the St. Thomas/St. John district and that it helps identify problems in the grid too, such as transformers that are oversized, which also helps reduce line loss.
Since the "Advanced Metering Infrastructure" system was installed in that district, "we have probably had 10 to 20 cases of tampering that we caught simultaneously," Rhymer said.
Robert Graham, executive director of the Virgin Islands Housing Authority, discussed that agency's budget on Monday as well. VIHA, which runs most of the territory's public housing communities, is entirely funded by U.S. Housing and Urban Development, a federal agency, along with its own self-generated revenue from rents.
"For FY 2016 budget for the AMPs total projected revenues are $26.6 million, with HUD accounting for the majority at $22.1 million. The rental contribution is projected to continue at $3.8 million and Other Income and the Capital Grant Fund is $660,000," Director Robert Graham said.
Expenditures include $7.8 million for maintenance, $7.4 million for administrative expenses, $7 million for utilities, $1.1 million for insurance and $1.7 million energy performance contract, according to Graham.
Separately, the committee voted to approve two appropriation transfers for the FY 2016 budget. The transfers allow agencies to use funds that were already budgeted to them, letting them shift their budgeted purpose.
One of the transfers allowed the Bureau of Motor Vehicles to transfer $98,000 from operating expenses and utilities to personnel costs and fringe benefits.
The other allowed the Bureau of Internal Revenue to transfer $457,000 from personnel costs to operating expenses. The agency plans to spend the money on new computers, a Dell Equalogic storage unit, Microsoft 365 licenses, leased printers and operating supplies, IRB Director Marvin Pickering said.
Voting for both transfers were: Jackson, Graham, Sens. Marvin Blyden, Tregenza Roach and Sammuel Sanes. Nelson was absent at the time of the votes and Vialet abstained.