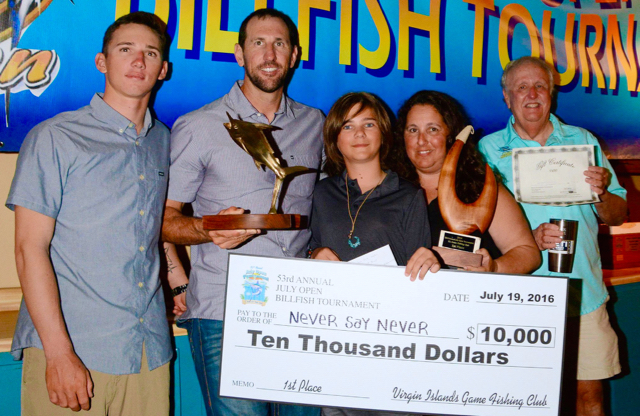 Staying alert, listening for the sound of the teaser going off and paying close attention to the crew's direction proved the secret to success for Zachary 'Zak' Murck, of Davie, Florida, who on Tuesday claimed the title of Top Angler in the 53rd Annual July Open Billfish Tournament.
According to the tournament host, the V.I Game Fishing Club, Murck released six blue marlin in three days to earn the top prize in the tournament, which was held July 17 to 19.
Murck's six fish were enough to land the Top Boat award for Never Say Never, the 58-foot Merritt he and his mother, Melissa, fished aboard as a team.
"We were in first place going into today with a pretty comfortable lead, but I knew that could change quickly," said Murck, who has been angling since age 5 and at age 6 reeled in a 65-pound mahi-mahi all by himself while on vacation in Costa Rica with his family. "Then Pescador started catching fish and it made me a little nervous. I caught my last fish by 11:30 a.m., and then the bite pretty much shut off for the afternoon, so we were able to maintain our lead."
Murck will have his name engraved on the Give Him Line award for Top Angler. The names of past winners on this perpetual trophy reads like a 'Who's Who' of blue marlin sport fishing, organizers said.
The teenager's road to this impressive trio of honors – which also included Top Junior Angler – started on the first day of the tournament when he released two blue marlin by early afternoon. This put both Murck and Never Say Never at the top of the angler and boat scoreboards right from the start. The second day, the bite heated up when all tournament boats scored releases. Yet Murck kept himself and Never Say Never on top by releasing another two blues. On the third and final day, in spite of a strong showing by teams on the 61-foot Garlington, Wave Paver, and 60-foot Rybovich, Pescador, which ended as second and third Top Boat, respectively, with five blue marlin apiece based on time, Murck prevailed by releasing yet another two blues.
"It was really exciting, especially on the last day," said Jr Davis, owner/angler aboard Wave Paver, based out of Port Canaveral, Florida. Wave Paver won Top Boat in the 2015 JOBT with seven blue marlin releases.
Wave Paver and Pescador were briefly tied with four releases each by mid-day. Then Wave Paver's Davis released his fifth blue first to keep the boat in second place.
However, the real story of the last day was Pescador's four releases. It was the highest one-day total in this year's tournament. Added to the one release the day before, it gave Pescador a five fish total. All fish were caught by 17-year-old angler, John Deckoff, of St. John, USVI.
"The last one was about 600 pounds," said Capt. Jay Fowler, at the helm of Pescador. "It stayed on top, took some good jumps and it was our fastest release. Let's just say it came in hot and it left hot."
Rounding out the fleet, Sodium finished fourth with three released and Mixed Bag ended fifth with two released blue marlin.
In this year's tournament, four junior anglers fished aboard four different boats: Murck on Never Say Never, Deckoff aboard Pescador, 9-year-old Robbie Richards, Jr, on Mixed Bag and 10-year-old Finn Sinclair on Wave Paver. Each of these anglers was awarded a hook necklace crafted by marine artist David Wirth.
"This bodes well for the future of our sport and our tournament to have such talented young junior anglers," said Dr. Craig Friedenberg, VIGFC member, as he presented the awards.
The five boat tournament fleet, with 13 anglers, collectively released a total of 21 blue marlin.
The JOBT is the kick-off for the new Virgin Islands-Caribbean Billfishing Series, which will continue and conclude this year at the Scrub Island Blue Marlin Invitational, in August, in the BVI. VIGFC members hope to expand the Series to include more tournaments in years to come.