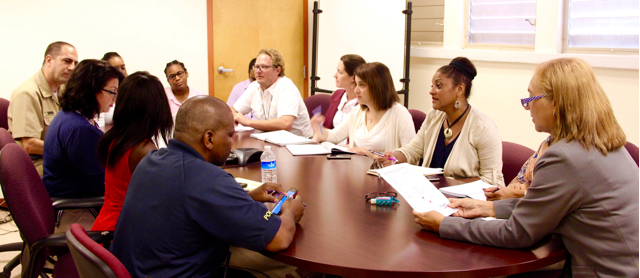 Since the territory's first case of Zika was confirmed in late January, the V.I. Department of Health has been diligently working to slow the outbreak's spread and educate the public about the virus's dangers.
To do so, it's juggling a number of outreach campaigns with staffing support from the U.S. Centers for Disease Control and Prevention. It's also ramped up its surveillance efforts and has continued investing in its lab, so it can test blood samples on island as early as next year.
Those who are involved with the response say that without the CDC's staffing support, the territory would be less equipped to respond to the outbreak. Since February, the CDC has deployed more than a 40 staff members for short intervals, which usually last about a month. There are currently six CDC members in St. Croix and three total in St. Thomas and St. John.
"Unlike with a natural disaster, an outbreak like this doesn't halt the department's other operations, which is why we have a one-year proposal for CDC staffing support," Francine Lang, the director of Public Health Preparedness at Health, said.
Lang said the territory activated its emergency operations center for the first time ever at this scale just 10 days after the first case of Zika was reported. The EOC set up at the Charles Harwood Complex in Christiansted because the first case was on St. Croix and all health operations are in one building there, unlike on St. Thomas.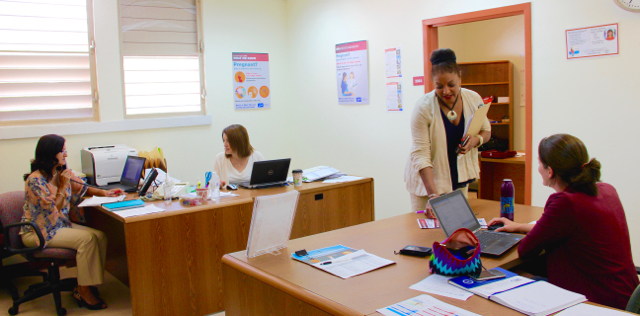 They call the EOC the "command center," since it fields all calls and messages coming in about Zika. Every Zika press release that goes out lists the EOC number and both CDC and Health personnel work the phone lines – one example of how the partnership has increased capacity.
Avi Stein, a lieutenant commander for the United States Public Health Service, is the new CDC team lead for the territory's Zika response. Since CDC staff are cycling through, his job for its one-month duration is to manage the day-to-day operations of the CDC team and ensure its efforts are coordinated with Health's.
"We will continue to support the USVI by leveraging CDC resources to support the territory until we see a big drop in the number of cases," Stein said. He added that the CDC is also assisting with the education campaign that targets pregnant women and includes clinician outreach.
According to multiple persons involved in the response, the CDC as a whole views the territory's efforts as widely successful. What's behind that outlook?
Michelle S. Davis, Health Commissioner, credits well-trained staff, free prevention services and CDC emergency staffers, as well as her own leadership and training. Davis became Health Commissioner shortly after the outbreak started, but said she felt confident addressing Zika since she's an epidemiologist and former CDC employee.
"I have been trained to rapidly respond and coordinate response to issues such as this," Davis said, adding she's also worked with other state and local health departments.
Zika response is a multi-partner effort. According to Davis, Health is also working with other V.I. departments including Government House, Tourism, Planning and Natural Resources, Property and Procurement, Human Services and Education, as well as public health partners such as hospitals and federal health centers.
About a dozen team members from different branches of the response effort meet each morning to touch base about the status of the outbreak and go over their tasks for the day. During the meeting, specialists in public health, enforcement, epidemiology, public relations, community outreach and emergency planning all share information.
Thursday morning they were discussing the doubling of cases on St. Thomas, which brought the number of cases from 15 to 29 on the island. It's a big jump.
But Lang told the group that it's not cause for panic. The territorial epidemiologist said that one week of drastic increases isn't enough to judge if the disease is rapidly spreading, though the general trend in upward. Plus, St. Thomas is more densely populated, which can be conducive to spreading the disease, she relayed.
Community Outreach
Members of the EOC are actively out in the community giving presentations and sharing information at events and festivities such as the recent Mango Melee on St. Croix. The team comes equipped with boxes of easy-to-read informational flyers in both English and Spanish. They also offer free insect repellent.
Nykole Tyson, Health's director of Public Relations, said their campaign focuses on prevention, especially on educating the public that Zika can be sexually transmitted in addition to being spread through the bite of an Aedes aegypti mosquito. Until recently it was believed that only men could spread Zika to sexual partners, but the CDC has confirmed its first case of a woman sexually transmitting the virus.
"When we're out at community events, people are very willing and open to get information and apply it immediately," Tyson said. "They do want to know that they have some control to protect themselves and their families."
To date, Health has given more than 200 community presentations.
Many of the pregnant women who come into the Charles Harwood Medical Complex know a little about Zika, but they learn the specifics when they visit the Maternal and Child Health clinic for prenatal care.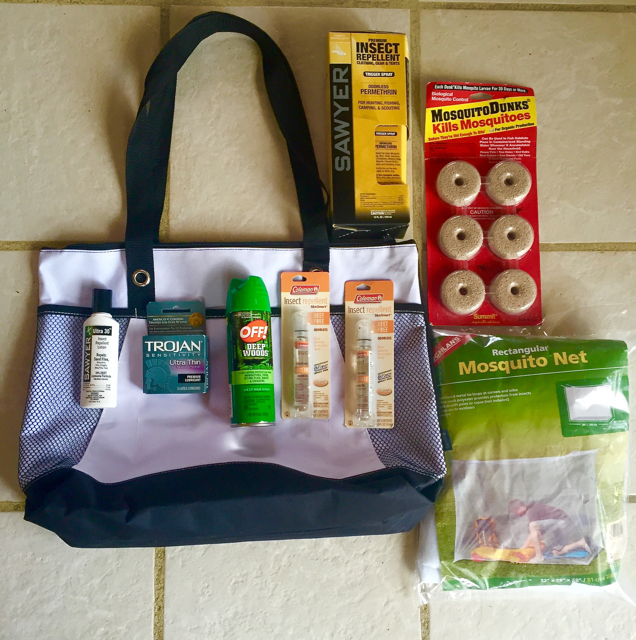 The clinic has given out hundreds of Zika kits to pregnant women, which include such prevention tools as mosquito nets, insect repellent condoms and "mosquito dunks," which kill larvae in standing water.
"Our biggest success is providing free services to pregnant women in the community," Lang said.
Making testing free has been a huge help, she said. Since the Virgin Islands has a high poverty and unemployment rate, free testing has removed the financial barrier.
In June the World Health Organization recommended that women who live in areas with locally transmitted Zika delay pregnancy, but Davis said that's not what her department is recommending.
"The most important actions for us to do now are to continue providing free prevention services to our pregnant women and to continue to stress the importance of women protecting themselves and [give them] the methods to do so," Davis said.
Expanding surveillance and lab capacity
When Dr. Esther Ellis, territorial epidemiologist, first arrived in the Virgin Islands in 2012 to assist with the dengue outbreak, she found a surveillance system in need of improvement.
"I saw the need for more help with accurately tracking disease," Ellis explained.
Since she's been in the territory, she's helped implement the National Electronic Disease Surveillance System, which will allow the territory to have historical disease data going forward.
Ellis said that doing surveillance and collecting data lets researchers better understand the extent of health risks like cancer and can help detect outbreaks like Zika.
"You'll know what the baselines and trends are, so in the future you can plan more effectively," Ellis said. She regularly analyzes data for trends and constantly keeps her eye on what diseases could pop up in the territory next.
In addition to building surveillance capacity, Health is also investing in lab technology. As soon as early next year it could be testing and delivering Zika results from within the territory. Right now, blood samples are sent to Atlanta for testing.
Dr. Brett Ellis heads up the lab at the Charles Harwood Complex. The lab stores and sends out blood samples for many diseases, including dengue, chikungunya and Zika, as well as many sexually transmitted diseases and even influenza.
"We're one of the last states or territories without a public health lab where testing can be done onsite," Brett Ellis said.
To respond to that need, Brett Ellis is busy setting up a fully operational lab with the help of grant money, which has funded about half of a million dollars worth of equipment so far. Currently, the lab has high-tech machines that can test a virus's molecular makeup, meaning its DNA, and one that can test for antibody resistance to the virus if it's no longer present in the bloodstream.
But there are many regulatory hoops to go through before the lab can become certified. The lab has to go through a federal approval process, which includes writing manuals and proving that its testing equipment is accurate. Brett Ellis is testing some blood samples on island now to assess their accuracy, but he's not certified to deliver results without the tests being confirmed stateside.
On average he's getting about 25 to 50 Zika samples per week that come from around 100 different providers, including clinics and private facilities. Because Zika can cause birth defects in unborn babies, Brett Ellis doesn't think the need for testing will disappear anytime soon.
Looking Ahead
For most of those involved in the local response, the biggest hurdle is making sure everyone is informed and taking the necessary precautions to keep themselves safe.
"The largest challenge will be developing a prevention mindset throughout the territory," Davis said.
While some might say there's complacency about Zika, since Virgin Islanders have long been dealing with mosquito-borne illnesses, Tyson said she thinks people are taking it seriously. For one, she's seen people using more insect repellent.
Because there's no predicting when Zika will stop circulating in the territory, it's likely to stay a regular test both for pregnant women and those exhibiting symptoms. There's a vaccine in the works, but testing its safety and effectiveness could take months or even years. In the meantime, the EOC is working to educate the public and keep transmission rates as low as possible.
"We have a great team and we're paddling hard," Tyson said. "We just had to refocus, readjust and prioritize and now we're all on the same track."