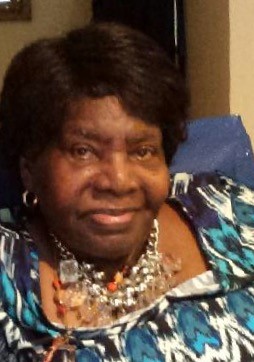 Who can find a virtuous woman? for her price is far above rubies. – Proverbs 31:10
On May 16, 1928, on St. Croix, United States Virgin Islands, God gave the world a gift in the form of Vera Christinita Allick Daniel. Born to Joseph Allick (deceased) and Agatha Petersen Allick (deceased), Vera would be the oldest of five siblings.
Morning, noon or night, you would often find Vera reading the Word of God to seek wisdom, understanding, strength, courage, comfort and peace. God's Word was like her American Express Card: "she would never leave home without it" and like Allstate Insurance: "keeping her in good hands."
Nurturing at heart, Vera answered the call to serve her family with selfless generosity, compassion and genuine care at an early age. She left school in ninth grade to assist her parents in supporting the family and caring for her siblings. Shortly after leaving school, Vera set her sights on becoming a nurse. At the age of 16, Vera began a 12-year career in nursing. She was affectionately known as Nurse Allick. As a nurse midwife, she helped to deliver and care for babies who would often become her godchildren.
The heart of her husband doth safely trust in her, so that he shall have no need of spoil. She will do him good and not evil all the days of her life. – Proverbs 31:11-12
On Nov. 21, 1956, Vera married Elisha R. Daniel Sr. From their union were born seven children: Vera (Cordy), Darwin, Irvin, Stephen, Maurice, Ingrid and Michael. Vera exchanged her nursing uniform for an "apron" to give her attention full time to raising her children and caring for their home after the birth of their first child, Cordy. She loved her family unconditionally, sacrificing for them to have the best and instilling in them the importance of family. In marriage, she also gained stepchildren, but removed the "step" and saw them as her own children: Walter, Emmeth, Elisha Jr., Coreen and Howard.
She seeketh wool and flax, and worketh willingly with her hands. – Proverbs 31:13
When the young Nurse Allick, Vera dressed for life outside of nursing and homemaking, she was always dressed to the nines: pencil skirts, pumps, blouses and dresses adorned her shapely, feminine form! Yes, she was a pretty lady! Her favorite colors were blue, turquoise, silver and purple. She strived to look her very best and later instilled her standards for cleanliness and neatness to her children. If they attempted to leave the house looking anything less than their best, she would redirect them by simply asking, "Where do you think you're going looking like that?" To this day, each one of her children can iron like nobody's business: creased slacks, starched shirts and blouses, and spotless clothing are their norm. She even taught her sons how to sew, cook, clean and do laundry along with her daughters.
She is like the merchants' ships; she bringeth her food from afar. Proverbs 31:14
Vera was also known for her cooking! She loved to cook and bake. Anyone who happened to stop by her home would leave with a plate of food or baked goods. Holidays were fun and festive with her making sweet bread, fruitcake, pigeon peas rice, potato stuffing, glazed ham and roast goat. And on Saturday's when the fishermen came to market, her children got to help in cleaning and frying fresh fish. Johnny cake, cornbread, okra fungi, cornmeal pop, fried fish, saltfish gundy and smoked herring were some of her favorite foods to prepare.
Vera enjoyed the simple pleasures of life. She liked to garden and grow flowers. Often she would decorate, making her own arrangement of freshly picked flowers from her garden.
She riseth also while it is yet night, and giveth meat to her household, and a portion to her maidens. – Proverbs 31:15
Vera was not afraid of hard work, nor was she afraid of smart work. "Many hands make light work," she often said. Now her children are passing that same work ethic on to their children, grandchildren, nieces and nephews. She strived to make and keep things simple. She was not one for drama or over complicating a task or situation. She didn't debate; she didn't argue; she didn't allow herself to get worked up with worries or cares. And while she had reasons to complain and give up in life, she refused to give "quit" the satisfaction of stopping her. She loved; she sacrificed; she gave over and over and over again. She went about her day-to-day in the shadows, yet her light could not be hidden. Her trust in God, her gift of compassion and nurturing spirit penetrated the hearts of all that came in her presence.
She openeth her mouth with wisdom; and in her tongue is the law of kindness. She looketh well to the ways of her household, and eateth not the bread of idleness. – Proverbs 31:26, 27
Vera commanded respect without raising her voice to get it. She simply established boundaries. Boundaries like homework comes before playtime was a rule that everyone had to keep. "Did you do your homework?" she would ask the children who came to play in her yard. When friends of her children came to her home and chose to use bad language they had to leave for the day. When she spoke, children and young adults listened. She was short in stature, soft-spoken, but highly respected. She often said, "little axe cuts down big trees." Parents in the community appreciated Vera because they knew their children would be monitored as well as nurtured whenever they were playing in her yard. Her home was welcoming to her family and friends.
Many daughters have done virtuously, but thou excellest them all. Favour is deceitful, and beauty is vain: but a woman that feareth the Lord, she shall be praised. – Proverbs 31:29-30
In 1998, Vera left St. Croix and moved to Virginia for healthcare. She enjoyed 18 years of numerous family gatherings, special occasions intimate moments, and making new friends and family. While in Va., Vera enjoyed a family reunion cruise to the Bahamas aboard the Norwegian Cruise Line. She became the "Queen Bee" of Birmingham Green where she lived. She knew everyone's name in her unit and she knew their children's names. She was a champion at Bingo and had the prizes to show for it! She also enjoyed attending worship services there on Sundays. If there was a social event scheduled, she was there. In fact, one of her favorite annual events was the Senior Prom hosted by Birmingham Green. This event was held around her birthday. She enjoyed the festivities with family and friends, dancing to a music favorite, "Feeling Hot! Hot! Hot!"
Give her of the fruit of her hands; and let her own works praise her in the gates.
– Proverbs 31:31
On the morning of July 9, 2016, at 88 years old, Vera (Mommy, Nurse Allick, Mrs. Vera, Mrs. Daniel, Porkpie) with her sweet [gentle] spirit was quietly lifted to her heavenly home. While she will truly be missed, she is not lost; her spirit and her legacy reside within the hearts and lives of those she touched.
She is survived by her children: Vera (Cordy) Daniel, Irvin Daniel (Sheila), Stephen Daniel (Janice), Maurice Daniel (Constance), Ingrid Daniel and Michael Daniel (Lisa); stepchildren: Walter Daniel, Emmeth Daniel (Barbara), Elisha R. Daniel, Jr., Coreen Hughes (Albert) and Howard Daniel; grandchildren: Sheamonique Daniel, Shamar Daniel, Shaun Daniel, Shaleah Daniel, Jonathan Daniel, Myles Daniel and Neriah Daniel; great-granddaughter, Imani Hughes; brother, Vernon Allick (Terry); sisters: Valburg Krauser (Ivan) and Gwendolyn Frorup (Norman); and a host of nieces, nephews, cousins, godchildren and friends. She was preceded in death by her son, Darwin Daniel, husband, Elisha R. Daniel Sr., brother, Leroy Allick, and great-grandson, Amari Daniel.
Services: 11 a.m., Tuesday morning, July 19. (Viewing 10 a.m.), Woodbine Church, 12914 Canova Drive, Manassas, VA 20112 (571) 399-7159. Internment immediately following: Woodbine Cemetery.
Funeral Home: Mountcastle Turch Funeral Home, 4143 Dale Blvd., Dale City, VA 22193 (703) 680-1234.
Floral arrangements by: Flower Gallery of Virginia, Manassas, VA (800) 272-5186.