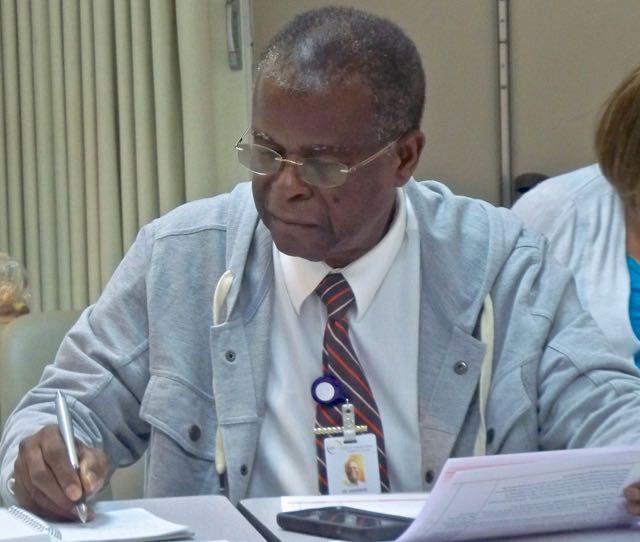 The report of Tim Lessing, Gov. Juan F. Luis Hospital's chief financial officer, to the hospital's governing board of directors on Wednesday probably would not have made a businessman happy – expenses were higher than income. However, Lessing said, "Overall, May has been a good month," suggesting the figures show "continued improvement."
Some of the figures Lessing presented included charges for services, $14.6 million; an amount 11 percent higher than expected. Year-to-date charges are 6.6 percent higher than expected, he said.
Expenses for the month were $7 million while only $6.6 million had been budgeted for them.
Total income from charges was $5.9 million. A boost of an additional $4 million came from the V.I. government to pay the hospital's back utilities bill.
Maybe buoyed by the positive trend in the financials, members discussed two projects they hoped soon could be brought to fruition.
One was a mental health ward. Board Chairman Troy de Chabert-Schuster said, "There is a tremendous need in the community for mental health services." The hospital shut down the psychiatric ward. It had six beds and averaged 15 admissions per month.
Richard Evangelista, acting chief executive officer, said that he has been ordered by Superior Court Judge Harold W.L. Willocks to do something about a mental health ward. Evangelista said he had been in contact with three people who he has asked to come up with proposals for the ward.
Board member Vera Falu was emphatic in her support of a second project – the hospital coming up with a wing or an area for veterans' services. Presently Virgin Islands veterans have to travel to Puerto Rico for most medical services.
In his report Evangelista noted that Dr. Carl Springer and Lindsey Jacobson, a physician assistant, both working in the emergency room department, had resigned effective June 30. The board authorized Evangelista to raise the pay of current emergency department physicians to $300,000 annually and to recruit three addition physicians for the emergency department at that salary.
Evangelista said $300,000 is considerably more than physicians in the emergency department had been receiving, but it was still $25,000 less than the average.
During June, 11 employees were hired at the hospital and 10 left. Sixty percent of the separations were due to relocation, according to Evangelista.
The board approved reappointed of medical staff privileges for Drs. James Kasin, Gregory Mooman, Angel Lake and Warren Briscoe. Receiving initial appointments for staff privileges were Drs. Linda Callwood and Dwight Mimrow.
The new acting chief of human resources, Dr. Valdemar Hill Jr., was introduced by board member Theres Frorup-Alie.
Evangelista reported that the hospital staff consists of 36 employed active physicians and 17 privileged physicians. He said approximately 25 more doctors are needed to fully staff all services.
In his list of why it is hard to recruit doctors he included salaries, Zika and dengue reports; high cost of living; unavailability of employment opportunities for spouses, negative media coverage and that stateside hospitals have additional support staff.