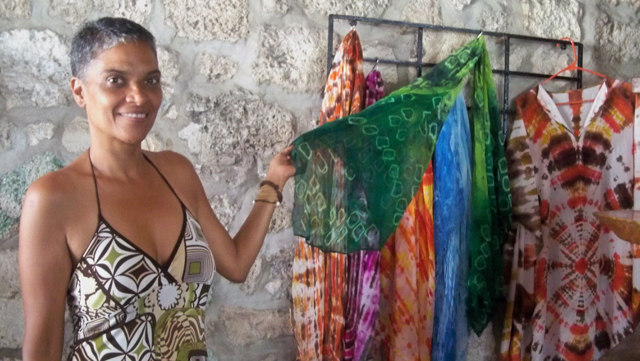 Kim Lyons fell in love with fine-art crafts as a youngster, as she spent time with her grandmother, Alma Wesselhoft, who taught the preteen Lyons the craft of crocheting hats when she was growing up on St. John. The craftsmanship learned from her grandmother and the projects of her developed artistic eye will be on display in July as she opens a studio in Frederiksted.
"I loved the fine art of crocheting," Lyons said.
Her grandmother was her motivation to pursue other fine art crafts, she said. With encouragement from Wesselhoft, Lyons took up beading and began creating jewelry while at her grandmother's home. And as a teen she got hooked on tie-dying cottons.
She has branched out, carving lignum vitae wood pendants to embellish the necklaces she designs. Her creations are made in beautifully color-coordinated Swarovski crystals, semi-precious stones, African beads and vintage glass beads.
Lyons also does time-consuming and tedious tying and dying to create intricate colorful patterns on silk and linen. She said people are attracted to her scarves tie-dyed in blues the shades of the Caribbean sea. She creates bursts of color on table lines in bright shades of the flowers of the Caribbean.
Lyons does special orders for caftans and is even growing indigo for dye.
In 2001, Lyons spent three weeks in Nigeria at the Nike School for Art and Culture, studying batik and tie-dye applications of Nike Davies-Okundaye, acclaimed artist and textile designer.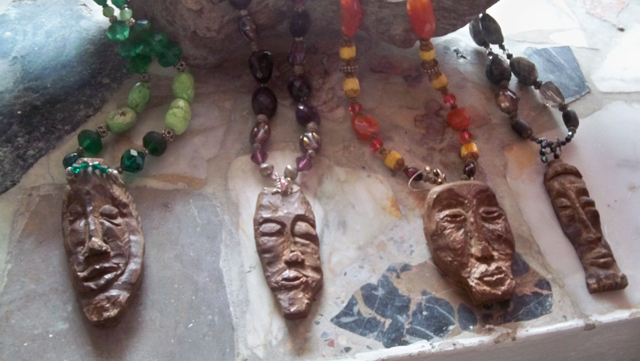 "I love colors and fabric and love to see the transformation of white fabric," Lyons said, adding that she favors earth tones.
The love of crafts has led her to expand her art and fulfill her decades long dream of having a studio where she can create, display and sell her work.
Lyons is hosting a grand opening of the K. Lyons Studio, beginning at 4 p.m. Sunday, which coincides with Virgin Islands Emancipation Day celebration held every July 3 in historic Frederiksted.
"I planned the opening to mark Emancipation Day," Lyons said. "I felt it would be an auspicious time. We put a lot of emphasis on commemorating July 4 instead of our local holiday."
Lyons said the new studio isn't all about her art. She will showcase all types of art of Caribbean artists.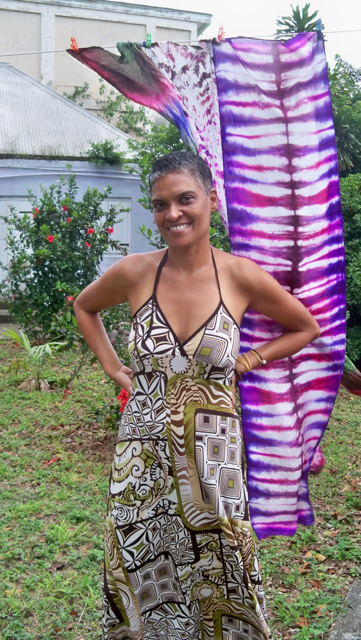 "It's not just going to be my art," Lyons said. "I want to showcase my work, but also give others a platform for their own creative expression."
The studio in a landmark building at 70 Queen Street is a spot where she can also teach classes, hold workshops, special events and provide a venue for other local artists and craftspeople.
The opening will feature stained glass collectibles from Shomo Art Studios of St. Thomas and new works from Crucian artist Lucien Downes. The opening will feature live music by the Eddie Russell Band and a cash bar benefiting the St. Croix Educational Complex Drama Club.
Lyons said she wants to emphasize service and giving to the community and becoming an integral part in the revitalization of Frederiksted.
"Service is important and the underpinning of the studio," Lyons said. "I'm always seeking to wed and integrate a cause with art. I see this as a very vibrant space. I look forward to establishing a strong community presence."
Lyons moved to St. Croix from St. John four years ago. She always loved the look and architecture of Frederiksted and the fact that St. Croix is so spacious and spread out.
Summer hours for the studio are by appointment, and during high season hours will be extended. More information about the studio can be obtained by calling 340-227-9412 or send an email to klyonsvi@gmail.com.