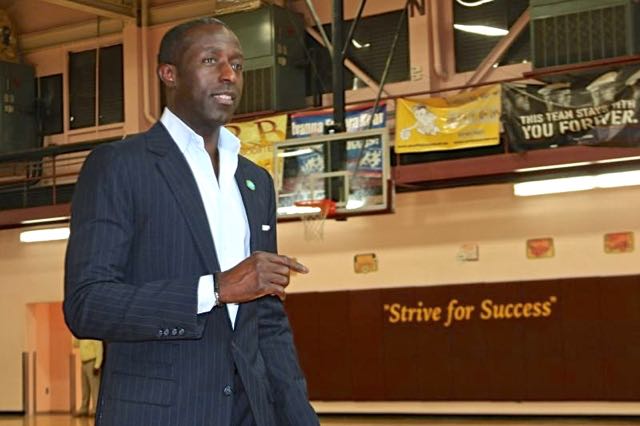 Former Minnesota Timberwolves general manager Milton "Milt" Newton was back in the territory this week with a series of inspirational school workshops and expanded opportunities for an August camp on St. Thomas that will give 100 student-athletes a chance to improve their basketball skills.
Newton's summer camps, sponsored by his own Emerald Gems Foundation, last year worked with 80 students at Ivanna Eudora Kean High and, speaking at the school again on Friday, Newton said this year there are spots for 20 more.
He said he hopes that NBA coach Roy Williams will be on the court helping the students' improve their skills, which Newton said could put them on a path toward being better student-athletes.
Born on St. Thomas, Newton has often said that he was inspired to start Emerald Gems to open up "the doors of opportunity" for students he says remind him of himself. Though he left the territory at age 13, Newton was held back in the seventh grade at Addelita Cancryn Junior High after missing more than 50 days of school, but says he got focused after discovering basketball and what he needed to do to pursue an athletic career.
Along with coming to the territory frequently for his motivational talks – like Friday's morning workshop at Kean – Newton now looks to bring the same kind of opportunities to students throughout the territory, including taking small groups to the mainland for a visit to learn more about college, the sports industry and possible careers.
"Outside of the Virgin Islands, there is a whole big world out there," Newton told Kean students Friday. "There are a lot of things to experience, a lot of people to meet and basketball, well basketball has taken me all over that world, but I've learned that without books, there's nothing. There's no basketball, there's no sports – the two of them go hand in hand."
He also pushed students to see that coming from a small island does not make them different, or worse, than anyone else.
"If you have a strong heart, you're willing to pick yourself back up when you get knocked down, and you're determined to succeed, it doesn't matter where you're from," Newton said. "You're just as good as anyone else, but you have to want to make it."
Speaking afterward, Newton said that his work with Emerald Gems is not affected by his recent departure from the Timberwolves. Instead, he hopes to continue the partnership with "whichever team" he "lands with," or to bring on other sponsors to help with the camps and other projects.
Newton said that he is working with his agent on career opportunities of his own but is taking this time in the territory to also "decompress" and work with the students.
"It is so important for them to know what they can be," Newton said. "And we look forward to being able to show them, to helping them grow and to give them some resources they can use to succeed."