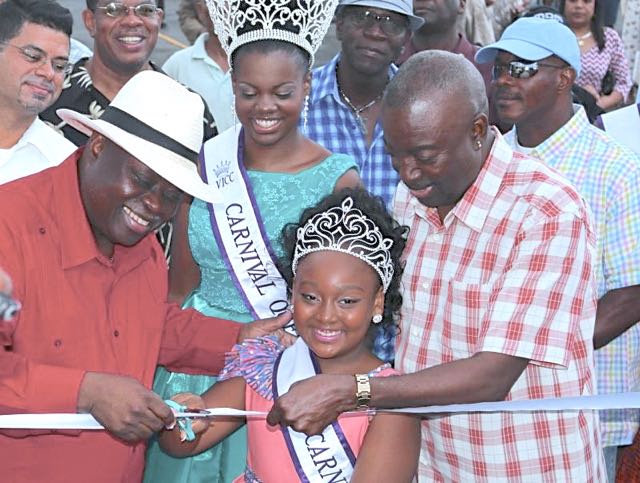 The "awesome" Jam Band has long been considered a local music icon and, to go along with this year's Carnival theme, vendors in newly opened Carnival Village have honored the group and its late front man Trevor Nicholas "Nick" Friday by transforming the Fort Christian parking lot into the "Jam Band Showtime Headquarters."
The 2016 theme is "Nothing is More Fabulous Than Carnival on St. Thomas," from a popular Jam Band song.
"There was a time in another life when I used to J'ouvert behind Jam Band every year – you couldn't stop me," Lt. Gov. Osbert Potter said during Friday's opening ceremonies on St. Thomas. Potter, who joined Gov. Kenneth Mapp and this year's Carnival princess, queen and their royal courts for the event, added that the group was a "fixture" within the territory's musical scene, especially during Carnival time.
"We are honoring a band that has been a part of the Carnival for so many years. They have become a fixture," he added. "Life just can't go on without them in the Virgin Islands."
As part of the ceremony, three members of the original band were honored on stage: Calvin Jones (trombone and keyboards), Robert Leonard (keyboard), and manager Ambrose "Boots" Schmidt, who played the trumpet.
"I know we are all thinking about Nick Friday tonight, and his lyrics were awesome, but … the music also has to be there, and these three gentlemen were the men behind the musical scenes," said Symra Dee Brown, Friday's mistress of ceremonies.
All three honorees were presented by Mapp with a plaque from the V.I. Carnival Committed honoring them for their contributions to the "cultural history of the territory" through their "rich musical legacy."
Around the village, all booths were in full display, bearing everything from pictures of the band's members to scenes from their many performances.
"The idea for our booth came from the artist we have worked with for so many years, and every time Carnival comes around, he proposes a few things and we all get together as a family to choose the best one," said St. Thomas resident Aubrey Boone, the booth owner that won for "Best Relationship to the Carnival Theme."
Boone and his sister Lemelle Allen have run Booth #5 with their family with for the past 43 years, and this year have decorated it in full Jam Band regalia, with large portraits, pictures of instruments and other scenes.
"We are one of the longest running booths here in the Village, and being here so long, of course you always remember the band's performances and the excitement they brought," Boone said. "Jam Band was really a big part of Carnival, part of the fun and the Carnival atmosphere and we are happy to have experienced their energy."