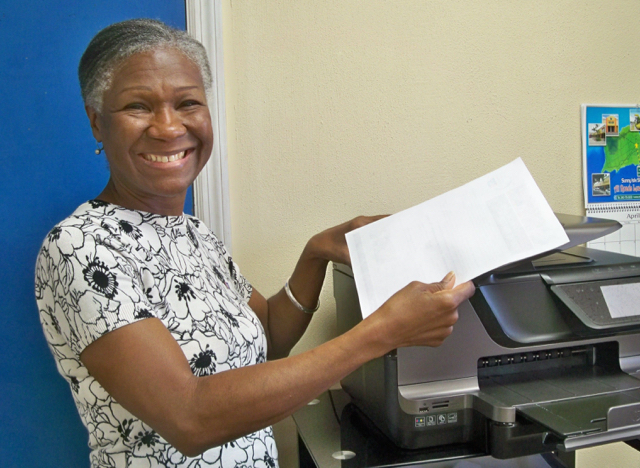 Organizers of the St. Croix Relay for Life hope to have 60 teams doing laps at St. Croix Educational Complex track in May, an ambitious goal compared to last year's event in which 45 teams took part.
According to the St. Croix American Cancer Society, people still have time to organize teams and raise funds that are used solely for St. Croix.
Tina Beazer, American Cancer Society V.I. interim executive director, said the organization is still registering teams so she isn't sure how many teams they actually have.
"About 80 percent of the teams come back every year," Beazer said.
ACS wants teams to be registered by the end of April. Teams have15 members, with each member required to raise at least $100 dollars. Each participant also pays an individual registration fee of $10 and they receive a T-shirt.
She said it's easy for a business, family, church, or fraternity to sponsor a team.
"One thing sponsors can be sure of, the funds are used as they're wished," she said.
She encourages the community to come out and get involved any way possible in the 15th annual relay.
"This is a very doable activity for everyone," Beazer said. "It lends itself to community diversity too. It's a very worthy cause. We're all affected by cancer directly or indirectly."
She said the goal is to raise $95,000 net. Last year's event made $100,000.
At twilight on May 21 luminaries will be lit in remembrance of loved ones, and the survivors' walk begins the relay. Luminaries that are placed around the track and on bleachers can be purchased for $5.
She explained survivors lead the walk as an indication to patients – "We survived you can too." Teams will have someone walking or jogging around the track at all times until Sunday afternoon.
The American Cancer society seeks to assist the whole person. The funds go toward direct service Beazer said. The ACS will assist with medical bills, medicine, and nutritional needs. Durable medical goods such as wheelchairs and walkers are available to patients. Prosthetics, wigs and much more are provided.
The organization encourages patients to seek help on St. Croix and Puerto Rico. She said it is emotionally better for patients to be with families for support in difficult times.
On an annual basis, the local ACS sees about 200 patients Beazer said. The most common cancer in the area is prostate and breast cancer.
"We encourage people to develop healthy life styles to help prevent cancer," she added.
They want people to exercise, manage their weight, eat nutritious food and quit smoking.
"We have a fragile community here right now," Beazer said. "There's necessary support beyond medical aspects. We always need volunteers, in particular men and the young."
A "Dance of Hope" fundraiser will be held May 28 in memory of Al Baptiste, an Xpress Band member who recently died from cancer. Xpress Band will play for the dance at Divi Carina Bay Resort. Tickets are $35 per person.
Those interested can call the St. Croix ACS office at 340-719-4898 to get more information about the relay, volunteer or make a donation.