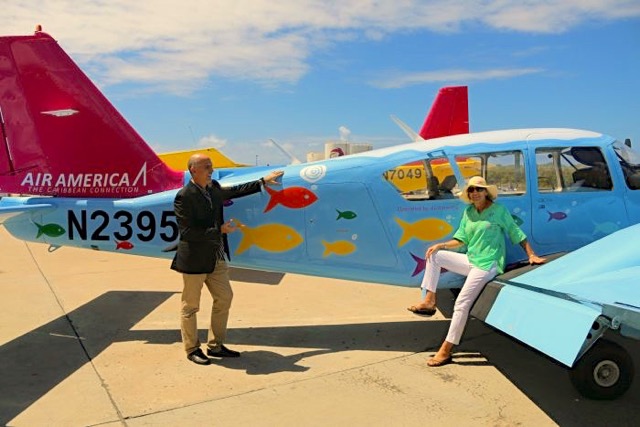 Along with new investments in personnel, customer service and communications infrastructure, Air America managers said Tuesday that part of their vision for the company was also to give passengers a "taste of the Caribbean" by putting paintings of different regional scenes on planes to Tortola, Vieques, Culebra, Tortola, Anegada and Virgin Gorda.
A charter company based in San Juan, Puerto Rico, Air America has been under new management since 2014 and, in the last 15 months, has looked to become more Caribbean focused.
According to Luis Feliciano, the company's president, 85 percent of the company's business is based in flights to and from eight neighboring destinations, with a large majority of the tourism-based business originating out of St. Thomas.
After bringing on personnel, including pilots and mechanics, from the territory and Puerto Rico, investing in its website and social media presence, and improving its navigations and communications systems, the company's operations grew 23 percent in 2015, according to Feliciano.
The next step was to boost Air America's image and, to do that, Feliciano said four Caribbean artists – Lisa Etre and Janet Cook-Rutnik from the Virgin Islands and Carlos Dávila Rinaldi and David Zayas from Puerto Rico – were brought in to make over the planes.
Out of the five twin-engines the company operates, four have different artwork that showcase the destinations they travel to.
"I'm just overwhelmed with emotion right now," Etre said after the planes were unveiled. "This is just a gift of God that fell into my lap. They contacted me one day to help and this is not one of those things that you look for, it comes to you and I couldn't be more proud to be a part of it. Most corporations are always looking at the bottom line for dollars, but this company has looked beyond that to make a statement."
Etre said that when it came to picking a design, she used her signature fish for one of the planes.
"I've done a lot of graphic and fine arts, and people can look at this and say, 'Lisa, that's your fish,'" she said. "I've used it in other designs, and that's the fish that comes out of this hand. And now it's on a plane. I can't believe it."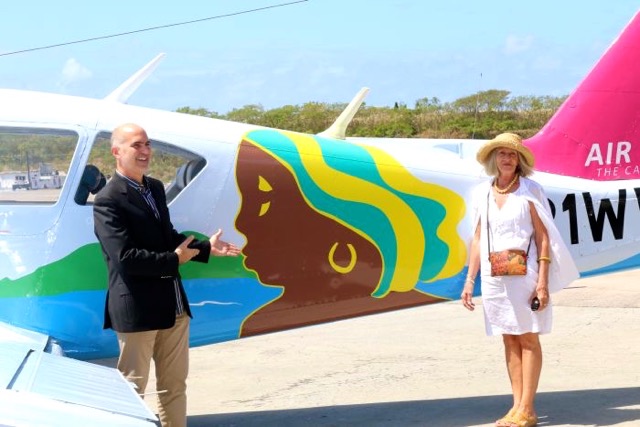 Cook-Rutnik said she also stuck with her own "free-wheeling" style when it came to making a design for the plane.
"I went through several different concepts," she said. "And when they invited me to design, I was drawing for a plane on a little 8.5-inch-by-11-inch piece of paper, so it was a little difficult to wrap my head around creating a three dimensional image, but everyone worked with me so well, and I was able to come to it from a fine artist's perspective and create something that represents the strength and beauty and cultural pride of the Virgin Islands."
Feliciano said the images make the planes "really unique" and easily spotted by customers.
"Working with the artists Carlos Dávila Rinaldi and David Zayas from Puerto Rico, and Lisa Etre and Janet Cook-Rutnik from the U.S. Virgin Islands, has been an extraordinary experience," he said. "Each one has contributed their art, their time and creativity to the new Air America. The final product is a true work of art. Through their representations, our aircraft express what the Caribbean is about."
For more information on Air America, including flights and rates, visit airamericacaribbean.com.