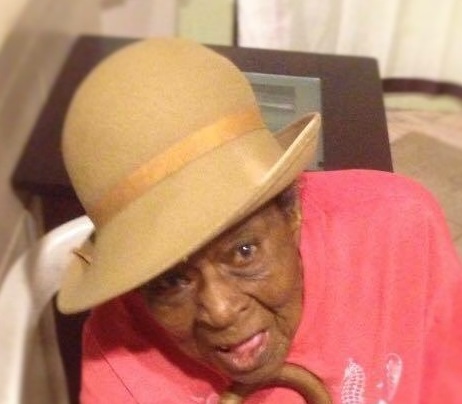 Anna Maria Phillipus went peacefully to be with the Lord on Feb. 26 at her residence. She was 96 years old.
She was preceded in death by her parents: Frank and Ethel Phillipus; brothers: Frank, Joseph and Ralph Phillipus; sisters: Loretta, Una and Magdalene Phillipus; son, Elroy Brooks Sr.; grandson, Leroy Brooks; and two great-grandchildren.
She is survived by her daughter, Jeannette Rouse Cochrane; son, Ivan A. Jacobs Jr.; grandchildren: Reva Kaye Hatchet, Melinda H. Martyr, Etherlyn "Ettie" B. Armstrong, Beryl, Yvette, LeNay and Tasha Brooks and Desiree Jacobs; grandsons: Anthony, Mario, Elroy Jr. and Eljoe Brooks; and great-grandchildren: Lynda Bastian, Kristina Hatchet, JeNee Allen, Mona and Anisha Stanley, Jahnila Lawrence, Myesha, Elisa, Elana, Elara, Ilya and Emmery Brooks, Victoriah, Ameenah and Jamal Hatchet, Franklin "Omari" and Akeem Stanley, Jasiah and Maki Martyr, Diata Callwood, Akell and AQuan Armstrong, J'Shaun, R'Ajan, Tristen, Ethan, Aden, Omarian, Justen and Kazdin.
She is also survived by great-great grandchildren: Anaiby, Janai, Douglas and Dillon; nieces: Gaynel Turner, Alice Maynard, Karen Edwards and Rita Jacobs; nephews: Larry, Joseph, Warten and Melvin Phillipus, Franklyn, Eardley and Gerry Henry; great nieces: Beryl Shaw, Annette and Joycelyn Henry, Angela Maynard, Marcy Encarnacion, and many more too numerous to mention; great nephews: Peter and Louis Lopez, Richard, Jeffery and Harry Maynard and many more too numerous to mention; great-great nieces and nephews too numerous to mention; great-great-great nieces too numerous to mention; special friends: Jolene Payne McNamara, Stanley and 10 Sleepless Knights, Anna Frederick, D. Hamilton Jackson "Red Brick," The Sisters of Catholic Church and Foundation Ministries members.
There will be a viewing held at 9:30 a.m. and a funeral service at 10:30 a.m. on Friday, March 18, at Holy Cross Catholic Church. Interment will follow at Christiansted Cemetery.
The family requests lively, festive colors be worn.
All arrangements are by James Memorial Funeral Home Inc.