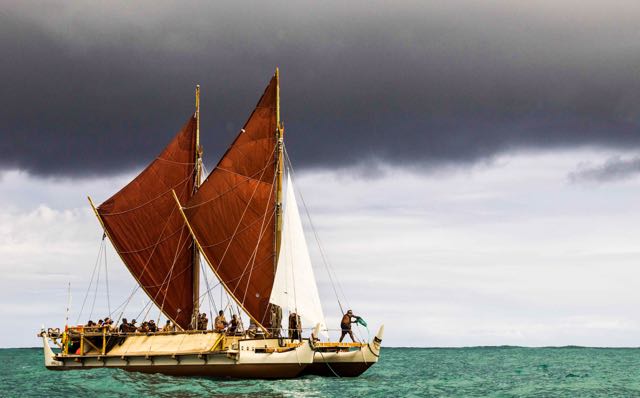 Guided only by traditional seafaring navigation, a Polynesian sailing canoe that's traversing the world to raise awareness about the health of the world's oceans reached St. John on Sunday morning.
Under sail for 16 days from Natal, Brazil, the canoe, named Hokulea after a star, passed Barbados, St. Lucia and Martinique before arriving in the territory for an educational and cultural exchange about how best to care for the ocean and preserve biodiversity.
The journey is being organized by the Polynesian Voyaging Society, a Hawaii-based group that seeks to perpetuate the art and science of traditional Polynesian voyaging through educational programs that promote preservation of natural environments and traditional cultures.
"The U.S. Virgin Islands is similar to Hawaii, with its rich history and tropical climate," said Kalepa Baybayan, captain and navigator of the canoe.
"Also, much like our home, their economy is significantly driven by tourism and agriculture. We're looking to engage with the residents to exchange ideas of Mālama Honua, of preservation and cultivation of precious resources," Baybayan said.
The canoe is docked at the National Park Service's bulkhead in Cruz Bay Creek and is open to public tours.
On Friday morning, it will depart for the British Virgin Islands for a few days before going on to Cuba and then the east coast of the United States.
Sponsored by Hawaiian Airlines, the canoe started sailing around the Hawaiian Islands in 2013 and has since visited a number of countries and ports across the South Pacific, the Tasman Sea, and the Indian and Atlantic Oceans. The St. John landing is the canoe's first visit to U.S. soil since its 2014 stop in American Samoa.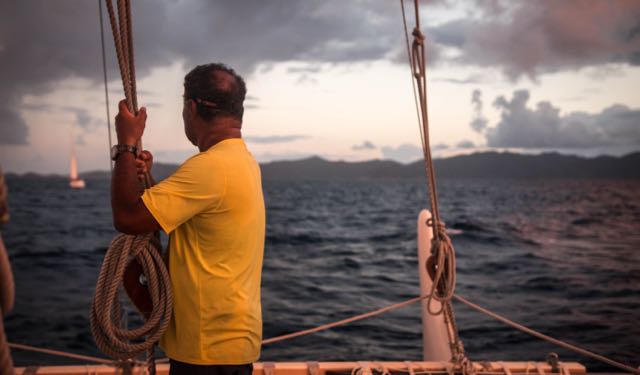 Heidi Guth, a volunteer crewmember and chief operating officer and logistics coordinator for the Polynesian Voyaging Society, said that nature treated them well with good weather on their journey from Brazil. Landing in St. John was a special homecoming for Guth, since she was raised on the island.
"Being able to connect two of my homes and families by having Hokulea visit St. John during the centennial of the National Park Service and the 60th anniversary of the Virgin Islands National Park is an unbelievable dream," said Guth.
"I'm also excited about the opportunity to share and exchange ideas on caring for each of our coastal homes, our oceans and our island Earth. We have a common interest in natural and cultural perpetuation," Guth added.
Guth said that the typically 12-person crew is entirely volunteer-based and that the crew switches out every one to two months. So far, around 180 people have help sail the canoe and more new crewmembers arrived in St. John on Wednesday afternoon.
For safety purposes, the canoe travels with an escort vessel, which follows the canoe but doesn't assist with navigation.
"It's amazing how pinpoint accurate these navigators are and they're training apprentice navigators on the journey too. We're really impressed by them," Guth said. "The canoe is a floating classroom and a floating island, so we teach each other to live sustainably."
By the end of its five-year long journey in 2017, the canoe will have covered more than 60,000 nautical miles and visited 100 ports and 27 nations, including 12 of the United Nations Educational, Scientific and Cultural Organization's (UNESCO) Marine World Heritage sites. It is scheduled to be in New York City by June 8 for World Oceans Day.
"Our goal with this journey is to perpetuate indigenous cultures, protect the environment for future generations and pass on knowledge about how to preserve earth – our island home," Guth said.
Guth concluded, "We're trying to weave a lei of aloha, peace and hope. It's wonderful to engage with all these independent islands in the Caribbean that are collectively interested in caring for the ocean."