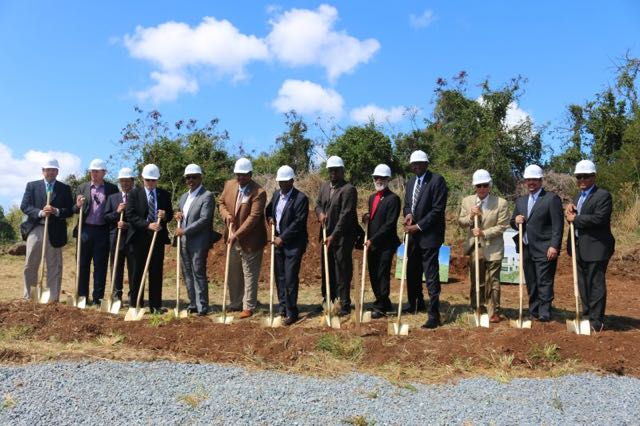 The dream of constructing the first accredited, English-speaking medical school in the Caribbean took a step closer to becoming a reality Wednesday with groundbreaking ceremonies for a classroom building on the University of the Virgin Islands' campus on St. Thomas.
"I know that you came for a groundbreaking but we are also here to put a stake in the ground," UVI President David Hall said to the large group that gathered on the hillside near the Eastern Caribbean Center for the event. "It is a stake of faith and commitment that we place this day in the fertile soil and the fertile soul of the university and these Virgin Islands."
"The creation of an accredited medical school in the V.I. has been the dream and the desire of many Virgin Islanders for many years and we have collectively decided to step out on those dreams and their faith and commit ourselves to making that dream a reality."
UVI's Board of Trustees began exploring the idea of housing a medical school in 2012, when members approved a five-year strategic plan with initiatives that would keep UVI on a "pathway to greatness," officials said Wednesday. In 2013, the board received the first report of a medical school study conducted on the possibility of building a school, but in October of 2015, plans to move forward hit a snag after the Liaison Committee for Medical Education advisory board voted not to grant a preliminary accreditation.
"This is a bold and ambitious act, I know, but we are a bold and ambitious people who must never settle for what is easy," Hall said Wednesday. "To propel this university and the Virgin Islands forward, we must be willing to take thoughtful risks on behalf of those we serve."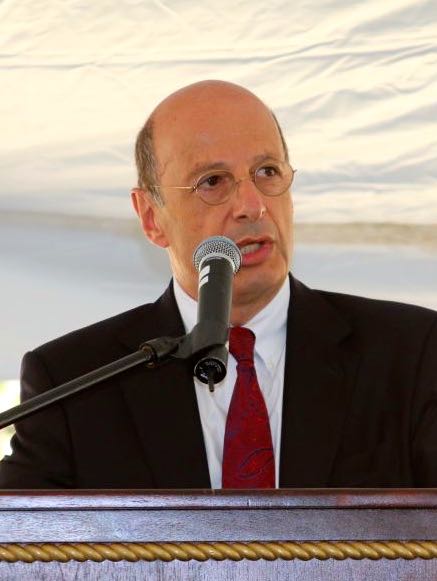 UVI plans to reapply for preliminary accreditation in August and, if granted, the School of Medicine is expected to officially open in July 2017. When fully operational, officials expect the economic impact of the School of Medicine to be approximately $30 million, with the Simulation Center on St. Croix alone attracting an estimated 6,500 off-island students to become a "destination training center" that will generate a need for upwards of 50,000 hotel rooms annually.
According to the renderings, the UVI School of Medicine classroom building on St. Thomas will be two stories that will contain, among other things: an anatomy lab that will allow for cadaver-based dissections, a 100-seat lecture hall with smart classroom technology, a 1,200-foot clinical skills lab for group instruction and six individual clinical skills rooms, large seminar rooms and more than 5,000 square feet of administration space.
"How we teach is as important as what we teach," School of Medicine Dean Benjamin Sachs said Wednesday. "We need to teach our students how to be compassionate, knowledgeable but wise, how to be educators and team leaders, guides, and to have an understanding the complexity of the field. And this classroom is designed to be able to do that."
The one-story, 21,332 square foot Simulation Center on St. Croix will be a state of the art facility that will provide training for third year medical students and continuous professional development opportunities for on and off campus nurses, physicians assistants, doctors and other professionals. According to the specs, the center will include a 70-seat lecture hall with smart classroom technology, a 1,200 square foot dining hall with kitchen, a 2,875 surgical skills lab with 16 training station and a 450 square foot operating room with observation and control areas.
"This is such an important thing, not only for UVI, but for the Virgin Islands. To have an accredited medical school in the Virgin Islands is going to be a game changer. We are behind it and we also ask those in the community to continue to support this, support it any way you can," Jim Tunick, chair of UVI's Foundation Board, said Wednesday.
FirstBank officials Victor Santiago and Angel Dawson spoke about their efforts to support the medical school with a program called the "FirstBank Cares Scholarship," which will cover a full year of full-time study ($32,000) for one student, who also has the option to renew the scholarship for $128,000 over four years. Students will be selected based on their academic performance and "demonstrated financial need," according to a FirstBank release.
"Through this partnership, we are excited to open the door of opportunity for our local students to receive a high quality education at what we know will be one of the leading medical schools in the Caribbean," Santiago said Wednesday.
Groundbreaking ceremonies for the Simulation Center will be held Wednesday at UVI's Albert A. Sheen Campus on St. Croix.