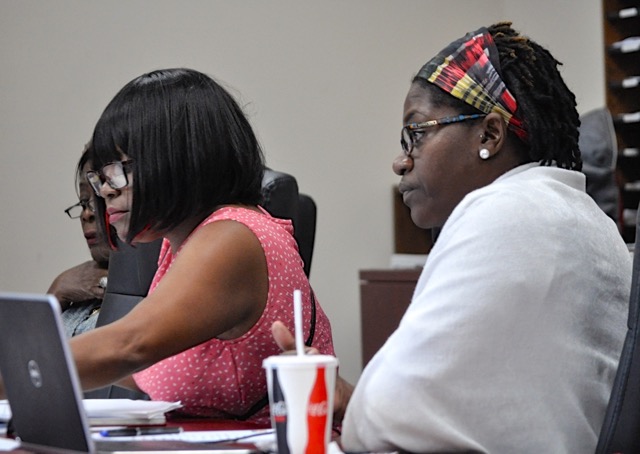 A motion to express no confidence in Elections Supervisor Caroline Fawkes failed at Friday's St. Thomas-St. John District Board of Elections meeting after the vote was split three to three with the board's chairman, Arturo Watlington Jr., abstaining.
The motion was made by board member Ivy Moses, who alleged that Fawkes should no longer be deemed fit to move the 2016 election forward "in a positive and responsible manner."
Moses, Lawrence Boschulte and Carla Joseph voted in favor. Diane Magras, Lydia Hendricks and Alecia Wells did not support the motion.
Moses said the two main reasons for the motion were her doubts about Fawkes's management of the opening of a new Elections office on St. John and what she said is a slow pace of action on issues voted on by the board.
"I'm having a difficult time understanding the purpose of these monthly meetings if we have the supervisor of elections here and we make motions in order to move forward with the elections process in our district and it's clearly not being done," Moses said. "It's putting our constituents in a very bad place."
Earlier discussion at Friday's meeting revealed that, despite a motion passed at January's board meeting to assign new registered voters in Estate Anna's Retreat to the new Charles W. Turnbull Library polling center, new voters are still being assigned to polling centers that will not be in use during the 2016 election.
Anna's Retreat Curriculum Center and E. Benjamin Oliver Elementary School are among the polling stations that are being discontinued for the next election.
Fawkes said that as the election approaches, Anna's Retreat residents will be made aware of the change of polling places by letter, but both Watlington and Moses argued that the process will only confuse voters in November since registration cards being printed now still list the old polling locations.
"If we continue to assign people to polling centers that do not exist, we are being derelict," said Watlington.
Moses said in addition to the vote taken on assigning Anna's Retreat residents a new polling station at last month's district meeting, the board also was assured that St. John's new Elections office would soon be in operation, something which has not occurred.
Fawkes said the St. John office has been moved to its new location but is not yet completely set up. She said some furnishings still need to be ordered and phone lines need to be installed.
"I'm sitting down here frustrated because, up to now, the St. John office still cannot open," said Moses, who is from St. John. "It makes no sense to me why St. Johnians have to come to St. Thomas to receive the same services that they should be receiving on St. John."
Even once the office is open on a regular basis, it is unclear how the Elections System will staff it. Fawkes, for budgeting reasons, has proposed rotating members of the St. Thomas staff to man the St. John office. But the system is already dealing with complaints that the front desk at its St. Thomas office is not consistently manned.
Moses argued that St. John needs its own staff, something which is not in the Election System's budget. She also chastised the system for spending $2,200 a month for what is essentially an empty office on St. John while complaining that it is already operating $9,000 over-budget for the quarter.
The only other actions taken at the board's monthly meeting involved addressing clashes between board members and the Election System's staff.
The board voted to allow Elections Supervisor Caroline Fawkes to seek private legal counsel to respond to an Equal Employment Opportunity Commission discrimination complaint filed by St. Croix Deputy Supervisor of Elections Genevieve Whitaker.
In her complaint Whitaker cited emotional trauma caused by a series of actions "of a threatening nature" taken by Fawkes, St. Thomas-St. John board members Moses and Joseph, and unnamed St. Croix board members.
The specifics of Whitaker's complaint were discussed in executive session early in the district board meeting. During the same executive session the board addressed a longstanding complaint against board member Magras made by the board's administrative assistant Angel Bolques.
As a result of the discussion, the board approved a motion during regular session that all future communication between Bolques and Magras take place in writing.
Magras also made a motion Friday to use the board's teleconferencing system to link with the St. Croix board, who was holding a simultaneous meeting. The motion failed after finding no second.
Magras was the only St. Thomas-St. John board member who showed up for a scheduled joint meeting held Thursday, and she said she would propose linking the two boards at the next district meetings via videoconference.
Watlington declined to give a reason for his and the rest of the board's refusal to link with St. Croix Friday, saying only that the district board has no obligation to teleconference its meetings.
In March a bill will be coming before the Legislature to do away with the multiple Elections System district boards in favor of a single V.I. Board of Elections with increased travel stipends for members.