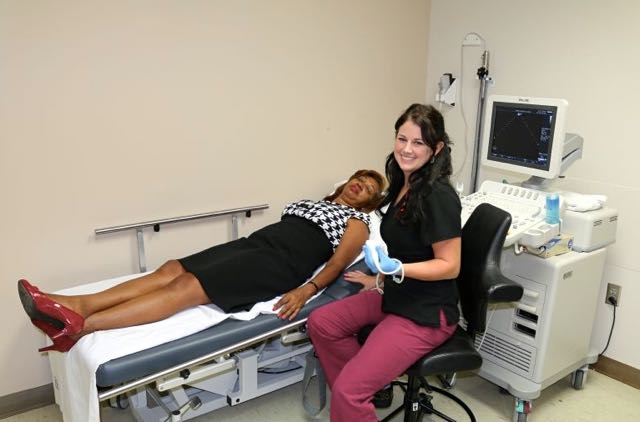 February is National Heart Month and Schneider Regional Medical Center is celebrating with the unveiling of a new heart and lung center that officials say will not only allow patients to stay on-island for health care, but also to follow up with treatment as needed.
SRMC legal counsel and chief compliance officer Tina Comissiong Dickson on Thursday gave reporters a tour of the new space, which she said came as the result of several months of patient and staff input. The need for the hospital to shore up its cardiology services became evident after the recent departure of Dr. Roy Flood, who was serving as the only full time cardiologist.
"When Dr. Flood was here, he was only one physician and, while he was excellent at what he does, there were only so many he could serve, so we built a facility that's able to accommodate a staffing plan for two and a half cardiologists and one pulmonologist," said Dr. Luis Amaro, SRMC's chief medical officer.
"This space will now able to deal with all concerns cardiology- and pulmonary-wise, not only on the island, but in the surrounding areas as well," Amaro said.
Dickson said Flood's staff, knowing the needs of patients already on-island, helped build the floor plan, taking into account the need for space and easy access to services.
"We also got a lot of feedback from our clients and, taking everything into account, we really wanted our patient flow to be appropriate," she said. "We looked at a lot of different spaces to see where this unit could be situated and we decided that this was the best place."
She said its proximity to the entrance of the hospital's second floor allows patients to "come in and out easily."
"It's directly across from the radiology lab, which is where a lot of services are provided, and it has features like extra wide doors to accommodate patient beds coming into the suite," Dickson said. "We really tried to look at everything."
The suite contains four patient exam rooms, an echo lab and a stress lab, a physician assistant consultation room and physician offices.
Dickson said that St. Croix's Dr. Kendall Griffith also comes over twice a week to treat the hospital's more critical patients as SRMC continues to recruit a permanent cardiologist.
"We have brought in a cardiology program as well as a pulmonary program that's going to offer stress testing, echo and nuclear stress testing, treadmill stress testing, as well as procedures by our interventional cardiologist in angiocardiography – radiographic examination of the heart chambers and thoracic veins and arteries," Amaro said. "We can also wrap everything up in our rehab program for heart attack and heart disease patients."
Amaro added that the hospital also has a pulmonologist that is slated to come in 2017 but, in the meantime, has some that visit monthly. He said the heart and lung center will be able to provide standard services, such as examining a patient's lungs, taking samples of fluids and tissues and offering treatment for lung disorders.
"No longer will our community members that have a heart condition or lung condition have to go away to seek their care somewhere where they cannot be followed up with in the longer run," Amaro said. "Here, not only can they seek the care they need acutely but also, over time, they will have continuity of care where they will continue to work with the same people for treatment. That is a big deal."