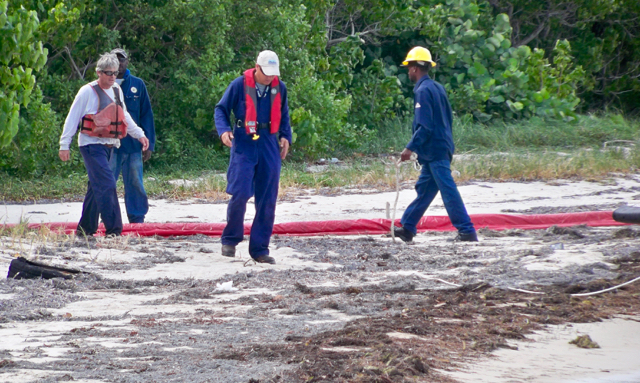 More than 50 gallons of fuel oil spilled into the waters at the Estate Richmond dock Thursday on St. Croix, the V.I. Water and Power Authority reported.
Clean up crews worked throughout the afternoon to contain and clean up the spill. Observers said the smell of fuel oil was pungent throughout the area.
WAPA said the cleanup will continue throughout the night and into Friday to rid the seawater of the oil. The heaviest spill areas were just around the utility's fuel dock and were contained with booms.
WAPA contacted the Coast Guard's National Response Center and local government regulatory agencies, including: the V.I. Territorial Emergency Management Agency, the Department of Planning and Natural Resources, and the V.I. Port Authority. A Coast Guard inspection will be required at the end of the clean up to ensure that the oil product has been removed to a satisfactory level before the clean-up can be deemed completed.
According to WAPA Chief Operating Officer Gregory Rhymer, personnel at the Richmond plant noticed the petroleum sheen on the water at about noon Thursday.
Given the proximity of Seaborne Seaplane operations and the fuel dock facility, the airboat company also was notified.
WAPA's announcement did not discuss the cause of the spill.