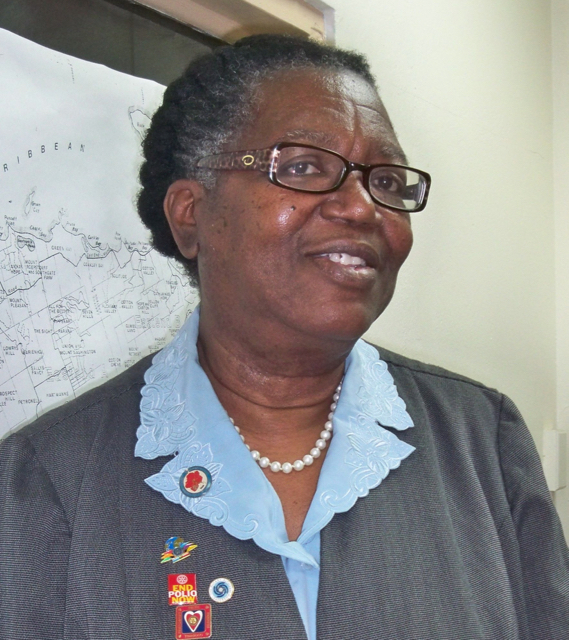 Dorothy McIntosh always aims carefully. In her adult life, the target has been a career serving her country and her community. She hit it.
For 30 years she served in the military and, since 1999, she has served her community as a Rotarian.
With her cousin's encouragement, McIntosh began her military career when she joined the Army in 1970. She added she scored high enough on the entrance exam to pursue officer training – but she doesn't like to give orders.
She served in Arizona and Japan before her career led her back to her home on St. Croix to serve in the V.I. Army National Guard on St. Croix.
She had the distinct honor of serving on one of the first women's firing squads. She added the local squad would have been considered the first in the nation, but paperwork for the St. Croix squad didn't get registered in time. The squads perform a 21-gun salute at military funerals.
"It was very special to be a part of the squad," McIntosh said. "It hurt doing the ceremony at times, especially if it was someone local and someone you know."
But, she added, it was a great honor to be a part of the send-off for deceased veterans.
In the Guard she attained the rank of sergeant first class and was a supervisory accountant and auditor. She received several commendations, including a Good Conduct medal, Army Commendation, V.I. Long and Faithful Service, and a V.I. National Guard Commendation.
Since 1999 she has been involved in the community with the service she gives through the Rotary Club of St. Croix West. She is the Community Service chairperson.
"When I found out the motto of Rotary is service above self, I decided to join and help my community," McIntosh said. "To me the best part of being a Rotarian is service above self."
She has received the Service Above Self award five times. She has also been awarded the Rotary International Presidential award. She has been president, vice president and secretary of the club.
On Oct. 16, which is her birthday and World Food Day, she throws an annual birthday party feeding the homeless in Frederiksted instead of a having a party for herself. And she serves Thanksgiving and Christmas lunches at My Brother's Table soup kitchen in Frederiksted.
Every summer she helps organize a back-to-school supply give-away for children in the Boys and Girls Club of Frederiksted. She was previously the Vocational Service chairperson who organized vocational and career workshops for students. She is also involved with the Rotary Interact program at Arthur Richards Junior High School.
"We do all of this to enhance the lives of local children," McIntosh said.
McIntosh also volunteers in the Calypso Cultural Day summer camp with Calypsonian musician King Derby.
McIntosh said she is excited about sponsoring and bringing six dancers in the Impande Ye Africa dance group from Texas to perform and teach dance workshops at the St. Croix Agricultural Fair in February.
McIntosh was born on St. Croix and is the daughter of Ivan Stanley McIntosh, who is 94-years-old, and Hortencia Gittens McIntosh, deceased. She graduated from St. Joseph Catholic High School and attended the University of the Virgin Islands. She said she was raised in the Catholic faith and is still a strong believer in her faith.
"I don't believe in always asking God for things," McIntosh said. "Be thankful for what you have, because you have more than you're asking for."
McIntosh, 66-years-old, works in the Lieutenant Governor's office as an administrative officer doing auditing.
"The office is a marvelous place to work," McIntosh explained. "We're all like one big family. I'm the eldest and take on my co-workers as my children."
"I don't have retirement on my mind anytime soon, because I like to stay busy," McIntosh said. She added she enjoys helping her 11 grandchildren any way she can financially. She has four daughters who all live in the states.
"My hobby is organizing and always helping with something," McIntosh said. "People say I'm the one where 'no' isn't in my vocabulary."