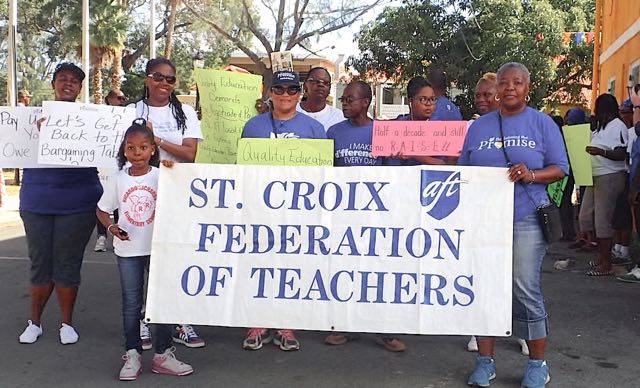 It was fitting that the life of Martin Luther King Jr. was commemorated Monday in Frederiksted – Freedom City – where slavery was abolished almost 20 years before the United States outlawed it.
The federal observance of MLK day began 30 years ago and on St. Croix a march has been held for more than 20 years, organized by the civil rights committee of the Central Labor Council of the Virgin Islands.
Monday's event, like many across America, featured a march comprising labor unions, civic organizations, bands and hundreds of school children.
Both public high schools, several elementary and private schools, and youth organizations such as JROTC, Future Farmers of America and the Tuskegee Airman solemnly walked the parade route down King Street with adults representing civic and fraternal originations and labor unions.
Students wore their school colors and many carried homemade signs and posters with facts about King's life and family. Fourth-graders from Claude O. Markoe Elementary made posters Friday with help from AmeriCorps service members from Lutheran Social Services.
The posters highlighted qualities such as love, peace and unity.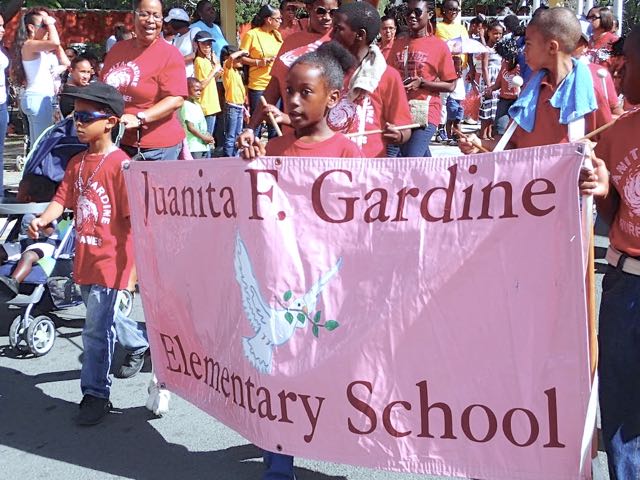 Jahdaysha Henry, Markoe fourth-grader, made a poster and said that through the AmeriCorps activity she learned that King was a civil rights leader. If she could meet him, she said she would thank him "for helping us be equal and go to the same school with white people."
Another Markoe student, Jeniya Jackson, also learned about King's work and said she would thank him for bringing everyone together.
"He helped blacks and whites be friends," Jackson said.
The parade progressed from the Frederiksted Post Office, down King Street to Buddhoe Park, accompanied by music from several bands.
The Adventist V.I. Pulse Drum Corps joined the St. Croix Educational Complex and St. Croix Central High School bands providing entertainment and marching music.
The high school bands were led by drum majors and followed by dancing majorettes and a full band. A smaller but equally entertaining group, the Drum Corps, consisted of about 30 students playing a variety of drums.
Union members carried professionally created signs but also some quickly crafted signs complaining about educators' work conditions and supporting pay raises – an ongoing complaint after years without raises for teachers.
After the march, there were poems, essays and speeches throughout the afternoon about the civil rights leader and his message of equality. The schools brought refreshments for students and food and drink vendors lined the outskirts of the park.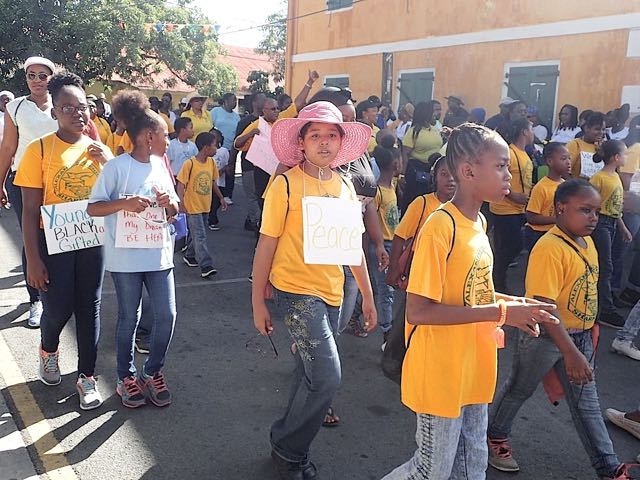 The keynote speaker was Brig. Gen. Deborah Howell, adjutant general of the V.I. National Guard, who talked about Virgin Islands pioneers including those who abolished slavery in 1848 and those who commemorated MLK 15 years before many of the states.
Pastor Jermaine Mulley recited portions of King's speeches and said there continues to be injustice 100 years after emancipation.
"The Negro is still not free, but is held in the chains of discrimination…on the lonely island of poverty," he said.
George Otto, master of ceremony, asked the audience if they were satisfied with their lives and community while crime goes unchecked in the territory. The crowd answered in the negative.
"We talk. We talk until our mouths are dry and we are still killing each other," he said.