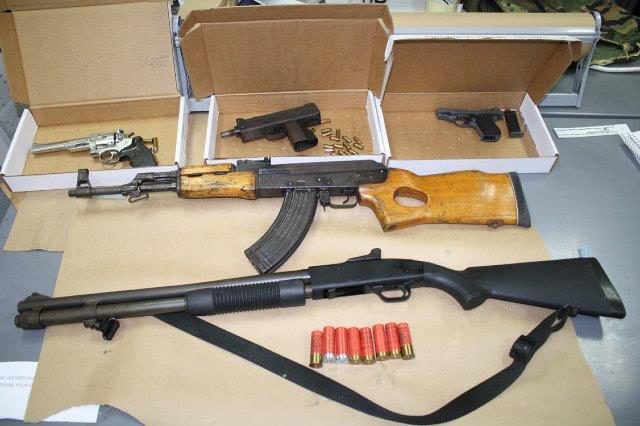 A joint initiative between the V.I. Police Department's Criminal Investigation Bureau and the Superior Court Marshal's Service, titled "Operation Curfew," on Saturday netted a cache of weapons and a large quantity of marijuana.
According to the VIPD, officers following up on individuals under house arrest, going to a residence in Hannah's Rest shortly after midnight Saturday. There they discovered approximately 114 marijuana plants under a fluorescent light at the rear of the home.
The home was occupied by three adults (two men and one woman) and three minor children. When queried as to the ownership of the marijuana plants, one of the residents, Winston Berkley, said the plants were his, police said.
Written consent was obtained to search the residence, and in addition to the marijuana plants found on the premises, officers located three handguns, two rifles, multiple rounds of cartridges and ammunition, and a bullet-proof vest, according to the VIPD report.
The 58-year-old Berkley was arrested and charged with Cultivation of Marijuana, with bail set at $10,000. Quanza Heath, 26 years old, was arrested and charged with unauthorized possession of a firearm with bail set at $25,000. Berkley is also the third-person custodian and uncle of Quanza Heath. Both men were remanded to the Bureau of Corrections pending their advise of rights hearing, as they were unable to post bail.