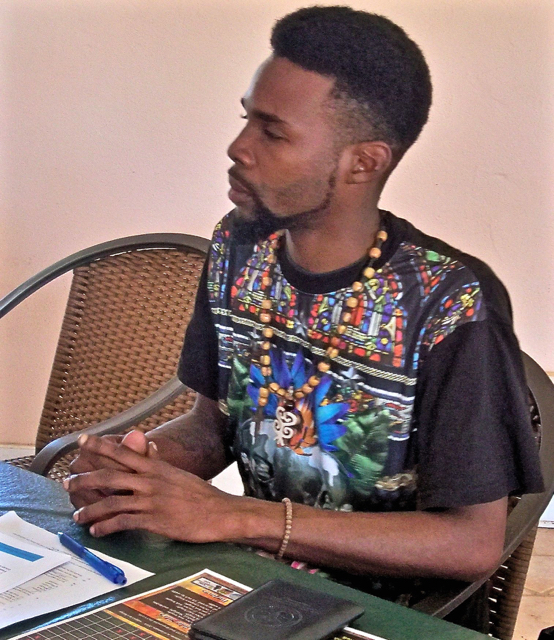 Jamal Miranda has spent half of his 28 years working in the restaurant business, and he brings that experience to his own dining establishment.
When Miranda was young, his mother did not want him staying home, idling away his time, so he went to work with her. He started working with his mother, Janice Miranda, at Rum Runners at the age of 14, making toast. Since then, he has learned every aspect of the restaurant business, working the front and back of the house, honing his cooking skills and passion for creating what he wanted.
That led him a year and a half ago to open his own restaurant.
"I finally have my own place where I can prepare what I love and experiment with different ingredients," Miranda said with enthusiasm.
In July 2014, Miranda and his wife, Virginia Rivera Miranda, opened J & V Diner in Castle Coakley. The diner is in the business area back between Quality Auto Parts and Emilio's 47th Street Jewelry.
Miranda prepares local and American style dishes created with fresh local produce and reef-responsible seafood form St. Croix.
He said his specialty is lobster macaroni and cheese. It is an interesting combination that one customer – this writer's husband – consumed with glee.
Miranda also prepares award-winning alligator ribs, coconut curry lobster or salmon in a sauce he says is to die for. Patrons can get a seafood trio of their choice, similar to what chain restaurants offer stateside.
The menu also includes surf and turf, pasta, wraps, salads and sandwiches. A popular healthy dish is a blackened spice salmon in a lemon caper sauce.
Miranda said their offerings of tasty, reasonably priced, healthy food will help people live healthy lives.
"We usually prepare 80 to 100 orders a day," Miranda said. "The business has taken off and we're very thankful for all the support from the community."
A recent visit to the restaurant showed it to be smallish, but the size was more than made up with by friendly service and bright décor.
The Mirandas also cater private and public events for all occasions. He added he is already booked and getting very busy for the holiday season.
Miranda has about 20 people on call that work for him in the catering part of the business and at the restaurant. His wife is the backbone of everything, he said, handling the day-to-day operation of the business.
He said he works with passion and likes the fact that he can work at his own time and pace.
"I'm usually awake at 4 a.m. starting to prepare for the day," Miranda said. "I love what I do and do it with passion. I believe if you don't have the passion leave it alone and do something else."
He said the best part of running the restaurant is being able to offer local, fresh, healthy food to the public.
"I love to promote and serve our fresh local food," Miranda said.
A graduate of St. Croix Educational Complex, Miranda was in the food management classes at the Career and Technical Education Center under the direction of Anton Doos. He said he is thankful he had the opportunity to travel to Miami with local culinary students and compete in national cooking challenges.
The diner is open 11 a.m. to 5 p.m. Monday through Wednesday, and 5:30 to 8 p.m. Thursday, Friday and Saturday. Take-out orders and reservations can be phoned to 340-773-3463.