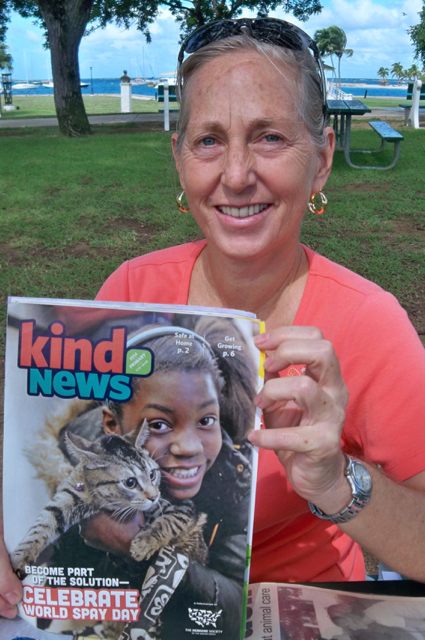 Therese Donarski, temporary shelter coordinator at the Animal Welfare Center and director of Humane Learning Center, said the shelter desperately needs volunteers.
"The funding the shelter receives is nowhere adequate for the needs of the shelter," Donarski said.
To make up for cuts to services and staff, Donarski is asking the general public to make a difference in the community by choosing to help animals at risk and volunteer at the shelter. There are so many ways volunteers can help that they can always find something to do that suits the volunteer's interests.
It may be as simple as sitting with a dog or cat, socializing with it and giving it affection. If someone is willing to bathe dogs and walk them, that helps free up staff for other things, Donarski said.
"We desperately need someone with a truck and some muscle to help pick up large donated items for the AWC flea market," Donarski said. And they could use volunteers at the flea market to sort and stock merchandise.
"There's always general cleaning and facility maintenance and cleaning projects that we can use manpower and materials for," Donarski said.
And those not inclined to do manual work can help with office work.
"We could use help with our newsletter and mailings," Donarski said. "And we need help with fundraisers and every Tuesday and Thursday when we do spay and neuter clinics."
Donarski is also looking for volunteers to help her with the Humane Learning Center. She gives students in pre-kindergarten through grade 12 information on how to be responsible pet owners. Each grade has a different lesson that builds on the information given in the previous year and includes hands-on activities and interactive discussion. A major focus is on responsible pet ownership and the importance of spaying and neutering.
She said she could use someone with a well-behaved dog to sit through a lesson and she needs people to present a 40-minute lesson. There is a computer presentation and work sheets given to the students. Volunteer training will begin after the holidays she said.
"We promote and teach kindness, compassion, respect and the responsibility of caring for the least among us to create a safe, healthy, and happy community," Donarski said.
The Humane Society publishes "Kind News" quarterly magazine for children, and Donarski she would like to purchase subscriptions for children in her program.
Humane Learning Center is a St. Croix Foundation sponsored project and very well received by the Department of Education, Donarski said.
People who want to help but don't have time to volunteer can donate from a long list of items the shelter always needs. That list includes latex gloves, cleaning supplies, kitty litter, canned and dry food, paper towels, toys, pet carriers and more. And they always need rags, used towels and newspapers.
Donarski said a donation to the shelter or the Humane Learning Center always makes a nice holiday gift for the person who has everything.
More information is available by calling Donarski at 340-690-5403 or the shelter at 340-778-1650.