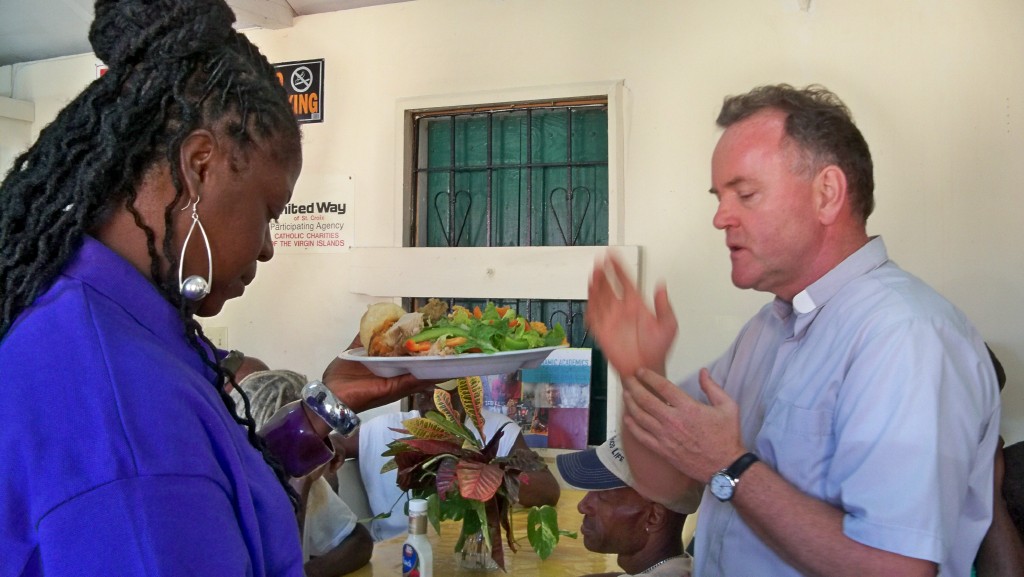 For more than three decades Catholic Charities has been making sure less fortunate people are blessed with a traditional turkey dinner at Thanksgiving. Employees and volunteers – who sign up months in advance – will serve about 100 people at the annual luncheon Tuesday.
Head cook Francis King and the staff will prep and cook all day Monday and then be back in at 7 a.m. Tuesday to add the finishing touches and serve the local traditional fixings. There will be four turkeys, dressed and served with seasoned rice, macaroni and cheese, coleslaw, stuffing, and cranberry sauce. Volunteers will serve cake and ice cream for dessert.
High school students from St. Croix Educational Complex and St. Croix Central High School will lend a hand, serving alongside senior citizens from the Senior Community Service Employment Program. There will be volunteers from Territorial Probation Services and the Housing Authority.
Brenda Charles, the soup kitchen manger, said the food, including all the trimmings, and tableware is provided by the Rotary Club of St. Croix, Thomas Malloy, and Mario Brignoni.
Charles said Catholic Charities really appreciates the Rotarians and the private individuals who help the poor every year by donating food, plates, cups, napkins, and plastic cutlery.
"I really look forward to this time of year," Charles said. "It gives joy to my heart when this time comes around to see so many people helping feed the poor. And the people served appreciate it and are blessed."
Florence John-Jules, who has been doing outreach and referrals for Catholic Charities for more than 30 years, said she believes they started serving a Thanksgiving meal in 1984 when the kitchen opened.
"Helping the less fortunate and people in need is what we all have to do," John-Jules said. She said she gets meals, toiletries and clean clothing out to people that can't get into town.
Charles said they also serve a special Christmas Eve luncheon and host a children's Christmas party with toys distributed from the Marine Corps annual Toys for Tots Campaign.
Catholic Charities welcomes monetary donations and non-perishable food items, tableware, and kitchen cleaning products. Donations can be dropped off at the kitchen located at 32 A King Street in Christiansted.