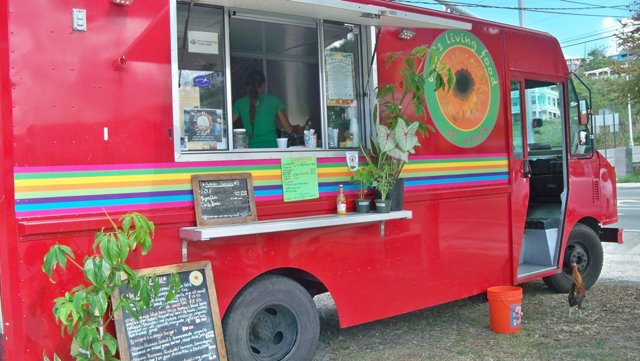 Food Trucks aren't unusual on St. Croix. They're out at every local event and parked near most intersections during lunch hour. And the variety of food served through a window from the side of a truck, hot and ready to go, seems endless.
Serving up nutritious items from her fire-engine-red truck with rainbow stripes is Ana Gutierrez, who is living proof that a healthy diet can work miracles.
She overcame a serious health issue, surprising her doctors with her success, by eating a healthy balanced diet of fresh organic fruit, vegetables and grains. She quoted Hippocrates saying, "Let food be thy medicine and medicine be thy food."
Gutierrez is a firm believer in eating a healthy diet to tackle health problems and not going the pharmaceuticals route.
"My whole mission is to provide healthy food for people to maintain a healthy diet," Gutierrez said.
"I want to inspire people to eat delicious, healthy food."
The best part about serving health food and working in the food industry is being a big promoter of a healthy lifestyle, she said.
Since February 2014 Gutierrez has parked Ana's Living Food Truck at the Christiansted bypass intersection in Gallows Bay at the old "Charlie's Shell Gas Station."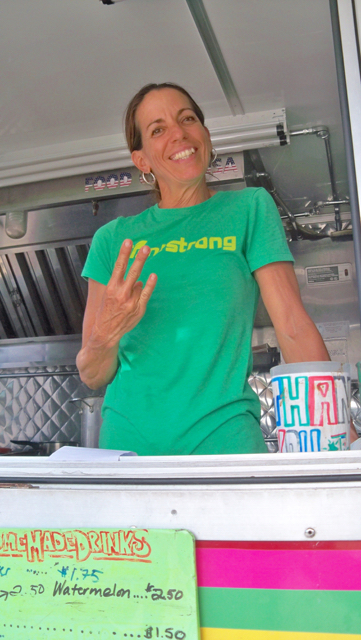 She said working out of a food truck is the way to go because of WAPA utility bills. And the mobility and parking in the right location close to town speaks for itself. There is a makeshift table with a couple of seats at her location. Gutierrez hauls around and sets out nice big potted plants and a chalk board for listing specials.
Erica Buciak, recently up an order of lasagna recently, said she stops as often as she can. It's quick, she said, and easy to get in and out.
"I love it here, the food is absolutely delicious," Buciak said. "It's wholesome, nutritious and it's made with love."
She mentioned she always gets the lasagna, one of the delicious specialties Gutierrez serves.
Gutierrez doesn't serve greasy deep-fried pates but she does sell baked wholewheat organic veggie pates. You have to get there early for the pates or place an order for this bestseller, otherwise you're going to miss, as the Source learned to its sorrow. Gutierrez said she serves the pates because almost everyone on St. Croix can relate to eating a pate.
Gutierrez buys as much as she possibly can from local farmers and vendors. She said it takes hours going to all the farm markets and farms buying fresh produce. She said we are lucky to have a nice variety of quality produce grown on St. Croix.
She stirs up such soups as pumpkin, mixes her own black bean burgers, tosses fresh greens, and squeezes fresh juice.
The refreshing tamarind juice is a perfect sweet and tart combination. Peanut punch, a local favorite that tastes like a peanut milkshake, is blended with hemp or oat milk, organic peanuts and chia seeds. One of the most popular drinks is the Go Green Smoothie, made with organic kale, coconut oil, dates and bananas.
Patricia Henry, the only employee, makes the entrees and specials of the day, such as the lasagna or lentil loaf with gravy, potato salad, and fresh greens.
"We love to educate and please our guests with tasty, healthy options. Eating healthy food isn't a diet, it's a lifestyle. Eating healthy food is a win-win for everyone. I just hope more people and vendors will follow suit," Gutierrez said without worrying about competition.
She said she's very busy and it's challenging finding time for everything that needs to get done.
Hours are noon to 5:30 p.m. Monday through Friday. She will be be closed, for a little vacation, from September 16 through October 5. She added people can check Anaslivingfood on Facebook for her daily specials. Customers can place an order to go by calling 340-244-0872. Business is on a cash-only basis.
Born and raised on St. Croix, Gutierrez said she has always loved to eat and cook, but isn't trained in the industry. At one time she had a restaurant called Mango Tree Junction in Le Reine at Center Line Car Rental. She attended Country Day and Good Hope Schools. She earned a degree in language and business from Berry College in Georgia.
Swimming and running are two exercises Gutierrez has always incorporated in her health and fitness plan. She swam on the Dolphins Swim Team as a teen, and held some team records. And she was on the ground level, competing and organizing some of the first Iron Man Triathlons in the late 1980s. She represented the U.S. Virgin Islands in the 1992 Olympics in Barcelona, running the marathon. She said it was a tough race and an experience she'll never forget.