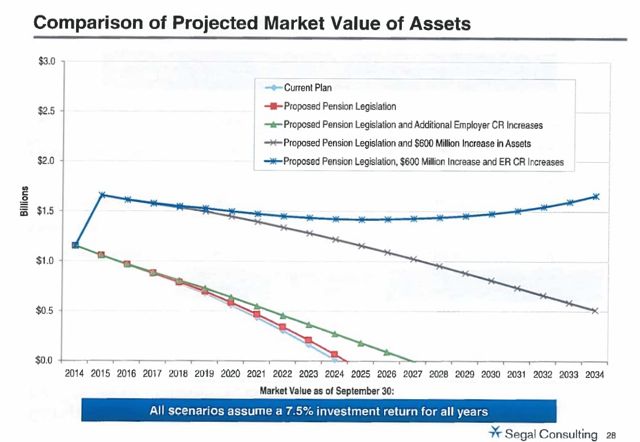 The V.I. Government Employee Retirement System needs a giant infusion of cash soon – and big contribution increases and cuts to future retirees' benefits – if it is to survive, GERS officials, trustees, actuaries and financial advisors told the Senate Committee of the Whole on Wednesday evening.
The hearing was the second of three hearings – one on each major island – on legislation to increase employer and employee contributions and reform an array of passages in the territory's public employee pension laws. Without action, GERS will have spent its entire trust fund by 2024 or 2025, and will only be able to pay about 45 percent of pension obligations by taking current contributions and immediately distributing them to retirees, without investing, according to the GERS and its consultants and actuaries.
The bill [Bill 31-0146] sponsored by Sen. Neville James is based on, but slightly different from, legislation proposed by former Gov. John deJongh Jr. in March 2014. [DeJongh Pension Reform Proposal]
The bill raises some retirement ages, adds to the types of employees eligible to join GERS and lets eligible employees join right away instead of waiting. Also, instead of setting pensions based on the top five years of earnings, it would set them based on career earnings, so that a few years at higher pay right before retiring would not result in potentially decades of much higher pension payments.
It also eliminates the cap on employee contributions. Right now, pensions for most employees are capped at $65,000, and employees with higher salaries than that only pay contributions on the first $65,000. The bill would change the law so that well-paid government employees would pay full pension contributions on every dollar of their salary. But their pensions would increase by only 1 percent of each dollar earned above that level, GERS Legal Counsel Cathy Smith said.
For a person making $100,000 per year, that would mean a $350 increase to their annual pension payments for each year they work, GERS officials said. At the same time, it would generate a larger amount for the system, helping to shore up GERS.
Responding to a question from Sen. Sammuel Sanes, Smith said the reforms need to be enacted before Oct. 1, 2015, because that is the date less senior, Tier 2 government employees become fully vested in the pension plan. Changing Tier 2 benefits after then could be problematic and breed litigation, according to Smith.
While extremely important for the long-term health of the system, the proposed legislation is far from enough, and a large, immediate infusion of cash is also needed, according to testimony from GERS Administrator Austin Nibbs, GERS board members, financial advisors and actuaries.
GERS and its advisors recommended the government also shore up the system with at least $600 million in pension obligation bonds, to be paid by the V.I. Government as a whole. Nibbs said legislation authorizing up to $600 million in pension obligation bonds was authorized during the former Gov. Charles Turnbull administration.
"The proposed legislation has little impact on the solvency date," according to Leon 'Rocky' Joyner of Segal Consulting. But it is still important, he said, because "it would help over the next 20 to 30 years."
Leandro Festino, managing principal of Meketa Investment Group, one of GERS' investment advisors, testified to the same effect, saying without an infusion of cash, "you are pretty much guaranteed to run out of money," and if there is an economic downturn, it will happen sooner, he said.
"Without a cash infusion, basically all assets will have to be liquidated to pay current benefits. The longer we wait the worse the situation becomes," Festino said.
Joyner showed charts and graphs of the impact of just the legislation, and of adding between $200 million and $1 billion to the system right away. According to the data he provided, adding $200 million "barely moves the needle," as Joyner put it, adding only a few years of solvency.
Asked why, Joyner said the return on investment on $200 million, or even $400 million, would be substantially smaller than the shortfall between pension contributions and payments, so the fund would keep shrinking. But a contribution of $600 million or more would overcome that gap, adding 20 more years of solvency. By that time, the changes to pensions for newer employees would have taken full effect, as older employees paying smaller contributions and getting larger pensions would have already retired.
But if there is only a cash influx, that will only delay the problem and the system will still go bankrupt, he said.
Sen. Marvin Blyden asked, "So $600 million is not enough?"
Joyner said, "It give you 20 years. It gives you a long time. But if nothing else changes over that time, you are correct."
Barbara Isaac and Gustav Dowling, two government retirees and members of Government Retirees Unified For Fairness, a V.I. civic group focused on preserving benefits for retirees, also testified to the Senate. Both urged legislators not to cut retiree benefits and to reestablish regular cost of living increases for retirees.
No votes were taken during the information gathering hearing.