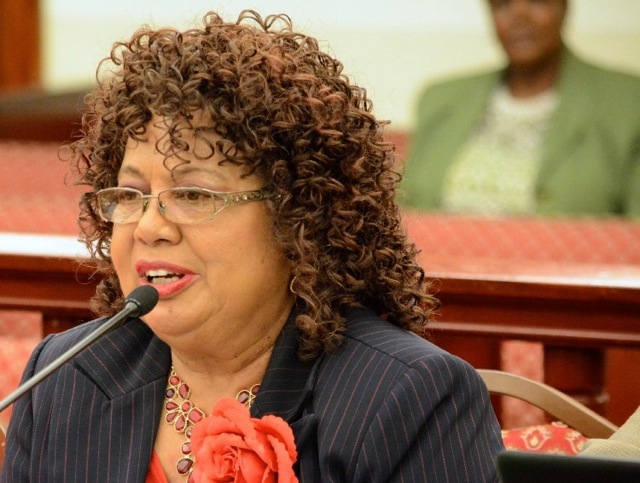 Numerous senators endorsed consolidating the territory's two elected boards of elections into a single board with a single chair, during Finance Committee budget hearings Tuesday. The Agriculture Department and Department of Licensing and Consumer Affairs also presented their budgets.
St. Croix District Board of Elections Chairwoman Liliana Belardo de O'Neal told the Finance Committee she would like to see legislation to allow the district boards to have separate legal counsel, while under existing law, the attorney general is automatically legal counsel for the boards and the election system.
She later made clear that was her personal position and the St. Croix board had not voted to take a position.
St. Thomas/St. John District Chairman Arturo Watlington, who also chairs the Joint Boards of Elections – a hybrid of both boards with policy making authority for the whole territory – said existing law allows the boards to hire counsel if needed, so the law is not necessary.
Several senators pointed to that and other disagreements between the two district boards and their members to suggest a single board would reduce conflict and confusion and run better.
"You should have a synchronization of all processes and your policies should be the same," Sen. Kurt Vialet said, adding that "when you have strong personalities" on the boards, one board may go in one direction while the other board goes in another, leading to more confusion.
Sen. Justin Harrigan said he agreed about legal counsel for the boards, which prompted Belardo de O'Neal to say, "You see the position of the other board."
Pointing out the conflict, Harrigan said he also supports a single, consolidated board.
Sen. Kenneth Gittens, chairman of the Rules and Judiciary Committee also endorsed the idea, saying, "It is obvious not just here but to the people of the Virgin Islands it is time for one board."
Gittens has been holding public roundtable discussions with elections officials and others, preparing extensive legislation to update, clarify and potentially improve V.I. elections law.
Sens. Nereida "Nellie" Rivera-O'Reilly and Terrence "Positive" Nelson also said they endorsed consolidating the boards.
Supervisor of Elections Caroline Fawkes presented the Election System's Fiscal Year 2016 budget of $1.66 million. Of that, $186,000 is for wages, salaries and benefits; $22,400 for technological enhancements; $45,000 for office furniture for St. John and the St. Croix Conference Room; $5,600 for liability insurance for the vans; and $4,000 for workman's compensation for poll workers.
The sum is about $100,000 more than the governor's budget recommendation of $1.56 million. The budget includes $160,000, split evenly, to fund the two elections boards. Elections also expects $350,000 in miscellaneous General Fund money to pay for party primary elections in 2016.
Agriculture Commissioner Carlos Robles presented that department's FY16 General Fund budget request of $3.5 million – a half a million dollar increase in comparison to the 2015 budget. "This increase that has been appropriated to capital projects will be primarily used for the renovation of the abattoirs in both districts," Robles said, echoing comments made by the previous commissioner in 2015.
Sen. Marvin Blyden asked, "What are some the renovations that has to be done for the abattoirs?"
Robles said, "Both facilities are in dire need of repair and equipment upgrades and are very close to being shut down by the USDA Food Safety Inspection Service." He said the FY16 budget includes three vacant positions that are critical to the department's operation. Sen. Clifford Graham, Finance Committee chairman, asked, "Are we at the point where building new abattoirs are better?"
Robles said it will probably be best to tear down the existing buildings and build new ones. Graham said finding the funds through the Department of Finance should be their next step. In addition to the operational budget, Robles said Agriculture also has a $265,000 appropriation from the Miscellaneous Section with funding for the territory's three animal shelters and for bont tick eradication.
Nelson asked, "What is the breakdown of the monies appropriated for the animal shelters?"
Agriculture's Director of Administration and Management Delreese Brown said, "The animal shelters on St. Thomas and St. Croix receives $80,000. However, St. John is allocated a lesser amount of $30,000." Licensing and Consumer Affairs Commissioner Devin Carrington presented that agency's budget request of $2.84 million from the General Fund. This will be used for personnel services, benefits, rent, maintenance and other operating costs. The operating expenses for the General Fund includes $20,000 for supplies and professional services; $60,000 for communication, $29,100 for repairs and machines, $91,500 for rent for the St. Croix office and $72,500 for utilities. Another $350,000 is from the Consumer Protection Fund, a revolving fund derived from the collections of license penalties and citation fines, Carrington said.
No votes were taken at the information gathering budget hearing.