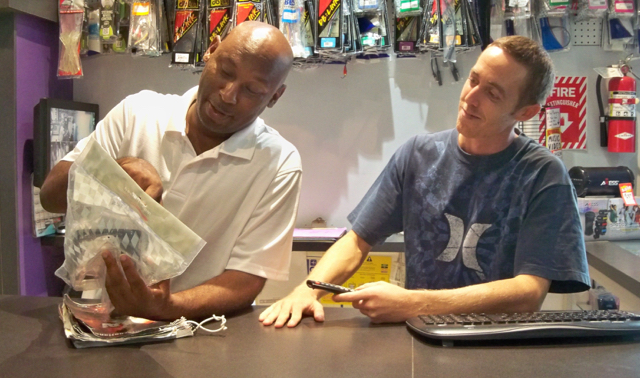 For more than three decades the knowledgeable guys at Mike's Electronics Center have been advising customers on the best electronic equipment for their individual needs and for St. Croix's unique environment.
The advice comes packaged in friendly, personalized service.
Mike Dawson opened the store in 1984 to fill the need for an electronics store on St. Croix and to be his own boss. He has more or less retired and his son, Greg Dawson, who was born the year the store opened, manages the store . For as long as he can remember, Greg has been hanging around or working at the store.
"I've been following in my dad's footsteps," Greg Dawson said. "My dad's a nice guy and I try to be on his level – being friendly and giving good service. That's why we've been here so long, if you treat people good they come back."
Greg Dawson said he began working in the store when he was around 14 and after he graduated from Good Hope in 2002 he started putting in more hours.
"I always knew I'd take over managing the store," Greg Dawson said. "It was kind of laid in my lap. It just seemed like the right direction to go."
He said he enjoys being his own boss too. He doesn't have a lot of free time, though, since the store is open from 10 a.m. to 6 p.m. Monday through Saturday. In his free time he is usually on his surfboard catching waves wherever the surf is up on St. Croix.
The store has almost everything one needs in the line of electronics and if it is not in stock the staff will order it for their customers.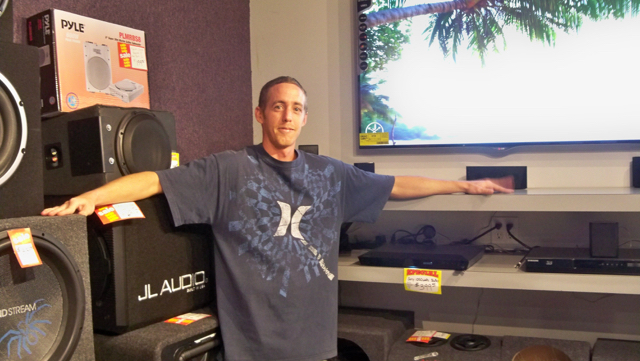 Mike's Electronics sells the smallest cable connectors and fuses to the largest 4K3D televisions. They stock car audio systems, 18-inch sub woofers and equipment for disk jockeys. They have everything to set up a home theater package, bringing a movie theater experience into the house.
They provide delivery, installation and hookups for those who aren't electronically inclined.
Greg Dawson said he can recommend equipment ideal for St. Croix, whether it's dealing with WAPA surges, windows that are open 24/7, corrosion and what is best in air conditioned rooms.
"There is so much technology out there that people can be a bit confused," Greg Dawson said.
He and his one full-time employee get to know their customers and find the best products for their budgets. He said he can cut costs and pass the savings on to the customer. The knowledge, service, and having the products to actually show people can translate into sales.
"There's a lot of cheap stuff out there that appears to look good, but it can be deceptive," Greg Dawson said. "People feel more comfortable seeing what we have and how it works."
He added they even give good customer deals and discounts for loyal customers and offer weekly specials for folks on a budget.
The store is located between Cost-U-Less and the new Department of Labor building in Peter's Rest. More information about Mike's Electronics Center is available by calling 340-778-6655 or send an email to miklectron@aol.com.