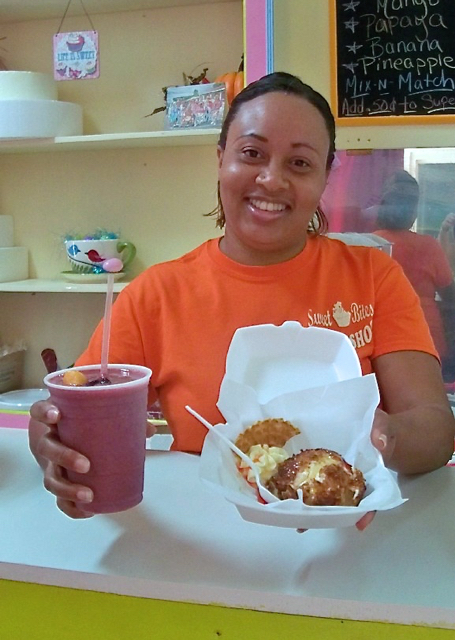 At Sweet Bites Cake Shop on Frederiksted's King Street, Shawnda "Shanni" Smith is deep frying delicious crunchy coconut crumb covered vanilla ice cream. She serves it with a dollop of her pale yellow butter cream icing, a piece of an Italian pizzelle wafer cookie, and a drizzle of local fruit sauce.
Smith makes fried ice cream and fried cheesecake on Saturdays. Other days of the week she creates other special treats. Smith said she really is a cake baker, and some days she makes cakewiches, cake bombs and tiramisu cake.
"I'm an impulse baker," Smith said. "I have plenty of tricks and treats up my sleeve. I make cakes you don't find a lot of people making. This is new, and my ideas are pretty far fetched."
She baked robin egg cake bombs last week. The vanilla cake bomb is a little bigger than a cupcake, with a candy egg made with raspberry cream inside and frosted with butter cream icing and sprinkles.
She sells the old standbys daily, treats such as brownies, bread pudding, macaroons, and plain and rum cakes made in bundt pans. She said people like anything made with rum including rum balls – cake pops infused with a lot of rum. Throughout the week she bakes pistachio, lemon, Vienna, chocolate and red velvet cakes. The flavors and special items are posted on Smith's Facebook page at Sweet Bites by Shanni.
Smith designs beautiful tiered wedding and birthday cakes covered with fondant icing, a sugar and water dough-like paste, rolled out thin and draped over the cake. Embellishments and decorations are cut out of rolled fondant.
For healthy drinks to go along with the sweets Smith blends non-dairy, all-fruit smoothies and local fruit juice. She also makes wine from golden apples, hog plums, guava berry, and gooseberry.
Smith caters weddings, corporate and private parties, preparing almost anything the client wishes.
For the first time in her career, Smith will take part in the annual St. Croix Food and Wine Experience. She wouldn't divulge what she is planning on baking and entering.
"I'm really looking forward to taking part in A Taste of St. Croix," Smith said. "I'm very excited and anxious, because I'm doing the Taste on the 16th and the Sunset Barbecue the next day."
The shop has a retro feel, its walls painted with multi-colored polka dots and the cabinets and shelves painted in pastels.
Smith's parents, Charles and Gloria Smith, were big influences on her. Her mother taught her how bake and cook. She credits her father with teaching her business.
"I grew up on homemade bread," Smith said. She was raised on a farm and learned to make use of everything, adding that's why she makes wine.
Smith is a 1997 graduate of St. Croix Educational Complex and a veteran of the U.S. Air Force. While stationed in England she traveled to Paris and Brussels, where she had a taste of high-end pastries and desserts.
She always knew she would have her own business. She did some research on decorating techniques and has had only one class. In 2009 she started her cake baking business from her home. She opened at her present location last June.
Smith is the mother of two boys, Tai, 8, and Xavier, 11. She says she puts in a lot of hours, with some 16-hour days. She has two young men that help her in the shop doing deliveries, heavy lifting and sales.
She added her future looks busy.
"I have a lot of thoughts and ideas to express in my work," Smith said. Her next plan is to bake breakfast pastries every day. She will have breakfast pastries and breads for Easter.
The cake shop is at 104 King Street. There is ample parking on King or right around the corner. The hours are 10 a.m. to 6 p.m. Tuesday through Saturday. Those interested can find out more about prices and specials or place an order by calling 1-340-277-7898.