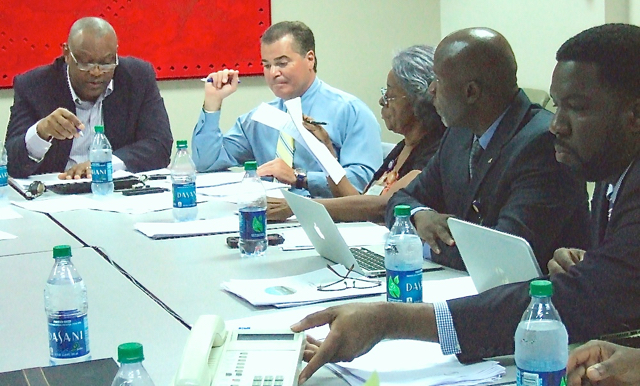 Performance improvement teams at the Juan F. Luis Memorial Hospital are making progress correcting the deficiencies identified by the Center for Medicare and Medicaid Services and retaining certification when the federal agency inspects the facility later this year, board members were told Wednesday.
The board and staff of the hospital gave progress updates at their monthly meeting Wednesday.
Hazel Thomas, chief of quality, said performance improvement teams have been formed to make necessary corrections in the emergency room, restraint procedures, wound care, medication management and other areas.
Thomas said the teams are making improvements. The number of patient falls has been decreasing for five months, she said, and there has been "a drastic reduction" in the number of people who leave the ER without being seen.
The hospital's chief executive officer, Dr. Kendall Griffith, reported on electronic improvements in the emergency room that provide paperless patient documentation and order medications. He also said new medical equipment will allow telemetry monitoring of fetuses during labor and enable physicians to study and archive cardiology and vascular images.
"All the pieces are coming together. JFL is using the extension CMS gave us as a gift," Griffith said.
Hospital staffing is an issue with CMS, and Chief Medical Officer Mavis Matthew, M.D. said three physicians are seriously considering relocating and taking positions at the hospital. These specialists practice neurology, hematology/oncology and emergency medicine. Two physician assistants have resigned to move to the mainland, she said.
Matthew also mentioned new equipment, including two incubators for the NICU and virtual radiology systems.
According to Chief Financial Officer Tim Lessing, the V.I. Public Finance Authority has $4 million to pay for hospital equipment. PFA will pay vendors directly after the hospital provides a narrative and an invoice.
On Mach 11, board chairman Dr. Anthony Ricketts, Phil Arcidi, chairman of the finance committee, and Lessing, testified before the 31st Legislature in support of funding to help the hospital complete the CMS systems improvement agreement. Senators approved $7 million in funding without identifying a funding source. On Wednesday, the board approved opening a separate restricted bank account for monies received from the Virgin Islands government for the systems improvement agreement.
According to Lessing, the hospital continues to run at a loss – $1million in February. Income improved 9.4 percent due to an improved collections and a three percent rate increase.
Salaries increased 11 percent for new employees and promotions/raises for some longtime employees, Lessing said. Nothing was said about Ricketts and the board's directive at the last meeting about a moratorium on raises and new employees.
One new employee, attorney Richard Evangelista, has been hired as JFL general counsel. The board was scheduled to discuss and approve his salary in executive session. Board approval is needed for expenses of more than $100,000. Griffith said a new human resources chief also will be hired.
The board also approved an account for payments for the Government Employees Retirement System. According to Griffith, a meeting was held this week to work out a payment plan with GERS Director Austin Nibbs. The hospital might owe as much as $5 million for back employee contributions, Griffith said.
Board members who attended Wednesday's meeting were Ricketts, Arcidi, Joyce Heyliger and, by conference call, Troy de Chabert-Schuster and Kimberly Jones.