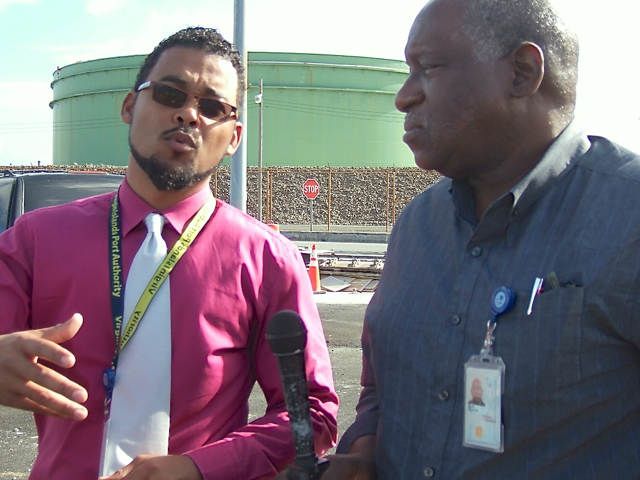 The V.I. Port Authority announced Wednesday three new projects and the near completion of paving at the container port on St. Croix.
David Mapp, VIPA assistant executive director, and Damian Cartwright, St. Croix senior engineer, talked to media representatives at the authority's newly surfaced parking lot and discussed upcoming improvements on St. Croix and St. Thomas.
One project is in the design phase and some of the necessary permits have been submitted for the other two. In the event that Coastal Zone Management and the Army Corps of Engineers approve the projects in a timely manner, the construction projects could be completed in early 2017 and 2018.
According to Mapp, several cruise lines have expressed the desire to return to Christiansted, and dredging the Gallows Bay channel will allow mini-cruise ships to enter the area. The channel will be cleared, leaving 18 feet of water for navigation. A permit request has been sent to CZM, Mapp said, and then the governor and Legislature must approve the project. It will cost about $3 million to remove 38,000 square yards of sediment, Mapp estimated.
The second project, that will take nine to 12 months once begun, is to repair the seawall and ramp at the Svend Ovesen Seaplane Terminal in Christiansted. The cost will be approximately $1.5 million and could be completed in the first quarter of 2017, Cartwright said.
The third VIPA undertaking, currently in the design phase, will be to replace a decomposing concrete tender at the Ann E. Abramson Pier in Frederiksted. The project may be completed by the end of 2017 at a cost of about $1 million to $1.2 million, according to Cartwright.
According to Mapp, bond financing and Port Authority operational funds will be used for the dredging and Frederiksted pier projects. Seaplane terminal repairs will be made with VIPA revenues.
Mapp also talked about "design reviews" for renovations needed at the Cyril King and Henry Rohlsen Airports. Both airports were last renovated in 1989 and 1994 respectively, before the Sept. 11 terrorist attacks. They do not meet Homeland Security standards. The estimated cost at St. Croix's airport is $23 ,million to $30 million and more to expand St. Thomas, so funding sources will have to be identified, he said.
The paving project at the Wilfred Allick Transshipment Port is almost complete. Cartwright said a second layer of surface will be applied and a rough section of the road will be repaired as well.
"The container port is not glamorous, but do not underestimate its importance to the economy of St. Croix," Cartwright said.