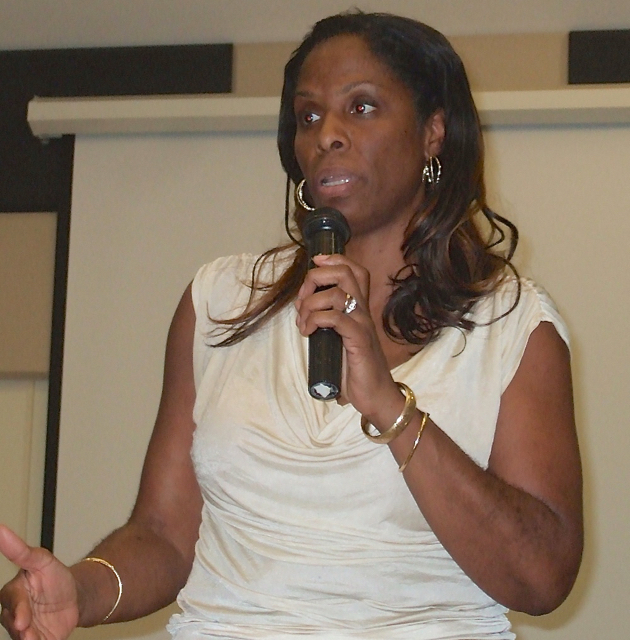 Delegate to Congress Stacey Plaskett discussed her first weeks in office and her goals, and answered questions from the audience on a variety of issues during a town hall meeting Wednesday at the University of the Virgin Islands on St. Croix.
During her first six weeks in office, the congresswoman said she has met with peers from other states and territories about common issues. She asked to be put on the Congressional Agriculture Committee and the Oversight and Government Reform Committee. She won't be allowed to vote on the floor, but can "bargain" with those who can, she said.
Plaskett said she requested the Agriculture Committee because it oversees agriculture and farming, as well as seafood, fishing, exports and rural development. Since the Virgin Islands are considered rural, federal funding will be available for education, hospitals, infrastructure and other projects. Plaskett has a meeting set up next month with the Agriculture secretary to discuss the territory's needs.
The House Committee on Oversight and Government Reform heads up investigations and administers the U.S. Postal Service, the Environmental Protection Agency and the U.S. Army Corps of Engineers – all agencies that affect the territory. Already, Plaskett said an Army Corp staff member in Jacksonville, Florida, has been assigned to deal with the territory. She said her next task will be working with the National Oceanic and Atmospheric Administration to adjust their permitting process.
According to Plaskett, the Virgin Islands may be included in a bill to deal with persistent poverty. The 10-20-30 Act of 2014 calls for 10 percent of an administration's funding to be allocated to 20 areas with impoverished residents for 30 years. Although not included at this time, Plaskett said that according to the Bureau of Census the territory fits the demographics. She hope it eventually will allow the territory to receive financial aid with education, health, transportation and housing costs.
The delegate said she is working to revise certain sections of the Revised Organic Act. She wants to ensure the V.I. Supreme Court has jurisdiction over the territorial and Superior Courts and that there is a Virgin Islander included on the Third Circuit Court of Appeals. If she is successful, 51 percent of the people who vote would pass a referendum, not 51 percent of registered voters as is required now. Separating the judicial branch from the legislative branch would give the territory three distinct branches of government.
More than 50 people crowded into the Great Hall, including a former commissioner and senator, professors, students, business owners, biologists farmers, military personnel and residents with health issues that can't be addressed on the island.
The Affordable Care Act, raising the Medicaid limit and Supplemental Security Income for Virgin Islanders are three areas Plaskett said she may not be able to change because of the political alignment of the members of the Senate and House.
"In this case (SSI), that will be a difficult sale because the majority doesn't want it," or anything to do with social services tied to health care she said.
Former Human Services Commissioner Christopher Finch talked about the territory's participation in ACA. He said the Virgin Islands is required to match a higher percentage of funding than is Washington D.C. The delegate plans to look at legislation to change that, she said.
Although she can't directly recruit medical specialists to come to the territory, Plaskett said new revenue streams can be created to encourage physicians to set up practices.
One health-related issue Plaskett said she may be able to change – because of the McCain Saunders bill on veterans' affairs – would allow Virgin Islands military veterans to use local hospitals since they live more than 40 miles away from care in Puerto Rico.
Plaskett did not say what she can do about the territory's ongoing lack of a mental health program but when she met with Duane Howell, acting commissioner of the Health Department, he cited mental health as one of the department's top priorities. He talked about sensitivity training for first responders to learn to deal with patients, including the 1,200 Virgin Islands residents who are in outpatient treatment. There are 30 mental health patients at the Golden Grove Adult Correctional Facility and 20 are being treated off-island at a high cost to the government, Howell told the congresswoman.
Plaskett also admitted she will be little help on local government issues that are under the control of the governor and/or legislature.
A former postal worker asked about hiring practices in the territory and said workers were being transferred from Puerto Rico and when they return home, the positions are left vacant. Plaskett said she plans to meet with the Virgin Islands postmasters and employees and then address the problems in the Oversight Committee.
Other issues mentioned by audience members included Customs and Border Patrol taxes, federal grants, individual health insurance, immigration and how to get local banks to provide loans for homebuyers and businesses.
"They need to be fined when they don't make those loans," Plaskett said, adding that it is up to the governor through the lieutenant governor's office to enforce that law.
The delegate's goals include visiting every school in the territory by the end of her first term. In September, she plans to teach a class of senior high school students and set up an internship program. She will speak next month at the National Institute of Health next month on health disparities, and try to find support for the Virgin Islands.
Plaskett introduced her staff and invited residents to call, write or make appointments about questions and issues.
Town hall meetings will continue, and Plaskett hopes to be able to conduct such sessions through video conferencing so residents can call in from their homes with questions and concerns.