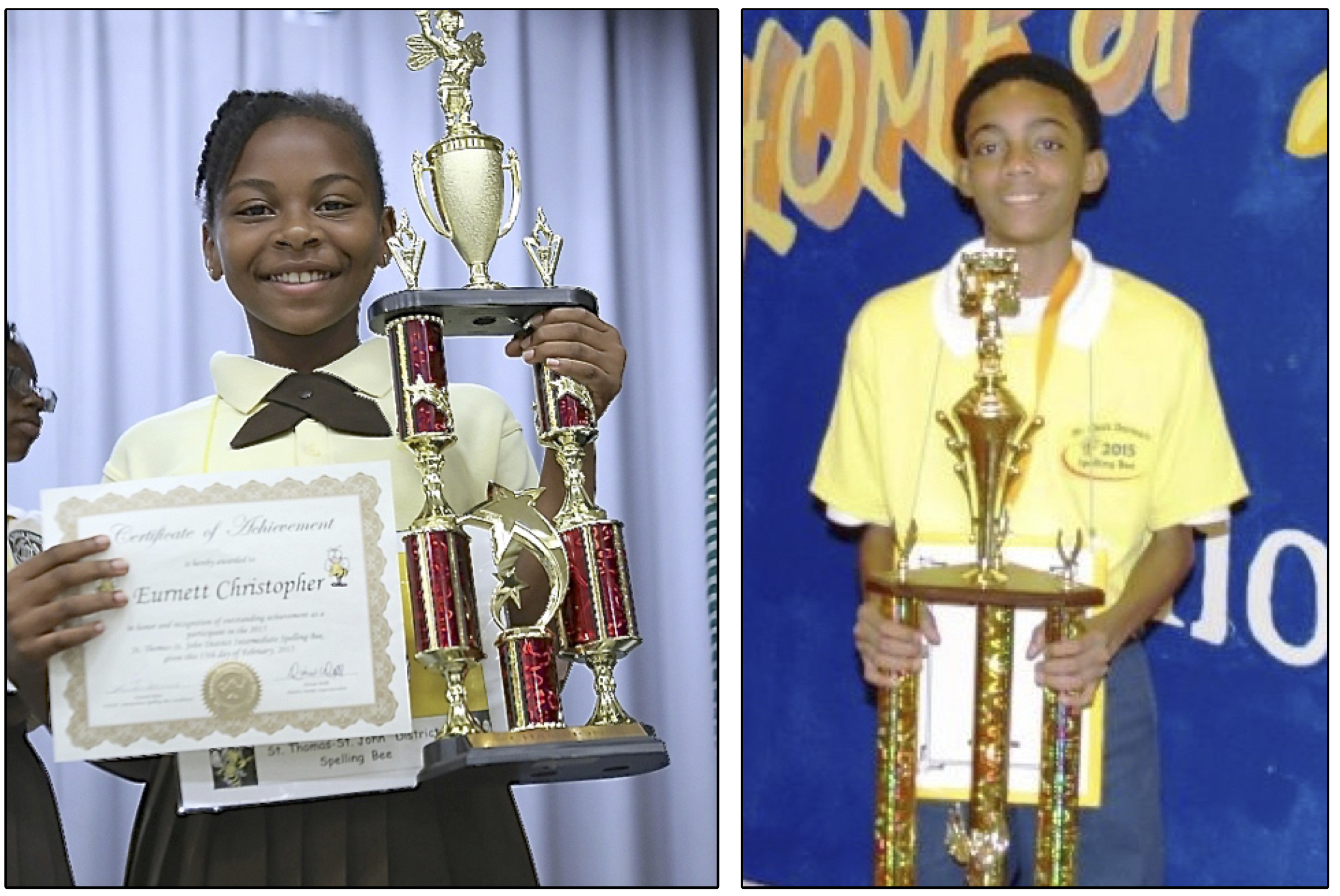 Joseph Gomez Elementary School's Eurnett Christopher and Arthur A. Richards Junior High School's Khaien Donawa emerged Friday as the winners of their respective district intermediate spelling bees.
On St. Thomas, Christopher was the last out of 18 students standing after eight rounds and won the word "appurtenances." Christopher fielded several of the harder words Friday, including "surfeit" and "vacuousness," but didn't stumble as she battled it through the last few rounds on stage at Bertha C. Boschulte Middle School.
"It feels great to win," a smiling Christopher said after the competition. "I put a lot of effort into it, and I really thank my coach for helping me. I've been preparing for a long time and did a lot of practicing, both at school and on my own, and this is the best part of the process."
Coach Ermin Stevens said afterward that Christopher was serious about studying each word on the Scripps (Scripps National Spelling Bee) online lists and spent much of her lunch and after school time practicing.
"She did quite a bit on her own," Stevens said Friday. "She was serious about coming to me and going through the lists, and for all of that hard work, I think she did extremely well and I was so impressed at how composed she remained throughout the competition."
Joining Christopher at the territorial bee next month will be: Anushka Chandiramani from the V.I. Montessori School and Peter Gruber International Academy, Moravian School's Michai Hughes, Addelita Cancryn Junior High School's T'Shai Israel, Gifft Hill School's Naheem Modeste and BCB's Rachel Nelson.
On St. Croix, Donawa won with the word "venerate," outlasting 19 other spellers in the competition. Donawa – a fourth-year competitor in St. Croix District spelling bees – placed second last year. Thirteen year-old second place finisher Taiyce Jacobs of the Church of God of Holiness Academy stumbled on "remittance" in the 11th round to give Donawa the first place trophy and an iPAD courtesy of Houghton Mifflin Harcourt.
Jacobs settled for the 2nd place trophy along with a Kindle presented by the Virgin Islands Department of Education.
Makayla Todman of Lew Muckle School, Jacinda Dubois of St. Patrick's School, Aundre Watley of Evelyn M. Williams, and Nayeli O'Shaughnessy of John H. Woodson Junior High will join Donawa and Jacobs to compete against St. Thomas-St. John best spellers in the territorial bee.