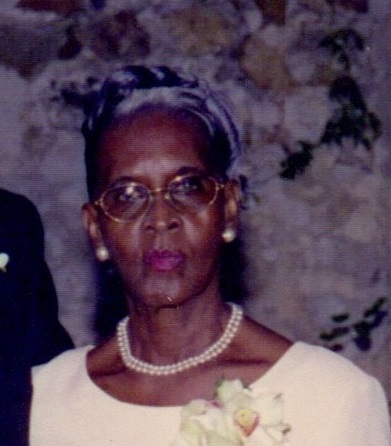 Ruby Beatrice Smith-Dunlop of Sunny Isles Housing died on Feb. 8. She was 89 years old.
She was preceded in death by her son, Keithroy Steele.
She is survived by her spouse, Rudolph Dunlop; sons: ClaudEarl (Amazon) Knight, Bernard Jacobs, and David and John Dunlop; grandchildren: Lornette Jacobs, Gehrig, Stephan and Aden Dunlop; great-grandchild, Janelle Bass; sisters: Elswita Martin and Josai Smith; brothers: Peter and Oster Smith; stepchildren: Rudolph Jr., Patrick and Derise Dunlop; special nieces and nephew-in-law: Ineta and Ghirton Hector, and Vertilee Henry; and nieces: Victorine Alexander, Denise Farquarson, Patricia Larsen, Gloretta Lewis, Jeanette Strunkey, Gloria Breezy, Jacqueline Destin, Claytina and Colleen Atwood, Shirley, Charmaine Joseph, Magretta, Violet, Lalena, Sylvia, Bernadette, Alice and Dianna, Francilla, Sylvanie and Bernadette Smith, and Avonella Mack.
She is also survived by nephews: Austin and Kalem Benjamin, Wentworth and Nazarene Atwood, Wilworth, Winston, Enoch, Percy, David, Peter, Patrick, Euwellyn, Carlton, Sherwin, St. Claire, Mariano, Simon, Alva, Joshua Jr., Chesley, Alpha, Ethelbert and Granville Smith, and Walton Mack; daughter-in-law, Monica Jacobs; brother-in-law, Ernest Martin; sisters-in-law: Millicent Calvin and Glenore Smith; special cousin, Mary Thomas; and cousins: Walter Joseph and Reginald O'Donoghue.
Other survivors include special friends, family and caretakers: Jean Murrain, Kathy Mason, Mary Francois, Jovelle Hilare Hosier, Verna Lake, Clarice Seeley, Rachel Peters, Veronica Richards, Leona Carty, Ivy Mills, the Right Rev. E. Ambrose Gumbs – Episcopal Bishop of the Virgin Islands, Velma Testamark, Evelyn Patrick, Sister Morris, Sister Powell, Victor Venner, Maulsden Joseph, Tracy Saunders and the Continum Care staff, the St. John's Church family, Brother James Matthew and the Peter's Rest Seventh-day Adventist Church family; as well as many nieces, nephews, cousins and friends too numerous to mention.
The viewing will be held at 11 a.m. followed by the funeral service at noon on Sunday, Feb. 22, at Peter's Rest Seventh-day Adventist Church. Interment will be at Kingshill Cemetery.
All arrangements are by James Memorial Funeral Home Inc.