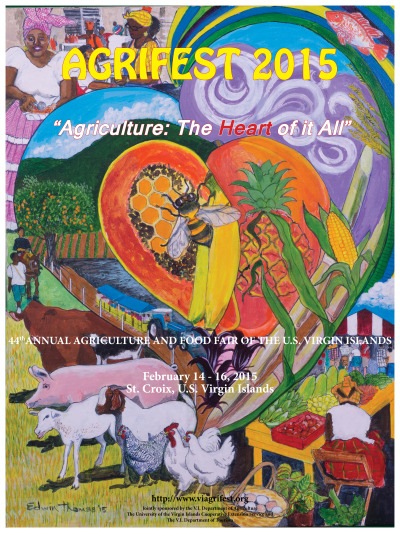 After weeks of preparation, all the nails are hammered, the murals painted, the tents staked, and everything is in place for the 44th annual agricultural extravaganza called V.I. Agrifest to open this weekend. As always, there will be music, contests, all kinds of corporate and government displays, a petting zoo, the best, freshest produce, and lots and lots of food.
Youth from the 4-H, Boy Scouts and other groups are setting up elaborately decorated hay bales and other arts and crafts projects for competition.
The petting zoo will feature local breeds like Senepol cattle and white haired sheep, and 4-H Club members will give talks on animal husbandry and other farming topics.
This year's festivities are themed "Agriculture – The Heart of it All," according to Clarice Clarke of the University of the Virgin Islands Agricultural Extension Service.
"We have a full house this year. We were really surprised and glad the schools have turned out in such a big way," said Clarke, who has been a lead organizer for the fest for a number of years.
"It is really wonderful to see the youth decorating the hay bales, and the fun and creativity they put into it," Clarke said.
The festival is a chance to learn a little about V.I. foods and culture, and to compete with the best local cooks and bakers.
Clarke said a desserts demonstration on making beignets by Sonya Joseph will take place Saturday at 2:30 p.m. by the brick oven. Sunday's presentation at the same time will feature Evannie Jeremiah making carrot raisin brownies. And at 3:30 pm. Sunday, "Olasee Davis will be talking about various herbs and their uses, what we call Bush Talk," she said.
Monday, the final day of the Agrifest, Clint Ferris will give his ever-popular ice cream making demonstration at 11:30. This year, Ferris is churning up some fresh local watermelon sorbet and sweet potato-pumpkin ice cream.
Lastly Monday at 2:30 p.m., Nathalie Ballentine will speak about and demonstrate how to make kallaloo, that most iconic V.I. stew of greens, pork or seafood.
If you want to put your best cooking up against the territory's, there is a public competition for carrot cake. Submit your entry at the food pavilion between 8 a.m. and 2 p.m. Monday and take your chance at a cash prize.
There will be lots of roasted pork coming out of the old brick oven and lots of entertainment, with soca bands, steel-pan bands, mocko jumbies, dance groups and more.
"We will have the grand quadrille dance with Stanley (and the Ten Sleepless Nights Band) and a whole line up of wonderful activities and entertainment," Clarke said.
Eileen Huggins will demonstrate basket weaving. There will be story telling by Auntie Janice, and kite making by Duane Howell and Clinton Tutein, she said.
And of course, the University of the Virgin Islands, one of the major sponsors, will be pulling out all the stops.
"Under our huge blue and white tent we are going to exhibit the theme of the fair. We are going to showcase healthy vegetables and fruits that portray the theme of the fair," she said. They will have seedling from the UVI Agricultural Research Station, and the UVI Agricultural Extension Service will have three box gardens showcase fresh fruits and vegetables.
Sixteen separate UVI groups will be participating in the exhibits by displaying their products and the services offered to the community.
The fair is the largest agriculture festival in the region and draws farmers from far and wide. "This year we have off-island visitors coming from Nevis, Antigua, Grenada, St. Lucia, Dominica, Puerto Rico, Guyana and Anguilla," Clarke said.
Gates at the Rudolph Shulterbrandt Agricultural Complex at Estate Lower Love will open at 9 a.m. Saturday followed by an opening ceremony at 10.
Admission is $6 for adults, $4 for seniors and $3 for children. The Agriculture and Food Fair is sponsored by the V.I. Department of Agriculture, the UVI Cooperative Extension Service and the V.I. Department of Tourism. Other sponsors include Innovative, V.I. Lottery, Health, Choice, V.I. Water and Power Authority, V.I. Port Authority, V.I. Waste Management Authority, Home Depot, Seaborne Airlines and FM 107.9 The Vybe.
For more information, visit www.viagrifest.org.