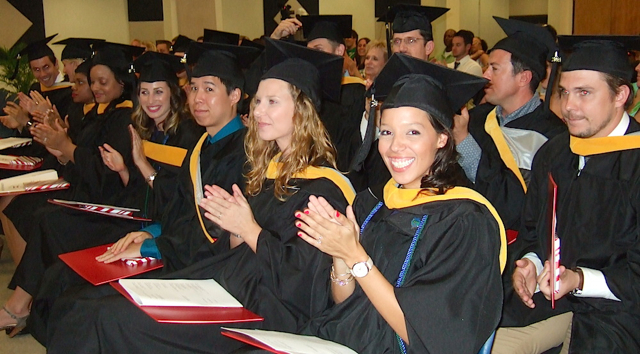 In a video-conferenced ceremony, 18 students on St. Croix joined their classmates in Florida as Barry University graduated almost 100 physician assistants.
Physician assistants are nationally certified healthcare professionals who work in hospitals, clinics and private practices under the supervision of a physician. They help evaluate medical data and manage treatments. In some locations, they work in retirement and nursing facilities, air ambulances and pediatrics, and can write prescriptions.
Students must earn an undergraduate degree before beginning P.A. training.
The St. Croix standing-room only ceremony was held at the University of the Virgin Islands's Great Hall, which was decorated with flowers, greenery, banners and flags. There was a master of ceremonies at each of the three campuses taking part in the event, but one keynote speaker in Miami, M. Juhan Mixon, whose message was transmitted to the other two locations.
On St. Croix, Valery Kepley, operations director, Keith Moore, associate program director, Michael Funk, associate director of clinical education and Shani Fleming, associate director of clinical education, presented awards and certificates.
Albert Armstrong, interim dean of podiatric medicine, conferred degrees from Miami and Wendy Landen, director of the physical diagnosis lab in Miami, led the students in the Hippocratic Oath.
Mixon, of Mixon and Associates, talked about "lagniappe" – an extra bonus or gift. He told the graduates it is the small things that count as they begin their practice. He advised them to listen to their patients, ask about their families, lives, work and follow up visits with a text message.
"It's not the big things but the small things that will be remembered long after the black gown and certificate have turned to dust," he said.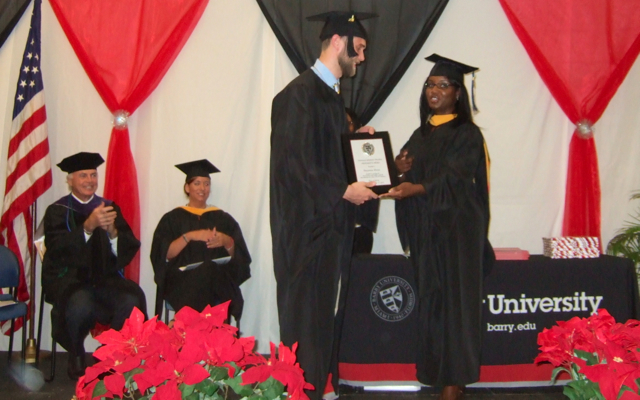 The St. Croix physician assistant graduates are: Tori Austin, Britni Browning, Joseph Chen, Kelly Crane, Al'Lima de Lugo-Trotman, J'Lisa DerWeer, Doley Doolittle-Amieva, Ariel Evans, Ashley Fiebiger, Brian Giddinge, Austin Horner, Bryan Najjar, Orrin Rice, Benjamin Shivar, Kathryn Solcher, Crystal Thomas, Stephanie Wiedenhofer, Sarah Wortendyke.
Of the St. Croix graduates, Shivar is the only one with confirmed employment. He will work for an orthopedic surgeon in Tallahassee unless he finds work in emergency medicine, he said He hopes to find a mentor and may try to enter a residency program.
Shivar had never heard of St. Croix before he applied to the 28-month Barry program. He said he was impressed with the faculty and the island. He said students became aware of the "huge need" in the community for health care givers as they circulated through the hospitals.
"Interacting with the community," Shivar said was one of the things he liked best about the program.
Two of the graduates are from St. Croix and Al'Lima de Lugo-Trotman is from St. Thomas. De Lugo-Trotman moved to St. Croix for the program, leaving behind a husband and two children. She hasn't decided if she wants to specialize because she enjoyed all of the rotations she worked. Luckily, de Lugo-Trotman's clinical classes were at the St. Thomas hospital so she spent some time at home.
"Being away from the kids was the hardest, but I'm glad I did it," she said.
J'Lisa DerWeer, from St. Croix, graduated from The Good Hope School and Syracuse University before entering the Barry P.A. program. After she takes her national exam, she would like to follow in her mother's footsteps and work in a hospital. She hopes to work in pediatrics or obstetrics, she said. Less than a month ago, DerWeer gave birth to a son, but didn't let that hold her back. She said the hardest part of the program was not being part of her family and her normal life.
Crystal Thomas is a graduate of St. Croix Central High School and Berea College in Kentucky. Living at home saved her on the cost of her Barry education and she was "able to work with the community." Thomas won the Dr. Jules Ross Award for "enthusiasm and excellence in community service." She plans to go into family or internal medicine or primary care after she takes the board exams.
Not sure where she will settle, Thomas said she will eventually return home.
"I feel like I'm always coming back to St. Croix, especially because my family is here," Thomas said.
The Barry University program opened on St. Croix in 2011. Classrooms are located in Sunshine Mall and the V.I. Cardiac Care Center, and students rotate through medical departments at Gov. Juan F. Luis Hospital and Roy L. Snider Regional Hospital for hands-on training.
Classes, case studies and exams are video-conferenced between Barry's three campuses – St. Croix, St. Petersburg, Florida and Miami, Florida.