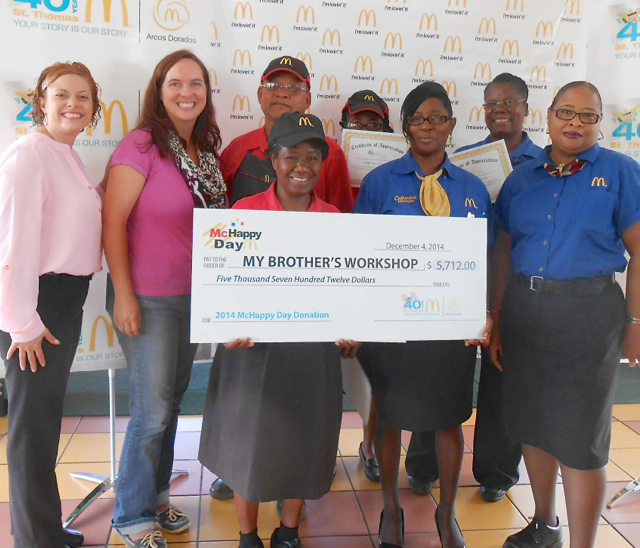 McDonald's had a big day Thursday, celebrating 40 years on St. Thomas, honoring six very excited longtime employees, and donating $5,712, the proceeds of a recent McDonald's Big Mac Happy day, to My Brother's Workshop.
The Lockhart Garden branch of the franchise was abuzz with activity Thursday as Mildred Quiles, marketing manager, assembled the happy employees, a photo shoot, and the slicing of an enormous birthday cake.
"We're all just so excited," she said. "All the St. Thomas employees worked so hard on the campaign, and Lockhart won the competition with the other two restaurants, Frenchtown and Tutu Park. This year's competition is 50 percent over last year's competition," Quiles said
A chat before the ceremony revealed that there here was no employee who had been around since the first McDonald's opened in 1974, right across the street where a Payless shoe store is now.
Quiles, however, has been around for a while, if not 40 years. The young woman said she began working for McDonald's when she was 16 in Yonkers, New York
"I was telling the employees about the first cash register I used, way before computers," she said. "It was my first job, and I loved it. I moved to Puerto Rico after high school," she said, before being called away to speak to a Spanish-speaking customer.
Quiles returned to say she finished university in Puerto Rico, returning to McDonald's after graduation.
"Why not," she said. "I knew the company."
After traveling around the Caribbean and the states, she was asked come to St. Thomas two or so years ago.
"I jumped at the chance," she said.
The entire McDonald's crew assembled for the check donation to My Brother's Workshop, with MBW assistant director Jenny Hawkes. It was difficult to tell who bore the biggest smile, but it looked like Hawkes took the honors.
"Thank you so much," Hawkes said. "It's a wonderful donation from all of you, and we really appreciate it."
The not for profit agency has helped untold numbers of young St. Thomas men learn a trade, instilling self-worth in a previously overlooked part of the island's community.
The six McDonald's employees receiving recognition for their years are: Catherine Thibou, Frenchtown, 26 years; Kenneth Camacho Tutu Park, 25 years; Bernadette Clarke, Lockhart, 24 years; Rawn Sasso, Tutu Park, 15 years; Violet Davis, Frenchtown, 15 years; Sylvia Tyson, Tutu Park, 15 years; Malvern Donovan, Tutu Park, 15 years; and Henrietta Browne, swing manager, 15years.
All beamed at the recognition as each received a plaque, and then, one and all cut into the imposing cake.
The local McDonald's is operated by Arcos Dorados, the world's largest McDonald's franchisee, which operates the chain in Latin America with more than 95,000 employees.