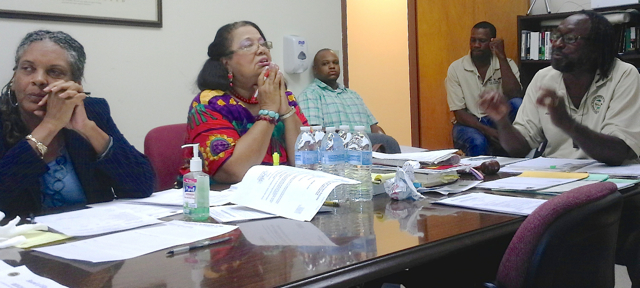 Kenneth Mapp and Osbert Potter were confirmed Wednesday as the winners of the Nov. 18 runoff election and the next governor and lieutenant governor of the U.S. Virgin Islands.
Meeting in their respective districts, the St. Thomas-St. John and the St. Croix boards of election certified the results of the runoff election, which pitted the top two tickets from the Nov. 4 general election, Mapp-Potter and Donna Christensen and her running mate Basil Ottley, against each other.
The St. Croix board also made plans for conducting a recount of three Senate candidates.
In the St. Thomas-St. John District, Mapp-Potter out-polled Christensen-Ottley, 6,332 to 4,833. The St. Croix board also certified Mapp-Potter as the winners in that district, although the tally was not immediately available.
In a combative meeting Wednesday, the St. Croix Elections Board agreed to recount ballots for three candidates starting Thursday afternoon and they certified the Nov. 18 run-off election.
Agreement was not reached without argument on the procedure, counting time or which ballots qualify as a vote.
Member Lisa Harris-Moorhead movd that the board "honor the voters' intent," as had been decided in a Joint Board meeting before the election. If voters wrote in a name but forgot to mark the bubble, the vote should count, she said.
Board chairman Adelbert Bryan disagreed, saying if the bubble wasn't marked, the vote shouldn't count no matter if the name was written.
The board majority voted to follow the Joint Board action, with Rupert Ross, Liliana Belardo de O'Neal and Harris-Moorhead voting yes. Roland Moolenaar attended the meeting but did not vote.
"My personal opinion is that we need to start whatever it is we are doing. We need to establish a procedure," Harris-Moorhead said.
The board then voted to begin a recount for Sen. Alicia "Chucky" Hansen, Sen. Diane Capehart and Epiphane Joseph at 1 p.m. Thursday. Bryan said he would not participate, nor would he notify candidates of the recount. Several members reminded him he had not participated in counting general election ballots even though the board voted that candidates Ross, Williams and Bryan, while forbidden from touching ballots, were allowed to help following the Nov. 4 vote. Ross and Williams monitored the ballot tally.
De O'Neal said she would write the candidates notifying them they can attend the recount.
Bryan eventually conceded and suggested the board first count ballots from early voters, then walk-in voters and finally tally the general elections votes for the three candidates. The other board members agreed.