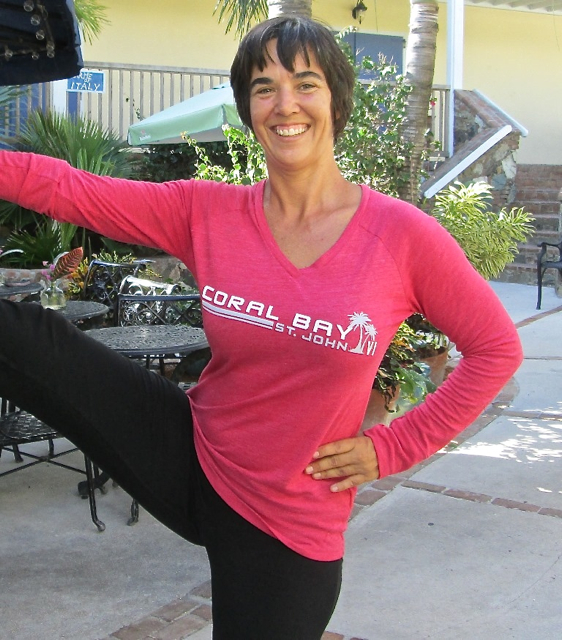 Catherine Turner is a woman with many passions, but yoga is high on the list. She holds classes in Astanga yoga at 7:30 and 9 a.m. Thursdays at Concordia Eco-Resort.
"The key code is an alignment of breath with postures," she said of Astanga yoga, who teaches private classes.
Students learn a repetitive sequence of postures. Turner said they do them every day. As students get more proficient, they can progress to more advanced postures.
Since they are repeating the postures, they don't have to think about what comes next when they're doing their daily yoga, she said.
While she said it's wonderful when students can do yoga it in an instructor-led class, Astanga is also a type of yoga they can do on their own.
Turner said during the month of November, local residents can practice yoga with her at Concordia for $5 a session instead of the usual $10.
She studied with acclaimed yoga teacher David Kyle in Puerto Rico.
She does yoga every day, a practice she said helps her with meditation. Since she lives on a 47-foot sailboat in Coral Bay, space is a challenge so she heads off to Coral Bay ball field every morning at 6 a.m.
And she's organizing a club of advanced yoga practitioners who will meet regularly to share their yoga experience.
Turner, 44, grew up in Santa Cruz, Calif. She was introduced to yoga in 1994 while working in the San Francisco computer industry. Her employer offered lunchtime yoga classes, and she was hooked. In addition to upping her energy level, it provided serenity in her day.
She continued to practice in a San Francisco studio even after she made a dramatic career move. She and her then-husband bought a hip San Francisco nightclub, 12 Galaxies, but she continued with yoga and started a group that offered donation-based services such as yoga and massage to those in need.
After about five years she tired of the nightclub lifestyle, did a variety of things including working the set-up crew at Burning Man, an annual artsy gathering in Nevada's Black Rock Desert that attracts thousands of people.
At Burning Man, she met her now-husband, Fuego Turner, and the two headed for St. John. They took up sailing and started a fire-dancing group called Pyros of the Caribbean, where she was known as Sandwich.
After their son Buck was born more than three years ago, they retired from that endeavor.
When she's not practicing or teaching yoga or homeschooling her son, she has her fingers in plenty of pies. She's organizing the children's village for the upcoming Coral Bay Community Council Bizarre Bazaar and she's developed a passion for writing. She blogs at www.bigcirclesailing.com, contributes to the online yoga magazine, www.elephantjournal.com, has a novel in the works, and will lead a woman's kayak and yoga trip in December. She and her family are also avid cruisers and just returned from a trip to Grenada.
As for the future, she and her family plan a round-the-world trip in their sailboat.
"But I can still teach yoga as I travel," she said.
Turner can be reached at 1-340-514-9307.