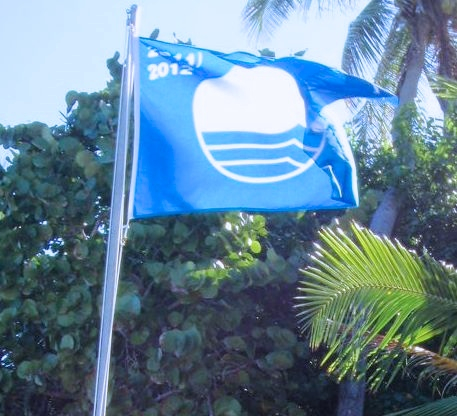 Five beaches and two marinas across the territory recently received renewal of their Blue Flag certification because they continue to adhere to strict environmental standards, the V.I. Hotel and Tourism Association and the V.I. Conservation Society jointly announced.
"Those guys are still being really active and taking care of their facilities," Valerie Peters, the territory's Blue Flag coordinator, said Wednesday of those that received renewed certification.
She said they're upgrading facilities and continuing their education programs.
The five beaches receiving certification renewals are Emerald Beach and Great Bay on St. Thomas, Trunk Bay and Cinnamon Bay on St. John and Pelican Cove on St. Croix. The two marinas are Crown Bay Marina on St. Thomas and Green Cay Marina on St. Croix.
Blue Flag is an eco-label promoting sustainable tourism and awarded to beaches and marinas worldwide that meet the established criteria of the program. It was started in 1987 by the Foundation for Environmental Education with 10 participating countries. Today the Blue Flag Program has been implemented in 48 countries at more 3,850 beaches and marinas across Europe, South Africa, Morocco, Tunisia, New Zealand, Brazil, Canada, and the Caribbean.
The Blue Flag certification is based on compliance with 32 criteria including environmental education and information, water quality, environmental management, and safety and services.
The flags will be raised on all five beaches and two marinas on Dec. 1. Peters encouraged residents and visitors to attend in order to recognize these locations for their hard work and dedication to implement sound environmentally sustainable tourism practices.
The Blue Flag Ambassador program for boaters is also growing, the organization's news release indicates. Individual Blue Flags are issued to boat owners or users who sign an environmental code of conduct declaring they will act according the issues outlined in the environmental code of conduct. It is based on an honor system.
Boat owners will be able to apply for membership at the Blue Flag marinas, the national organizations and the Blue Flag International Coordination. Blue Flag Ambassadors pay a $50 membership fee and renew their commitment by signing the code of conduct every year. This will cover the cost of processing the application and supplying the boat flags and a plaque to be displayed on the vessel.
"We encourage the boating community to promote sustainable practices and recognize them for their efforts in spreading the word," Peters said.
The Blue Flag Program aims to improve the environmental quality of beaches and marinas and the management of coastal areas in a holistic way. The program does not curtail recreation and tourism in the coastal area, the organization said in its release, but helps manage it through a wide range of subjects, activities and users that have direct and indirect interactions with the coastal environment.
"We strive to educate recreational coastal users of the delicate ecosystem they are playing in and encourage sound practices that will help ensure the health of our marine areas for generations to come," Peters said.
The process of acquiring Blue Flag certification involved both monetary and manpower investment. Corporate sponsors including the Tourism Department and Coral World Ocean Park contributed to this effort.
Key agencies included the Planning and Natural Resources Department, the National Park Service, V.I. Network of Environmental Educators, Caribbean Ocean Restoration and Education Foundation, Tourism Department, V.I. Waste Management Authority, The Nature Conservancy, St John Rescue, the Education Department, St. Croix Environmental Association, National Oceanic and Atmospheric Administration, Friends of V.I. National Park, University of the Virgin Islands' Marine Advisory Service, and the U.S. Environmental Protection Agency. They provided the staff members to serve on the Blue Flag jury, which conducted inspections of the beaches.
Recently, more than 400 children from all three islands signed blue flag pledges to show their commitment to playing their part in protecting coastal areas. They promised to take away all their trash from the beach and only throw trash in trash receptacles, not to disturb wildlife or remove it from its natural habitat, to turn off lights in empty rooms at home, and to help remind their parents to bring reusable bags to the market.
Additional information is online at www.blueflagvi.org.