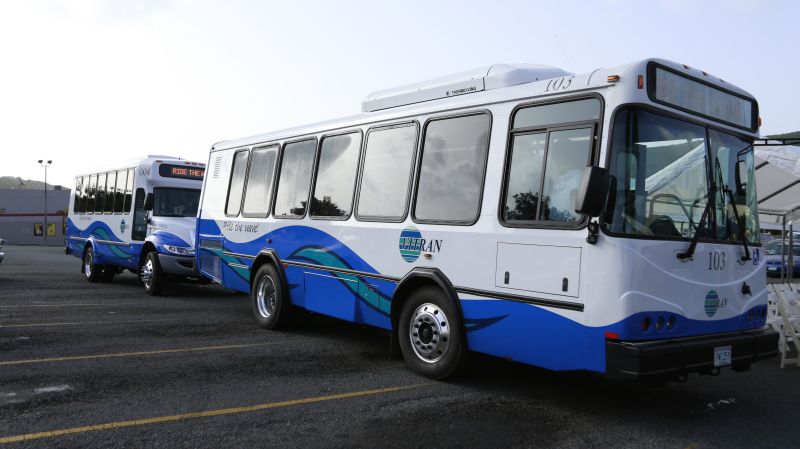 A "Skip the Fuss" campaign launched this week by Public Works and the V.I. Energy Office offers residents free bus service and a chance to see the territory's new VITRAN buses in action.
Public Works Commissioner Darryl Smalls said the new buses have been in the works for years, as the department, working alongside the Energy Office, had to accumulate the millions of dollars needed to buy them. A combined total of 10 heavy duty buses have been launched on all three islands, along with 12 medium duty buses, which Smalls explained had to be paid for with a mix of Federal Transit Authority and Federal Highway Administration funds.
Each heavy duty bus cost approximately $400,000, while the medium duty buses were in the $200,000 range. Smalls said the department receives about $1.2 million a year from the FTA alone, which is split up among the districts.
"So we did have to save up a little to get to where we are today, but I think we are in a position now through the revenues being generated where we can actually see being able to purchase new buses as the demand grows," he added.
The "Skip the Fuss, Ride the Bus" campaign was meant to draw residents back to VITRAN, which Smalls said had stopped offering reliable service in years past.
"There were a number of years where we did not provide reliable service, but we feel now that we are in a position with our equipment to be able to do that," Smalls said. "But, in order for this to be totally effective, we are going to need support from the community. Right now, we compete with other transportation services out there, but I think we are poised to re-take the position of being able to offer reliable, on-time and most importantly safe vehicles for the transportation of residents and visitors throughout the territory."
Smalls said rebranding VITRAN was also important. The color scheme of the buses has been changed from orange to blue and each vehicle is equipped with hydraulics that mimic the movement of a wave to give residents the feeling of being in the tropics, he explained.
Community support was evident Friday as crowds gathered on St. Thomas for an official kick-off at the Tutu Park Mall and a ceremonial bus ride downtown. Bus service also launched on St. Croix, while another four buses were running through St. John. As the service started, Facebook and Twitter feeds blew up with shots of residents riding the bus, or waiting at stops across the territory.
"I think today's a very good day for our people, and for all the employees at Public Works, who have really stayed true to the cause of bringing mass transit back to all three islands," Gov. John deJongh Jr. said during and after Friday's ceremony. "With this kickoff today, the community will get a sense of what we have and what has been accomplished, and really that is providing another option for transportation here in the territory. Considering all the challenges we have, the reduced federal funding particularly for mass transportation, we really have been able to look at this issue comprehensively and address a big concern in the community."
DeJongh said the unveiling of the buses also goes along with highway projects — including Veterans Drive on St. Thomas and Melvin Evans Highway on St. Croix — that will improve conditions for residents.